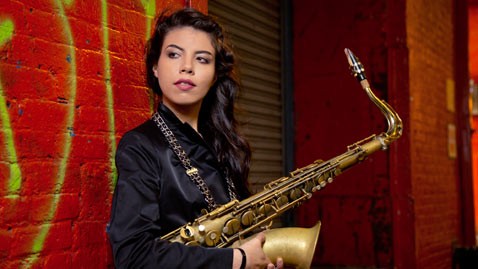 When she took the stage at a recent Manhattan performance, Melissa Aldana, the 24-year old tenor saxophonists, moved evenly across the cozy performance space at the Kitano as she led her band through two dazzling sets. The quartet executed a sophisticated mix of original compositions and jazz standards that saw Ms. Aldana's slender, elegant frame do little to hide the tenor's big, robust sound.
Vivid and occasionally bewildering, the lucid performance, including a series of eloquent saxophone solos, showcased what Ms. Aldana's most ardent fans have long known: the young tenor with the breezy, accented voice is a hard-toned, unsentimental instrumentalist steeped in classical jazz.
"I was introduced to the saxophone at a very young age," says Ms. Aldana, who has performed at some of New York's most venerable jazz clubs including the Blue Note, Jazz Gallery and Lincoln Center. "For me, understanding and respecting classical jazz composition guides what I do on stage."
The broader jazz world has taken notice of Ms. Aldana's technical mastery of an instrument traditionally known as a man's instrument. Last month she captured first prize at the Thelonious Monk Jazz Saxophone Competition in Washington, D.C., becoming the first female instrumentalist to win the award. Since its inception 26 years ago, the prize, recognized as the world's most prestigious for budding jazz musicians, has gone to a parade of men, many of whom have established distinguished careers in music. Several women have won the Monk competition as singers, but Ms. Aldana is the first to win on an instrument.
"I never really think of those things when it comes to performing," says Ms. Aldana, who beat out thirteen other performers to win the award. "I've been playing the saxophone since the age of six so I've never really put myself into any categories."
Her winning performance at the John F. Kennedy Center for the Performing Arts included a fluid rendition of Jimmy Van Heusen and Johnny Mercer's "I Thought About You." She also performed her own composition, "Free Fall," with bassist Rodney Whitaker, pianist Reginald Thomas and drummer Carl Allen. First prize is a $25,000 scholarship with the Monk Institute and a recording contract with Concord Music Group.
"The thing that was apparent to us was that Melissa was a young artist, who, in addition to having embraced a great deal of tradition, has made important steps in developing her own personal sonic vocabulary," the soprano saxophonist, Jane Ira Bloom, told Downbeat Magazine . Ms. Bloom, along with Branford Marsalis, Jimmy Heath, Wayne Shorter and Bobby Watson judged the competition. "We all sensed that from her original music and in her interpretations of traditional material," Bloom adds.
Born and raised to a family of musicians in Santiago, Chile, Ms. Aldana was introduced to the saxophone at an early age. Her father and grandfather were accomplished jazz saxophonists in Santiago who both attained international acclaim. Her father, Marcos Aldana, put the instrument in his daughter's hands as soon as she was able to hold it.
"It was really the first instrument I learned to play and my father made it feel very natural to me," she says. "It never occurred to me to play anything else."
As a prodigious teen, Ms. Aldana first began attracting attention in jazz circles traveling and performing in Chile. After entering and winning several jazz competitions she caught the eye of Panamanian jazz pianist Danilo Perez, who encouraged her to study music in the U.S. She eventually earned the Berklee Presidential Scholarship , enabling her to study on scholarship at the Berklee College of Music in Boston, a school that has produced more than 100 Grammy award winners.
She completed her studies in 2009 and migrated to New York City and began leading her own band called Melissa Aldana & The Crash Trio. They've released two albums on the Inner Circle label . A third collection of original compositions is in the works, she says.
"She's young but she has an allegiance and reverence for the history and form of the jazz genre that is beyond her years," says Anders Chan-Tidemann, who manages Aldana and a small roster of jazz performers at his record label and management firm, Word of Mouth Music . "The first time you see Melissa perform it becomes clear immediately that's she a jazz purest."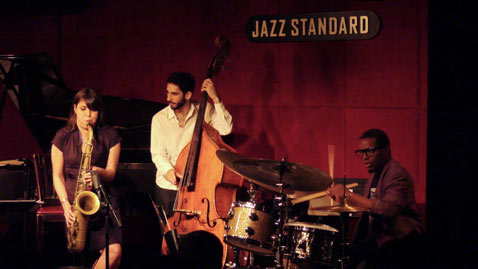 Aldana was supported at the Manhattan performance at the Kitano by Glenn Zaleski on piano, Pablo Menares on bass and Francisco Mela on drums. Each added a measure of emotional fire to the performance. The Cuban-born Mela, on drums, exhibited a daring elasticity with deliberately off-kilter phrasing that captivated the audience. Glenn Zaleski, on piano, offered the kind of luminous improvisations that helped elevate the evening to memorable.
"It's really special to play with those guys because beyond being great musicians they are people that I admire and respect" says Ms. Aldana. "They are like family and I think it is important for me to feel that way because it's reflected in the music."