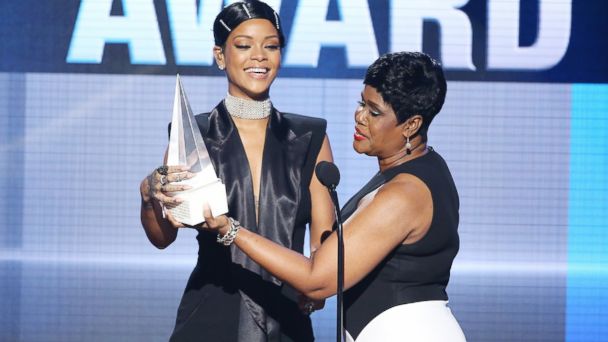 Michael Tran/Getty Images
Self-proclaimed "bad gal" Rihanna shed her raunchy persona during an emotional appearance with her mom this weekend. The "Diamonds" singer received the first-ever Icon Award at the 2013 American Music Awards on Sunday, presented to her by her mother Monica Braithwate.
"Rihanna, I am so proud of you tonight," Briathwate said, holding hands with her famous daughter. "I know the journey in your career has not always been an easy one, but tonight I applaud you and admire you for being so strong and so positive and so humble and so focused."
American Music Awards 2013: The Top 5 Biggest Moments
"It's amazing how you always manage to take good from all your experiences," she continued. "I am so blessed to be a part of this historic moment."
The moving exchange was a departure from the norm for the daring starlet, but Rihanna isn't the first celebrity to reveal a softer, more vulnerable side in the presence of her mom. Take a look at some of Hollywood's most heartwarming mother-daughter moments.
Miley & Tish Cyrus
Singer Miley Cyrus is no stranger to bad behavior. The 21-year-old singer has continued to make headlines months after her risqué performance at the 2013 MTV Video Music Awards. Still, as Miley's popularity soars, she's a momma's girl at heart.
In a clip from the MTV Documentary "Miley: The Movement," momager Tish Cyrus defended her daughter against media critics. To fans who question where Miley's mom is at this critical time in her career, Tish had this to say, "Right beside her, through good, through bad, through arguments, through crying, I don't care what…right there."
In the scene, mother and daughter share an intimate moment, with Tish massaging Miley's back as she prepares for an upcoming performance.
"My mom is my homie," Miley said. "If I win, she wins. Not because she's my manager, because she's my mom."
Beyonce & Blue Ivy
There's no shortage of cute mommy-and-me moments for Beyonce and her daughter Blue Ivy Carter. The toddler joined her mother on The Ms. Carter Show world tour earlier this year, resulting in a slew of adorable backstage snapshots. In one photograph, the "Single Ladies" crooner is seen crouching over her daughter's stroller as a then 16-month-old Blue Ivy reaches out to touch the tip of Bey's nose.
Angelina Jolie & Marcheline Bertrand
Angelina Jolie honored the memory of her late mother Marcheline Bertrand in an emotional acceptance speech at the 2013 Governor's Awards last week. Jolie received an honorary Oscar for her humanitarian efforts and cited her mother as the inspiration for her philanthropic spirit.
"My mother loved art," Jolie said of Bertrand, who died in 2007 following a battle with ovarian cancer. "She loved film. She supported any crazy thing I did but whenever it had meaning, she made a point of telling me, 'That is what film is for.'"
"I will do the best I can with this life to be of use," she added. "To stand here today means I did as she asked and if she were alive, she'd be very proud."
Kim Kardashian & North West
Kim Kardashian and Kanye West are smitten with their 5-month-old daughter North West. The couple has been spotted spending some family time in New York City this week with baby North in tow. Kardashian took to Instagram Nov 21 to share a photo of mommy and daughter spending some quality time.
"Girls Day," she captioned the photo of North tightly clasping the fingers of her mother and fellow television personality Lala Vasquez.
Goldie Hawn & Kate Hudson
In a hilarious mother-daughter moment, Goldie Haw challenged her daughter Kate Hudson to a tennis match at the Novak Djokic Goundation gala this past June. According to People Magazine, Hawn, 67, hiked up her floor-length gown for the impromptu game, which she played in heels. Hudson, also wearing an evening gown, tossed the stilettos, preferring to play barefoot.
Katie Holmes & Suri Cruise
Katie Holmes and her 7-year-old daughter Suri are an inseparable duo. The pair have been spotted hand-in-hand sightseeing around the world. In this candid snapshot, mother and daughter are seen sharing a snack on a hot summer day during a visit to the Museum of Modern Art in New York City.