The mission of the New Photographers exhibit is to explore new ideas and techniques in an attempt to expand the medium. Since its birth in 1958, the Museum of Modern Art has looked to show to highlight innovative thinking and this year is no exception. The six artists featured are diverse in their training as well as background.
The exhibition expands to feature six artists—Moyra Davey, George Georgiou, Deana Lawson, Doug Rickard, Viviane Sassen, and Zhang Dali. These artists, hailing from Canada, China, England, Holland, and the United States, exemplify the diversity and international scope of contemporary photographic work.
"Whether using analog forms of communication like Moyra Davey, the documentary approach of George Georgiou, conventions of portraiture like Deana Lawson, web-based images like Doug Rickard, Viviane Sassen's self-reflective analysis, or an appropriative practice like Zhang Dali, each of the artists in New Photography 2011 has his or her own individual means of addressing issues relevant to the world today," say Dan Leers , curator of this year's New Photography exhibit.
This year's New Photographers exhibit opened on Sept. 28 at New York's Museum of Modern Art.
Moyra Davey  often uses the postal service as part of her artistic practice. She creates photographs with analog materials that are increasingly rare in today's digital era, and then folds those photographs into an envelope shape to be mailed to friends. Davey later recoups the photographs and exhibits them in pinned-up grids, complete with the stamps and addresses obtained en route.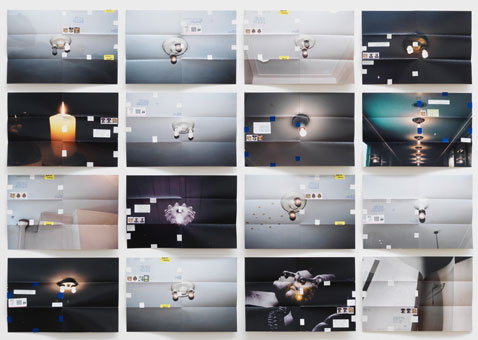 Rester Calme by Moyra Davey, 2010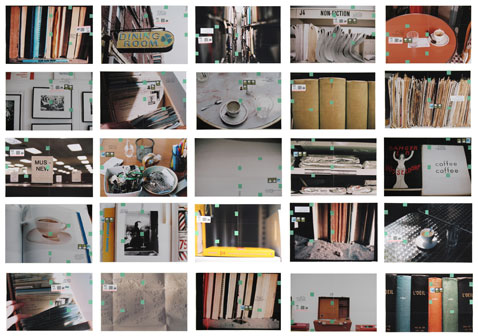 The Coffee Shop, The Library by Moyra Davey, 2011
George Georgiou  has photographed extensively in Eastern Europe and Turkey over the course of a decade, having lived and worked in Istanbul for the past five years. Georgiou's series Fault Lines looks at modern-day Turkey as it seeks to hold on to its traditions and landscape amid the oncoming wave of development and Westernization.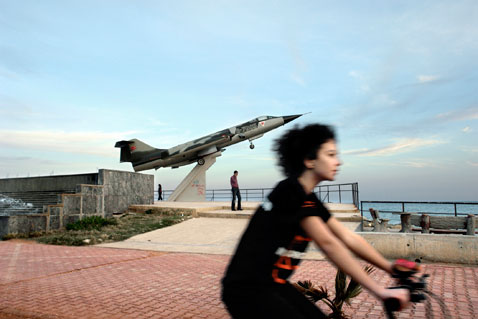 Mersin by George Georgiou, 2007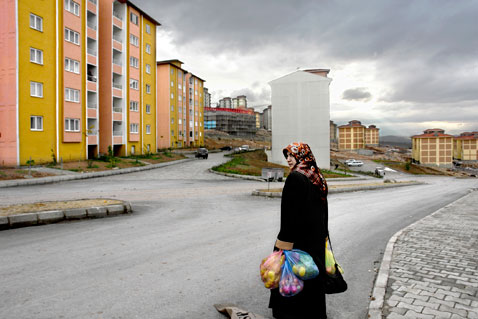 Trabzon by George Georgiou, 2006
Deana Lawson explores issues of intimacy, sexuality, and community in her portraits of people made in their homes and personal environments. Lawson refers to her subjects, nearly all of whom are strangers, as "her family." Although she is not related to them by blood, her connection to them is palpable.
Roxie and Raquel by Deana Lawson, 2010
Doug Rickard explores the ground-level geography of urban areas across the country using Google Street View, taking photographs of the Street View images on his home computer that he finds the most captivating. The resulting photographs document the blurred faces of people and crumbling cities as captured by the Google lens, and explore issues of poverty, race-equity, and personal privacy.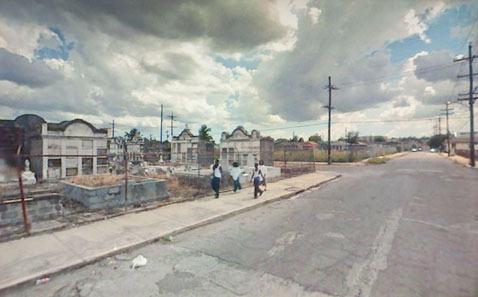 New Orleans 2008, LA by Doug Rickard, 2009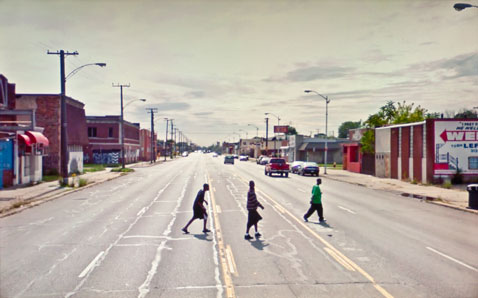 Detroit, MI 2009 by Doug Rickard,  2010
Viviane Sassen was born in Amsterdam, but spent formative childhood years living in Kenya, which has influenced her work as a photographer. Upon her family's return to the Netherlands, Sassen felt like a foreigner in her homeland, but knew that she had been an outsider in Africa as well. Her latest series, Parasomnia, animates these feelings, and was made in intentionally unidentified African countries with anonymous, faceless subjects.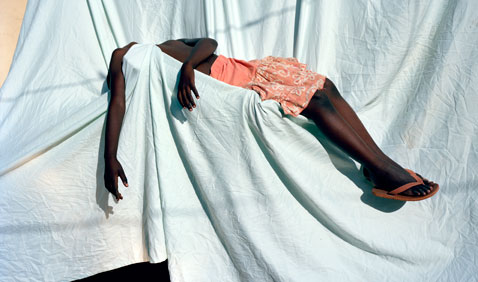 Belladonna by Viviane Sassen, 2010
Parasomnia by Viviane Sassen, 2010
Zhang Dali began his project in 2003 and continues it into the present. For this work, Dali analyzes photographs that were manipulated for use as propaganda under Mao Tse Tung's Communist regime. Acting as an archivist, he juxtaposes original source materials from Chinese archives with the altered images. Seen side by side, the images reveal the meticulousness of Maoist censors.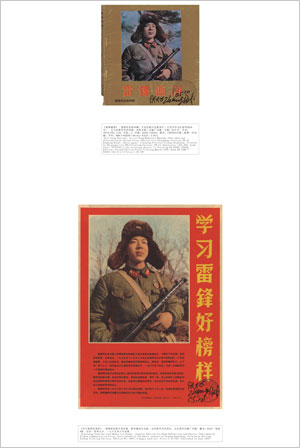 Great Communist Warrior – Lei Feng by Zhang Dali, 2003-2011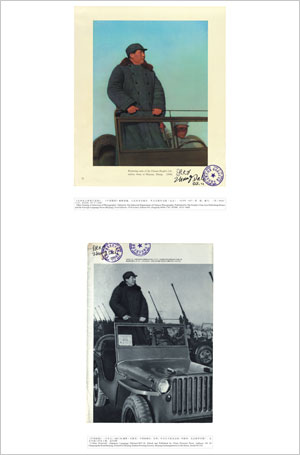 Chairman Mao at Xiyuan Airport, Beijing, March 1949 by Zhang Dali, 2003-2011
 

New Photography 2011

is on view now through Jan. 16, 2012 at the Museum of Modern Art in New York City.