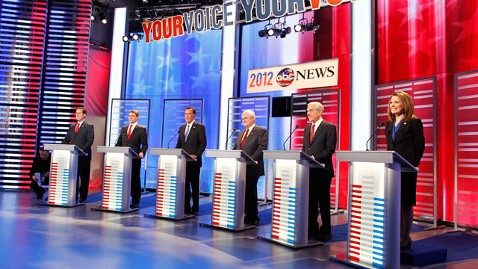 7.57 Million Viewers Turned to ABC News at Pivotal Moment  in the Race for the Republican Nomination
Debate Moderated by Diane Sawyer and George Stephanopoulos  Watched By 2.10 Million Adults 25-54
The ABC News "Your Voice, Your Vote - Republican Presidential Debate in Iowa" drew 7.58 million Total Viewers and 2.10 million Adults 25-54 on Saturday, December 10 from 9:00-11:00pm/ET according to Nielsen's true fast national ratings. Moderated by Diane Sawyer and George Stephanopoulos, the "Your Voice, Your Vote" special ranked as the #1 program among Total Viewers on Saturday evening.
The ABC News debate stands as the most-watched debate of the 2012 campaign season. Held at a pivotal moment in the campaign - just 24 days before the first voters make their voices heard at the Iowa caucuses - the ABC debate outperformed the next most viewed GOP debates by 1.47 million Total Viewers (6.11 million - Fox News on 9/22/11) and by 370,000 Adults 25-54 (1.73 million - MSNBC on 9/7/11).
The ABC debate led the most-recent Republican debate on CBS News (11/12/11) by 2.10 million Total Viewers (7.58 million vs. 5.48 million) and by 580,000 Adults 25-54 (2.10 million vs. 1.52 million).
The ABC News debate delivered the network's best performance in time slot with non-sports programming in more than 7 months in Total Viewers and 6 months among Adults 25-54 - since 4/23/11 and 5/14/11, respectively.
The Republican presidential debate was hosted by ABC News, Yahoo! News, the Republican Party of Iowa, ABC5/WOI-DT, and The Des Moines Register at Drake University in Des Moines, Iowa on Saturday, December 10. The "Your Voice, Your Vote" special event aired live in primetime on the ABC Television Network from 9:00-11:00pm/ET; 6:00-8:00pm/PT and was live-streamed on ABCNEWS.com and Yahoo!.
ABC News will be hosting its next primetime Republican presidential debate at another crucial time in the nominating process - the days between the first in the nation caucuses in Iowa and New Hampshire's first in the nation primary. The New Hampshire debate, co-sponsored by ABC affiliate WMUR, will take place on Saturday, January 7 and air in primetime from 9:00-11:00pm/ET.
For complete coverage on the ABC News debate visit  ABCNEWS.com.
Watch the ABC News #IowaDebate in its entirety here:  http://abc.tv/vG6Sv7.