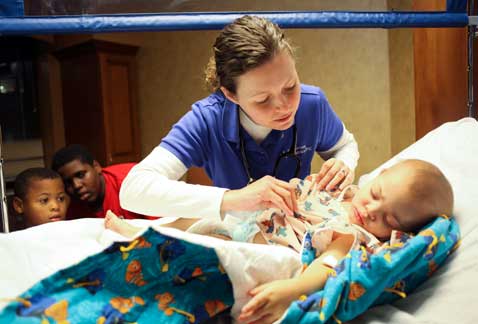 Kobe, 6, left, and Diamond Glover, 12, watch as general pediatrician Rachel Farmer examines brother Joel at Methodist Hospital in Henderson, Ky. (Photo by Julysa Sosa)
Most people have probably never heard of Henderson, Ky. At first glance, it might appear indistinguishable from any other town of its size across the United States, but fill that town with 5o-something visual journalists and what emerges is an intimate interwoven portrait of ordinary people living extraordinary lives. The classic journalism mantra proves true, everyone really does have a story.
In its 37th year, Western Kentucky University's Mountain Workshops challenge participants to turn a name on a piece of paper drawn from a hat, into an intimate and interesting story. Each year in a different Kentucky town, still photographers, multimedia journalists and photo editors work with coaches, who are leading experts in their respective fields, for an intense five days of hardcore photojournalism. While newspapers continue to downsize and citizen journalism is becoming increasingly more common, the Mountain Workshops continue to uphold the traditional core values of the craft.
"A professional is someone trained in the art and not just the craft," Tim Broekema, associate professor of photojournalism at WKU, said. "With technology these days, so many people have great cameras, and there is no way I can argue against someone actually being there witnessing something happening. But what the professional can offer are the stories beyond that, that reveal the fabrication of life. Viewers can understand the deeper meaning, and if we lose that, we won't understand quite as much."
Participants emerge on the other side with new skills, a few more friends and maybe even a better understanding of themselves and their own communities.
Courtesy WKU: Click to View a Complete List of Stories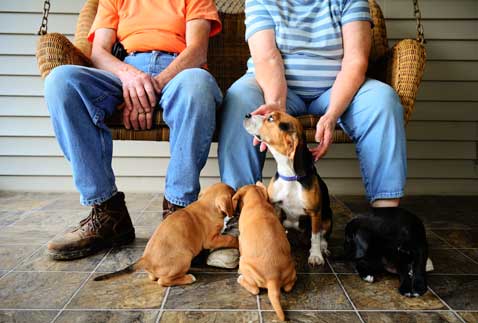 Hal and Bobbie Branson are retirees who care for foster dogs, like Lady and her pups, shown here, and take care of them on their small family farm in Henderson, Ky. (Photo by Maddie Meyer)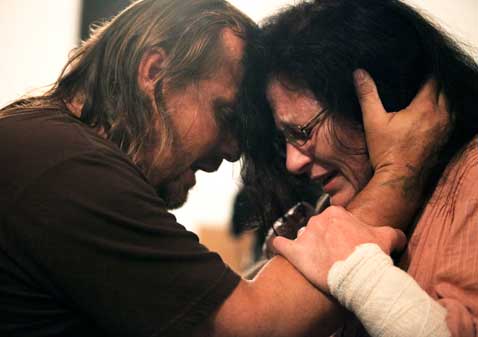 Ernie "Deacon" Lingerfelt performs an "anointing of the oils" on Ro Woodley during a church service in Henderson, Ky. "I've been suffering. I've been angry," said Woodley, whose son is facing a possible 50-year sentence for committing a violent crime. "I know God is good, but he has put me through so much and I said some horrible things. I'm so sorry for saying those things." (Photo by Ian Maule)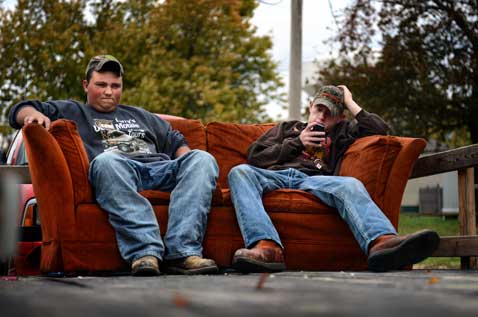 Shawn Pirtle, 18, relaxes with Jason Herron, 16, on a couch they placed on a trailer next to Jason's home on Gabe Street in Henderson, Ky. Pirtle says he was home sick from school and came over to hang with Jason, who is home-schooled by his parents. "I just want to graduate and be done with school," Jason says. "I'll probably go find a welding job." (Photo by Jerry Habraken)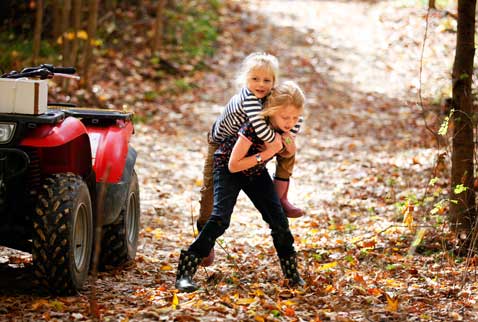 Lucy Bailey, left, and Chloe Nixon play at their family's camp, the Brain Injury Adventure Camp, while the rest of the family is occupied on the high ropes course in Henderson, Ky. (Photo by Abby O'Bryan)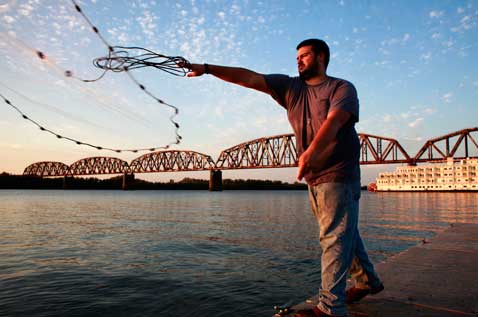 Randy Abbott casts a fishing net into the Ohio River in Henderson, Ky. His daughter, Paisley Sofia, was born 12 weeks prematurely and although her health is steadily improving, he says fishing is "about the only thing that'll calm me down." (Photo by Stephen Remich)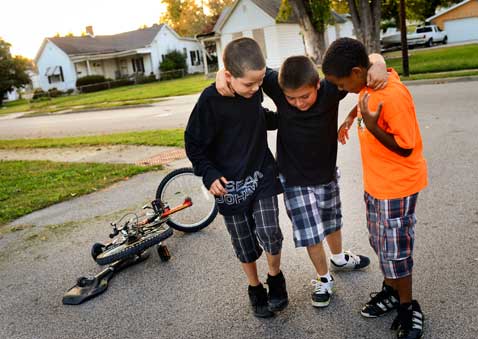 Just before dinner, Seth Coomes, 10, center, was riding a RipStik being towed by his friend on a bike when he took a tumble in Henderson, Ky. Carlos Krous, left, and Almarrow Talbott, help him test out his ankle. "If we're not riding bikes, we're playing Xbox," Carlos says. "We laugh a lot." (Photo by Jon Hernandez)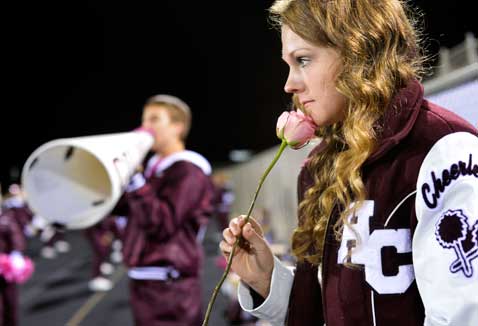 Casey Millhof didn't expect to be named homecoming queen at Henderson County High School in Henderson, Ky., but she still was a little disappointed when she didn't win the crown. (Photo by Cameron Clark)
Multimedia participants shot video, collected audio and then edited their pieces using Final Cut Pro or Adobe Premiere.
Courtesy WKU: Click to View a Complete List of Stories
If we're lucky, we find true love at last. Or even true love, again. Bill Hilyerd, 72, and Barbara Hilyerd, 64, have been married for two years now. And they're both pretty sure it's a long-term thing. (Multimedia piece by Benjamin Brayfield)
With his own marriage ended and his sons grown and gone, much of 61-year-old Tom Davis' time is focused on looking after his ailing father, James "Snoz" Davis. But the caring goes both ways. (Multimedia piece by Joanie Tobin)
Who knows you like your brother? Who thinks more about what brotherhood means? Meet Adam, Matt, and A.J. Casey. (Multimedia piece by G. Ligaiya Romero)
R. A. "Cowboy" Jones started racing at 16. His body is battered and worn, but the excitement he finds in the saddle remains as fresh as it was on that first ride more than 50 years ago. (Multimedia piece by Shauna Bittle)