ABC's Jonathan Karl to Speak with George W. Bush and Laura Bush in Their Only Broadcast TV Interview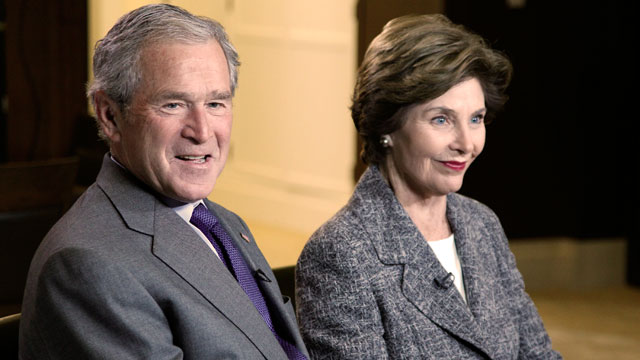 ABC's Cokie Roberts to Moderate a Historic Conversation with First Ladies Michelle Obama and Laura Bush
The 43rd President of the United States George W. Bush and former First Lady Laura Bush will sit down with ABC News Chief White House Correspondent Jonathan Karl for their only broadcast television interview during their trip to Africa. They will discuss his post-presidential activities including what has become a cornerstone of his legacy - his development efforts in Africa, specifically to help fight AIDS and malaria and promote women's health issues. The interview comes just hours after President Bush's joint public appearance with President Obama in Africa.
Portions of the interview will be featured Tuesday, July 2 on "World News with Diane Sawyer" and Wednesday, July 3 on "Good Morning America." The extended interview will air Sunday, July 7 on "This Week with George Stephanopoulos," which will be anchored by Jonathan Karl.
In addition, ABC News' Cokie Roberts will moderate an historic conversation with First Ladies Michelle Obama and Laura Bush during the opening session of the Bush Institute's African First Ladies Summit "Investing in Women: Strengthening Africa" on Tuesday, July 2. The Institute says the summit will emphasize how effective investments in women can lead to greater stability and prosperity in African countries. For more on the Bush Center visit BushCenter.org.
blog comments powered by