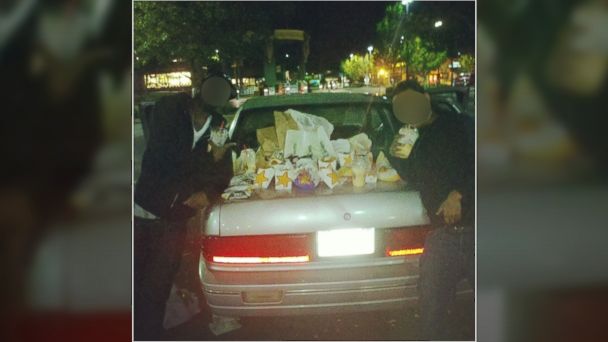 Four burglary suspects were arrested earlier this week in the town of Rocklin, Calif., after posting a photo of a fast food banquet they allegedly bought with a stolen credit card. Police said that the photo, which appeared on Instagram, led them to the suspects.
On the night of Nov. 9, Rocklin Police received four auto theft reports. "The suspect/s smashed the car windows to gain access and took GPS units, wallets and other assorted items left in plain view," Sgt. Scott Horillo of Rocklin Police told ABCNews.com.
According to a statement issued by Rocklin Police, "one of the victims learned her credit card had been used at the nearby Carl's Jr. for $120 within minutes of her making the police report."
Police said that officers contacted the restaurant manager, who remembered a large drive-through food order paid for by the credit card and was able to retrieve a license plate number and provide a description of the suspects to the police. The manager also said she thought one of the suspects was a local high school student and thought the photos might be uploaded onto an Instagram account.
Horillo said that patrol officers and the community service officer were able to locate the Instagram photos from the Carl's Jr transaction. They also learned the suspects were intent on returning to Rocklin on the evening of Nov. 10.
Tavion Spignor, 19; Leroy Jackson, 25; Malek Morgan, 20, and a minor whose name has not been released were subsequently arrested on charges of burglary, conspiracy, possession of stolen property and unauthorized use of personal identification.
Rocklin's Chief of Police Ron Lawrence commended Rocklin Police for their successful investigative efforts.
"This was an excellent police investigation by members of the Rocklin Police Department, and demonstrates the high-caliber of personnel we have. They used keen investigative techniques, technology, patience, and good old fashioned police work to catch these criminals. Bravo to our men and women in blue! I am proud to be their chief," said Lawrence in a public statement.