New Year's Eve Prices at NYC Casual Restaurants Are Off the 'Chain'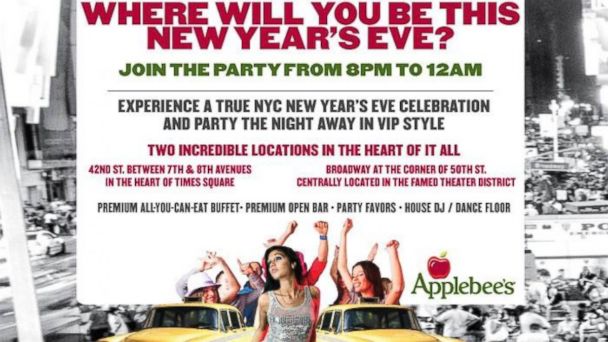 Times Square in New York City is the center of the world come New Year's Eve. Tens of thousands of revelers from around the world flock to midtown Manhattan, where they are subsequently forced to wait for hours in the freezing cold and without access to bathrooms.
(Trust us, it looks more fun than it is.)
The casual dining chain restaurants, located in Times Square, have come up with solution to every partier's problem - and they're even throwing in all-you-can-eat potato skins and an open bar.
But there's a catch.
It, as New Yorkers are wont to say, ain't cheap.
Depending on which of two Times Square locations one chooses, tickets at Applebee's are either $350 or $375. @ (Kids party for $250!) That money gets you a buffet dinner, open bar, a DJ and a champagne toast at midnight.
At Ruby Tuesday, general admission will cost you $295 and a VIP table goes for a whopping $495. Regular guests get mini beef and zuchini burgers, but for an extra 200 bucks, VIPs get to much on teriyaki wings and a shrimp platter!
At TGI Fridays, tickets sell for $299 and include a "Live DJ" (not a dead one?) and "hats and noisemakers." A manager at Friday's told ABC News, "there will be steak and probably salmon. There might chicken marsala but I can't promise."
"But yeah we got bathrooms," he said. "And plenty of heat."
That should it make all worthwhile.
blog comments powered by