Feb 26, 2014 5:28am
What began as a student protest on Feb. 4, when activists gathered in the streets of San Cristobal to protest a crime wave that never seemed to break, has now spread across the South American nation once ruled by Hugo Chavez, leaving at least 15 dead, dozens more injured, and the future of the strongman's "Bolivarian Revolution" in an existential crisis.
Here is a look at some of the key players in the turmoil gripping the country.
President Nicolas Maduro
President Hugo Chavez's hand-picked successor, Maduro formally took over the presidency after Chavez died on March 5, 2013. He defeated longtime foe Henrique Capriles in a special election 40 days later. Despite his close ties to "El Presidente," Maduro lacks his mentor's electric political persona and guile. To channel those unusual powers, there's usually a picture of Chavez by his side when he speaks in public.
Leopoldo Lopez
The young opposition leader with the matinee idol face surrendered to police on Feb. 18 after being accused of inciting violent protests against the Maduro government. Lopez is just 42 years old, but no political novice (as evidenced, in part, by his dramatic departure into the hands of national guardsmen).
Described as "arrogant, powerful and vindictive" by his former allies in the opposition, his resume includes a Harvard education and a stint as mayor of Chacao, the wealthiest district in Caracas. Two years into his time as mayor, he helped organize a failed coup against Chavez. For his trouble, Lopez — who, ironically, is a descendant of Simon Bolivar, the freedom fighter and president after whom Hugo Chavez named his "revolution" — was banned in 2006 from running for public office.
The Protesters
To the government, they are "fascists" taking cues from American imperialist infiltrators. To most neutral observers, they appear to be largely middle class students and workers who have been squeezed by a dire economy plagued by shortages: Medicine and toilet paper, most notably. Their demonstrations, which began as a reaction to unchecked violence, in particular the rape of a university student in San Cristobal, blew up after the government declared them illegal.
The protesters are not, to this point, coming from the country's poor communities, many of them deeply beholden to Chavista social programs.
Diosdado Cabello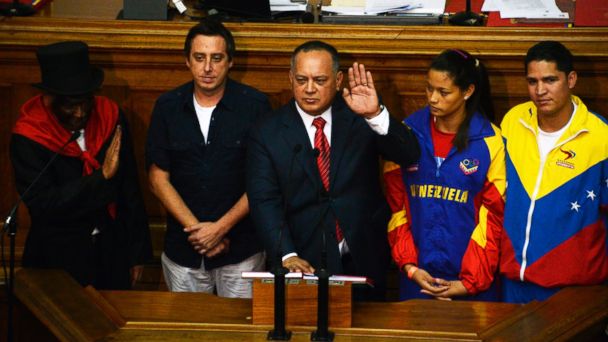 The head of the power State Assembly, Cabello is also a powerful figure among the military elite. There was some thought he would use his leverage with the armed forces to leapfrog Maduro and claim himself as Chavez's heir after the president died. But Maduro moved quickly, winning his own election by a small but statistically significant margin, and the whispers soon faded. Today, any potential rivalry with Maduro comes second to their shared interest in keeping the Chavistas in power.
Rafael Ramirez
The state oil minister and "vice president for the economy" is one of Maduro's most powerful cabinet members. He has been tasked with managing the valuation of the Venezuelan bolivar, the country's fragile currency. He is the author of a plan that would allow private companies to exchange bolivars for U.S. dollars at a set rate. The goal: Take American banknotes off the black market and slow inflation.
Henrique Capriles
The opposition candidate in the last two presidential elections, he lost by 11 points to Chavez in 2012, then by just 2 points in his special election run against Maduro in March 2013. Capriles, governor of the large and economically powerful Miranda province, initially appeared open to negotiating with the government, but has withdrawn from a government-planned "peace conference."
"I am not going there to make Nicolas Maduro look good," he told reporters Monday, pointing to Leopoldo Lopez and other anti-government protesters now languishing in state prisons.
Hugo Chavez
Dead for more than a year, Chavez is still the most powerful political leader in Venezuela. Where Maduro can underwhelm at public events, the mention of Chavez, his image on a mural, fuels the Chavistas.
"Chavismo sin Chávez no existe," (Chavismo without Chavez does not exist) Elias Jaua, his former vice president, said in 2012 when concerns about the president's health threatened his reelection campaign. In 2014, his theory is being tested.