May 1, 2013 2:35am
"Toy Insider Mom" Laurie Schacht has a round-up of cool new toys — with a twist!
They're great for both boys and girls.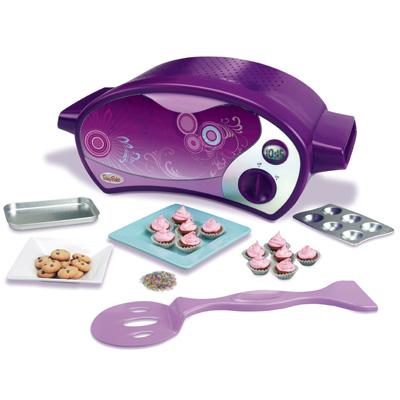 EASY-BAKE Ultimate Oven (Hasbro)
Kids will love to get creative in the kitchen with the EASY-BAKE Ultimate Oven. This oven has a stylish look and modern functions perfect for today's tweens!
Chefs-in-training will love to gather with their friends to bake and decorate sweet and savory snacks in this oven, which features a heating element similar to a conventional oven and that does not require a light bulb.
Easy to use, the oven features a larger cooking chamber and big baking pans. This fall, to commemorate it's 50 anniversary, the EASY-BAKE brand will release a new color scheme for the EASY-BAKE Ultimate Oven, a sleek silver, blue and black model.
The EASY-BAKE comes complete with all the tools tweens will need including a baking pan, pan pusher/spatula, storage drawer, and mix
Ages: 8+
MSRP: $54.99
Safari Train (Mega Bloks)
All aboard the First Builders Safari Train by Mega Bloks. These new buildable safari friends come with big friendly faces, cute smiles and big prongs to let your child have hours of fun stacking. This set features a buildable safari train with a press down whistle that really works, and five fun safari animals including an alligator, elephant, hippo, lion and parrot. Combine these with other sets for more expanded play fun.
Ages: 1+
MSRP: $19.99
Barbie Pool Party (Mega Bloks)
Mega Bloks Barbie buildable, multi-level pool, really holds water. Accessorize with umbrellas, flowers, trees and more to lounge and relax in style. Unlimited design and decoration possibilities. Includes Pool Party Barbie mini-fashion figure with swimsuit and skirt and Pool Party Ken. Combine with all of the Mega Bloks Barbie playsets to build a fabulous world of fashion, friends and fun!
Age: 4+
MSRP: $39.99
LEGO Super Heroes Superman: Battle of Smallville (Lego)
This set is a LEGO recreation tied to the new "Man of Steel" film. It's great for kids and adults looking to have a building experience that incorporates iconic superheroes.
Ages: 6+
MSRP: $49.99
Air Huntress  (Zing)
Girls are loving archery. On the heels of some expert archers like Katniss from "Hunger Games" and Merida from "Brave," our kids will love sharpening their cross bow skills and so will parents decked out in pink, purple and sparkles. The new Air Huntress is the next generation Z-Curve (and look for the Legends Long Bow for those who would prefer to not have pink). This is a safe, realistic introduction to the sport of archery that can be used indoors or outside but since the soft foam ammo can be launched over 125 feet.
Ages: 8+
MSRP: $24.99
AIR STORM Z-CURVE BOW
Lock 'n load the Z-Curve Bow by securing the arrow through the patented loops system. The Z-Curve Bow is the ultimate in long-range foam archery, blasting targets from over 125 feet! Choose your ammo–the Z-Curve Bow fires far-flying foam Z-Arrows and stick-anywhere suction cup Zartz. Hook in your ammo, line up the shot and let it fly!
Ages: 8+
MSRP: $19.99
The Original World's Softest (Techno Source)
A line of the softest, cuddliest, most huggable, loveable, light as a cloud plush toys. This is the perfect combination of hand-feel, lightness and hugability, and is taking classic plush to a new level of softness. And, at the same time, rekindling the memories attached to classic looking plush. Styles include teddy bear, puppy, unicorn, monkey, horse and more.
Assorted sizes
Ages: 3+
MSRP: $3.99- $19.99
Available this summer
85th Anniversary Mickey & Minnie Collector's Plush (Just Play)
Two of the most beloved animated characters of all time are celebrating big birthdays in 2013. To mark Mickey and Minnie's 85th anniversary, Just Play is releasing two very special deluxe collector's plush featuring distinctly retro 1930s looks. Presented in gorgeous window box packages with elegant foil details. Each come with certificates of authenticity and feature commemorative embroidery on their feet.
Ages 3+
MSRP $19.99 each (1930″s)
Available: early fall
'Monsters University' Who's Behind the Door (Spin Master)
There's a monsters in your closet. Can you figure out which one? Ask "yes" or "no" questions to narrow down the possibilities. When you think you've figured out who's behind the door, take a guess. If you're right, the door will swing open to reveal your monster! Features all of your favourite "Monster's University" characters
Ages: 6+
MSRP: $19.99
Available May 10th
Fisher-Price Deluxe Song & Sound Wood Puzzle (TCG)
A premium eight-piece wood inlaid with sounds and plays a song when you complete the puzzle. Audio cues to encourage and promote interest and play. Big, easy to grasp wooden pieces ideal for little fingers. Rewarding sound feedback when pieces are matched. Brightly colored image themes that teach matching and development of basic size recognition skills.
Available in three styles
Age: 18 mos+
MSRP: $19.99
Fisher-Price ABC Puzzle Block Set (TCG)
This toy fosters development and improvement of hand-eye coordination skills. Thirty chunky, durable wooden blocks and 4 sides of play and learning. Includes both upper and lower case letters, basic shapes and beginning words. Only one style available, which includes a farm scene on one side. Reusable storage tray.
Age: 3+
MSRP: $19.99
DoodleArt (Plasmart)
The intricate black and white color it yourself poster is back. DoodleArt is an intricate, color-it-yourself poster kit that many remember decorating walls, dorm rooms and cafe's around the globe in the 1970′s and 1980′s. Kits include 12 felt pens with calligraphy tip on one end and a fine tip on the other. Choose from five super sized posters or eight minis sizes.
Ages: 8+
MSRP:$24.99
RoseArt Extreme 3D 3 in 1 Spin Art (Rose Art)
Spin Art is fun and easy to use. Simply lock in one of the included paper sheets into the motorized spinner, drop paint onto the paper and spin to produce outrageous designs. Try adding paint while the motor is spinning to produce psychedelic blast effects. The set includes eight color reveal sheets, two 3-D Akuna optical illusion sheets, four animal creator sheets and two free-standing paper frames for displaying your works of art. A motorized spin art wheel with paper canvases is included. A great craft activity to inspire your child's creativity & encourage play
Ages: 5 +
MSRP: $19.99
——
Follow ABC's World News Now on Twitter, Facebook and YouTube.