Dec 7, 2011 7:00am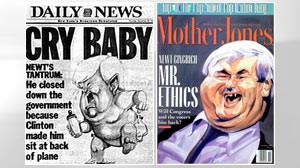 "Man of the Year," screamed a cover of Time Magazine in December 1995. Its star: Newt Gingrich, the then-young, ambitious Speaker of the House, one of the most admired men that year in polls.
Two years later, dogged by allegations of ethics violations, Gingrich faced a rebellion from his ranks.
"Gingrich Strains to Retain His Hold on the House," read one New York Times headline in January, 1997.
Another two years later, the man once dubbed the Republican answer to Bill Clinton unceremoniously leaves the House, his tumultuous leadership marked by intraparty strife and rebellion.
Many Americans may not know much about the ambitious young man who came to Congress with the goal of overthrowing Democrats from the House leadership.
"Newt — from the day he came to Congress after the 1978 elections — had a full-blown thesis, combined with a strategy and tactics for breaking the then-24 year stranglehold that Democrats had on the House of Representatives, and carried it out. And it took 16 years, but it worked like a charm in the end," said Norman J. Ornstein, Congressional scholar at the American Enterprise Institute.
Gingrich was instrumental in uniting a fragmented Republican party and taking on Bill Clinton and the Democrats in 1994. His fervor helped GOP congressional candidates across the country take over the House. He was the chief architect of the Contract with America, a document aimed at balancing the federal budget and reigning in spending.
But the Georgia congressman's tenure was fraught with controversy.
He was blamed for the government shutdown at the end of 1995, which led to employee furloughs and millions of dollars in losses for the federal government. Gingrich's disapproval rating surged to 65 percent during the budget battle with Clinton, while the president's own approval rating jumped to 53 percent, the highest it had been in two years, according to a Gallup poll. The budget showdown severely tarnished the Republican Party's image as a whole, with support for their policies collapsing sharply from 53 percent to 41 percent.
The media mocked Gingrich for not negotiating with Clinton because the president wouldn't let him sit in front of the plane and discuss the issue on the way back from Yitzhak Rabin's funeral in Israel. The New York Daily News famously illustrated the rivalry, showing Gingrich in a diaper.
"He started to think of himself as a parallel president," Ornstein said, but triggering confrontations backfired on him.
The national debt also jumped under Gingrich's leadership. In the four years that Gingrich served as speaker, gross national debt increased to $5.6 trillion from $4.8 trillion.
His term was also marred by ethics violations. In 1994, he was accused of using his congressional staff to work on a course he taught, creating a tax-exempt organization to advance his political ideology and placing the course under a political action committee that he chaired. The House ethics committee also investigated whether Gingrich provided complete and accurate information, among a myriad of other charges.
The committee found that Gingrich did, in fact, give inaccurate, incomplete and unreliable information about the project and wrongly used a tax-exempt organization to partake in an activity that "was substantially motivated by partisan, political goals."
Gingrich ended up paying a $300,000 penalty out of his own pocket for violating Congressional rules.
That still didn't stop the former history teacher from what some considered improper dealings. Of the $1.8 million he raised for his re-election in 1998, virtually none of it was spent on campaigning, the New York Times reported in 1997. The money was instead spent on lawyers, political consultants, direct marketers and public relations, all in an effort to build Gingrich's political image and pay his legal bills. Of that money, $620,000 was spent on lawyers' fees related to this ethics violation charges, while in 1996, he paid $1.1 million from his campaign money to fight those charges.
Such reports were not new. When he first began his congressional career, Gingrich's opponents charged him with soliciting private funds to promote his 1984 book, "Window of Opportunity." The congressman reportedly created a partnership with his then-wife, Marianne, to bring in private donations to get publishers to print his book. Critics also charged Gingrich with using the book to promote his political career.
Gingrich's rocky term as speaker divided the Republican Party he had once united.
"As it happens with so many revolutionaries, moving from being a revolutionary to making sure trains run on time, to leading and managing at the same time, was much harder for him," Ornstein said. "He was impulsive. He presided over a leadership that had enormous internal strife. He tried to centralize things — in some cases too much — without relying on the leadership he had in committees."
For many, those memories are still fresh. Many who served in Congress with Gingrich are wary of his presidential bid. Sen. Tom Coburn, R-Okla., said he "will have difficulty supporting [Gingrich] as president of the United States."
Political commentator Joe Scarborough, who represented Florida in Congress when Gingrich was speaker, went as far as to call him "a terrible person" and someone who "dehumanizes anybody that gets in his way."
The fact that Gingrich can bounce back from his strife-ridden term shows a certain resiliency, but it remains to be seen whether Washington politicos can overcome that history.
Ultimately, the Republicans in Congress after four years "said enough of that, and that's something people will have to keep in mind when they think Newt is better able to manage, better able to lead today than he was as speaker," Ornstein said.