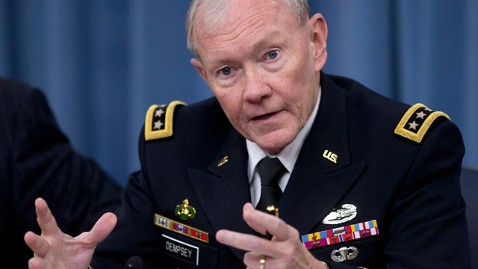 By MICHAEL FALCONE ( @michaelpfalcone )
NOTABLES
TOP BRASS TO TESTIFY: Top U.S. military officials, including Chairman of the Joint Chiefs of Staff Gen. Martin Dempsey and Army Chief of Staff Ray Odierno, will appear before the Senate Armed Services Committee today to testify about the epidemic of sexual assault in the military. ABC's MARTHA RADDATZ previewed today's hearing on "Good Morning America," noting that seven members of the Armed Services Committee are women. "I expect the chiefs are in for a real grilling," Raddatz predicts. "It could be a very dramatic day." WATCH: http://abcn.ws/19FdndS Also appearing at today's hearing are: Admiral Jonathan W. Greenert, Chief of Naval Operations; Gen. James F. Amos, Commandant of the Marine Corps; Gen. Mark A. Welsh III, Chief of Staff of the Air Force; and Admiral Robert J. Papp, Jr., Commandant of the Coast Guard, among others. Full list: http://1.usa.gov/150m7HR
WHAT THEY WILL SAY: "The nation's military chiefs have told Congress in writing that they oppose or have strong reservations about a controversial bill that would reshape military law by taking sexual-assault cases out of the hands of commanders, setting up a likely clash with lawmakers who are pushing the idea," reports the Washington Post's Craig Whitlock. "The service chiefs, however, made clear in recent letters to the Senate panel's leadership that they do not favor a leading proposal that would give uniformed prosecutors, instead of commanders, the authority to open criminal investigations into ­sexual-assault cases and bring them to trial. Such a change, they argued, would undermine the foundation of military culture by sending a message that commanders cannot be trusted to make good decisions." http://wapo.st/17U1sKR
BACKSTORY: According to the AP: "The Pentagon estimated in a recent report that as many as 26,000 military members may have been sexually assaulted last year, up from an estimated 19,000 assaults in 2012, based on an anonymous survey of military personnel. While the number of sexual assaults that members of the military actually reported rose 6 percent to 3,374 in 2012, thousands of victims were still unwilling to come forward despite new oversight and assistance programs aimed at curbing the crimes, the report said." http://fxn.ws/133H7fj
FLASHBACK: On his return trip last month from Brussels where he attended NATO meetings, Joint Chiefs Chairman Gen. Martin Dempsey told traveling reporters that sexual assault in the military constitutes a crisis, ABC's LUIS MARTINEZ notes. Here's how the Pentagon's internal news service reporter cited his quotes: "We're losing the confidence of the women who serve that we can solve this problem," Dempsey said. "That's a crisis." Also of note is how Dempsey said the Joint Chiefs are open to new proposals coming from Capitol Hill: "That's why we are very open to some of these legislative recommendations on changing the [Uniform Code of Military Justice]," he said. "I just want to make sure I understand the second- and third-order of effects of them ."
THE ROUNDTABLE
ABC's JEFF ZELENY: No matter who Gov. Chris Christie appoints to fill the seat of the late Sen. Frank Lautenberg, the Democratic majority in the Senate will almost certainly become just a little tighter - at least until a special election is held this year or next. That makes the June 25 Massachusetts race even more important for Democrats and the White House. It could be a very bad June for the president's party if Republicans managed to start the summer with two new seats - just as key legislation and a parade of nominees is heading to the Senate.
A BC's RICK KLEIN: "I'm going to win this with or without D.C.," Massachusetts Republican Senate candidate Gabriel Gomez declared yesterday. Actually, there's a need for some "with," and some need for "without." He could sure use the national attention, and the national money that would surely follow, to compete with the better-funded Democratic candidate, Rep. Ed Markey. But he can't afford his message to be subsumed by Republican messaging and priorities at the national level, not in Massachusetts. That's his critical dance over the final three weeks - and he'll have three debates to try to make that happen - as Gomez tries to follow the famous truck tracks of Scott Brown. Gone, though, will be any element of surprise; Gomez may yet make this race competitive, but few Bay State Democrats will be caught napping this time.
ABC's DEVIN DWYER: The Obama administration's prosecution of what it calls the most extensive leak of classified information in U.S. history has finally begun. Accused leaker Army Pfc. Bradley Manning doesn't dispute that he divulged 700,000 secret government documents to Wikileaks. But he says his well-intentioned desire to educate the world on the injustices of the war should temper his punishment. What does the White House think of the plea for mercy? "I couldn't comment on an ongoing trial," White House spokesman Jay Carney said Monday. But let's not forget that his boss already did. President Obama condemned Manning more than a year before his trial, telling Manning supporters at an April 2011 fundraiser that the former Army intelligence analyst "broke the law." "If I was to release stuff, information that I'm not authorized to release, I'm breaking the law," Obama said at the time. "We don't individually make our own decisions about how the laws operate." Some of Manning's supporters see hypocrisy in Obama's claim, arguing that as commander in chief he's regularly made subjective decisions about how to interpret certain laws and which ones to enforce. No matter, Pentagon prosecutors - following Obama's tough line - are determined to seek a life sentence for Manning.
ABC's TOM SHINE: Trina McDonald survived being repeatedly drugged and raped in the Navy. This morning she will go door to door on Capitol Hill with a petition signed by over 113,000 people supporting New York Sen. Kirsten Gillibrand's bill to remove military sexual assault cases from the chain of command. About the same time, just down the street, the most powerful men in uniform are expected to tell Sen. Gillibrand to her face, that they don't like her bill. They have their own plan to protect the men and women under them. (So far they have failed miserably).
WHAT WE'RE WATCHING
CAN SYRIA'S WAR BE SOLVED ON TWO WHEELS? HEAD OF NATO TALKS 'BICYCLING DIPLOMACY'. The Secretary General of NATO has a secret tool for effective diplomacy: the bicycle. Secretary General Anders Fogh Rasmussen told ABC's REENA NINAN that he's been able to resolve conflicts with heads of state and international conflict negotiators during bike rides. "When you take a break and drink some water, you can have a confidential conversation without your collaborators around you, so you can solve a lot of problems that way," Rasmussen said, following a meeting with President Obama at the White House. While Rasmussen would not reveal the names of all the heads of state he's biked with, he did identify one former U.S. president by name. "It's no secret that I have done a mountain bike ride twice with former President Bush," he said. "I have done bike rides in Europe with European prime ministers, and during those bike rides, we have also discussed political issues." http://yhoo.it/13CtsMB
BUZZ
HIGH STAKES FOR CHRIS CHRISTIE IN FILLING SENATE SEAT. The Senate vacancy caused by the death of New Jersey Sen. Frank Lautenberg was immediately enmeshed in national politics, the possible presidential ambitions of Gov. Chris Christie and conflicting laws about how to fill the vacancy, reports ABC's JOSH MARGOLIN and SHUSHANNAH WALSHE. "This is going to court," one Republican plotter said emphatically. The governor's office did not immediately respond to a request for comment. The death of Lautenberg, a Democrat who died yesterday of complications from viral pneumonia, gives the Republicans a chance to pick up another seat in the Senate. According to one New Jersey law, Christie has the authority to immediately appoint someone to fill out Lautenberg's term, which would end in 2014. Another and more recent statute, however, calls for a special election to come at the next election, which would be this November when Christie faces off in his gubernatorial re-election bid against state Sen. Barbara Buono. In that scenario the nominees would be chosen by special state party conventions. Popular Newark Mayor Cory Booker has already expressed interest in running for Lautenberg's Senate seat. http://abcn.ws/11oWTCV
NAMING NAMES: Names being floated for an immediate appointment include Republicans who have lost to Democrats. One name is New Jersey state Senate GOP leader Tom Kean Jr., son of the popular former governor who lost to Sen. Bob Menendez in 2006. There's also state Sen. Joseph Kyrillos, former state GOP chairman who chaired Christie's 2009 campaign and lost to Menendez last year. Other potential appointees include Christie's Lt. Gov. Kim Guadagno, Assembly GOP leader Jon Bramnick, and Bill Baroni named by Christie in 2010 to serve as the deputy executive director of the Port Authority of New York and New Jersey.
TODAY AT THE WHITE HOUSE: This morning President Obama delivers a statement in the Rose Garden, announcing his nomination of three candidates for the US Court of Appeals for the District of Columbia Circuit, ABC's MARY BRUCE notes. The president is expected to push back against Republicans blocking his judicial nominations as he names Patricia Millet, a career attorney in Administrations of both parties; Cornelia "Nina" Pillard, a former senior Department of Justice official; and Judge Robert Wilkins, who was confirmed unanimously for the D.C. District Court in 2010. Later, the president has a bilateral meeting with Chilean President Sebastián Piñera in the Oval Office. And in the afternoon, the president visits wounded service members at Walter Reed National Military Medical Center.
NEW ACTING IRS CHIEF PLEDGES COOPERATION. Less than two weeks since taking over as the acting commissioner at the Internal Revenue Service, Daniel Werfel admonished the agency's culture of mismanagement for the missteps that have blanketed the IRS in controversy and created an appearance of partisanship, reports ABC's JOHN PARKINSON. "It's completely inexcusable, and it's inherently damaging," Werfel said, during his first appearance on Capitol Hill yesterday in his new capacity. "We failed in that most basic core principle [impartiality] here." Rep. Ander Crenshaw, R-Fla., the chairman of the Financial Services and General Government Subcommittee of the House Appropriations Committee, said that "before Congress spends one more dime on the IRS, we need to know how it spends the money it already receives" and "what safeguards the IRS plans to have in place to make sure the funds are used in a legal and appropriate way." "Targeting groups based on their names and political beliefs is both chilling and outrageous," Crenshaw said. "It's time to talk about what happened, how it happened, who came up with this plan and why, how widespread were these abuses, who was responsible, who's going to be held accountable and how do we make sure this never happens again." http://abcn.ws/18Ol8iG
MICHELLE OBAMA TO CAMPAIGN FOR TERRY MCAULIFFE. First lady Michelle Obama will make the short trek to Virginia on Thursday to campaign with Terry McAuliffe, as the Democratic gubernatorial candidate highlights the record of E.W. Jackson, notes ABC's CHRIS GOOD. "Michelle is taking the time to support this campaign because the stakes couldn't be higher for Virginians who need a governor to put jobs first instead of pushing a divisive social agenda," McAuliffe wrote in an email to supporters, promising to enter $5 donors into a drawing to meet the first lady. Obama's visit coincides with McAuliffe's efforts to paint GOP gubernatorial nominee Ken Cuccinelli's Republican ticket as socially activist and hostile to women, continuing a major theme used by Democrats in campaigns nationwide last fall. Virginia's Republican nominee for lieutenant governor, black minister and activist E.W. Jackson, compared Planned Parenthood to the Ku Klux Klan and derided black voters' "slavish devotion" to the Democratic Party in a YouTube video recorded in September. http://abcn.ws/18N4y2C
HAPPENING TODAY: MISSOURI VOTERS PICK A NEW CONGRESSMAN. The voters of Missouri's 8th Congressional district head to the polls today to choose a replacement for former Republican Rep. Jo Ann Emerson who left her seat earlier this year. ABC's MICHAEL FALCONE notes that contest pits Republican Jason Smith, a 32-year-old member of the Missouri state house, against Democrat Steve Hodges, a 64-year-old former supermarket manager and state legislator. (A libertarian and Constitution Party candidate are also on the ballot). Political observers expect today's election in the heavily Republican district to be a low-turnout event. Hodges describes himself as "a conservative Democrat who is pro-life, pro-gun." Smith, meanwhile, touts his "100% ratings from the American Conservative Union and the Chamber of Commerce." The election of a new representative will mark the end of an era. An "Emerson" has represented the district since 1983. Jo Ann from 1996-2013, and her husband, Bill, from 1983-1996. Jo Ann Emerson now runs the National Rural Electric Cooperative Association. The 8th Congressional district covers a wide swath of the largely rural southeastern portion of the state. Polls opened at 6 a.m. CDT (7 a.m. Eastern) and close at 7 p.m. CDT (8 p.m. Eastern).
BIDEN SAYS EDUCATORS SHOULD LEARN TO RECOGNIZE MENTAL ILLNESS. Concluding a White House mental health conference yesterday, Vice President Joe Biden called for teaching educators how to recognize mental illness in the classroom, ABC's MATTHEW LAROTONDA and MARY BRUCE write. "We should be teaching … our educators to … recognize not all forms of mental illness, but those … that are like the Roman candles that go off that are totally inconsistent with any behavior that is considered to be appropriate," he said. "The earlier we get this help, the better we'll all be, and the better, most importantly, the patient will be." The vice president said the U.S. needed to be "more imaginative" in finding ways to promote mental health. "It just can't be a straight line. We've proposed a new $130 million initiative," he said. "Admittedly, it came out of the whole tragedy in Newtown." Biden's comments came as he closed out more than four hours of mental wellness forums and TED-talk style presentations attended by roughly 150 lawmakers, health professionals and advocates. He thanked the assembled mental health professionals and, particularly, those involved with the "sacred obligation" of health care for service members returning from overseas deployments. http://abcn.ws/1aXy2rn
WHO'S TWEETING?
?@matthewjdowd: Good Tuesday am! latest column. on marriage and relationships: counterintuitive thoughts. http://abcn.ws/10VuLEz
@shiratoeplitz: There's a special election tonight. Here are 10 things to know about the most likely next Member of Congress. http://atr.rollcall.com/10-things-to-know-about-jason-smith-mo08/ …
@ByronYork: From @DavidMDrucker: Immigration bill lacks the 60 Senate votes needed to pass. http://ow.ly/lGEiO
@CPHeinze: Santorum should really be sweating Walker in Iowa. Evangelical social conservative > Catholic social conservative in state.
@georgepbush: So proud to announce the birth of our son Prescott Walker Bush 'Little P' for short-Mom and PWB are doing great! pic.twitter.com/AU0HKHzzkL