Aug 22, 2013 5:59pm
U.S. intelligence is trying to "nail down the facts" about reports of a large-scale chemical weapons attack inside Syria by the Assad regime.  Some of those reports cite mass casualties that range from 1,000 to as many as 1,800 Syrian civilian deaths.
"The most recent estimates we've seen range from a thousand to 1,800, which is obviously a broad range," State Department spokesperson Jen Psaki told reporters at the State Department's daily briefing.  Psaki said U.S. intelligence is taking the lead in trying  "to nail down the facts" for the U.S. government.  "Clearly, we wouldn't be doing that if we weren't deeply concerned by these reports … or didn't believe that they were worth looking into."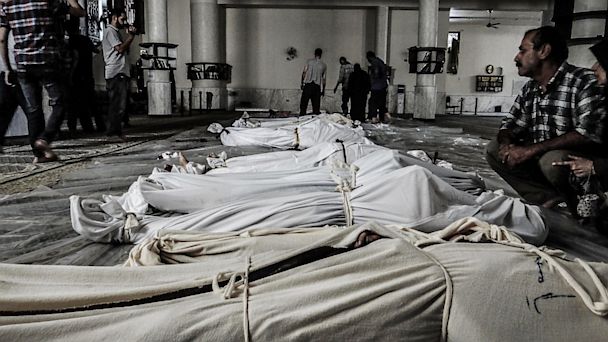 A U.S. official says Psaki is not citing an official U.S. number when she said "range of reports."  Instead she was citing information coming to the U. S. from opposition sources and the United Nations, as well as press reports.   The official said the United States is talking to them to determine what exactly happened in Damascus.
The official told ABC News that U.S. intelligence is trying to come up with a quick determination, but that's complicated by the fact that America  does not have people on the ground in Syria, a consideration Psaki echoed.
When asked if a "tipping point" had been reached in Syria, Psaki acknowledged that "people around the world"  have seen the graphic photos and videos out of Syria, saying they "shock the consciousness" and "anyone would see as beyond the pale."
She said President Obama has directed the U.S.  intelligence community "to urgently gather additional information" and that is their "focus," but it has been "unable to conclusively determine" that chemical weapons were in fact used.
Psaki  said the "president has also asked the intel community to take their own steps to look into what happened," which means "gathering information from witnesses on the ground. It means intelligence gathering. It means open-source reporting and examining that, and obviously, we've taken a close look at that. It means scientific gathering. And we know, we're aware of the limited resources we have in some capacity given we don't have a team on the ground. But we're doing everything possible to work with counterparts around the world to share information, to discuss with them what they know and also what appropriate steps are."
She was asked if the "red line," which in this case refers to the use of or movement of chemical weapons in Syria, had been crossed and she said it was "crossed a couple of months ago," but would not expand on what action the president took at the time.
"We're still focused on nailing down the facts — the intel community is focused on that; the administration is focused on that — if these reports are true, it would be an outrageous and flagrant escalation of use of chemical weapons by the regime. So our focus is on nailing down the facts. The president of course has a range of options that we've talked about before that he can certainly consider and of course discuss with his national security team," Psaki said.
She said the State Department still believes the Syrian opposition does not have access to chemical weapons at this time.
At the briefing Psaki would not comment on Thursday's release of former Egyptian President Hosni Mubarak from prison, calling it an "internal Egyptian legal matter that is  working its way through the Egyptian legal system. Beyond that, I don't have more for you. I refer you to the Egyptian government."
Psaki was also asked about U.S. aid to Egypt and where the discussions now stand; she replied that she did not "have any update to report to you."
There have been several reports this week that aid has been suspended, but the administration has stated they are still evaluating the issue.
"You can expect that meetings and conversations, given the severity of the situation, are ongoing. But I don't have any other meetings to read out or announce for you," Psaki said," adding she would not "predict a decision," or a "timeline."