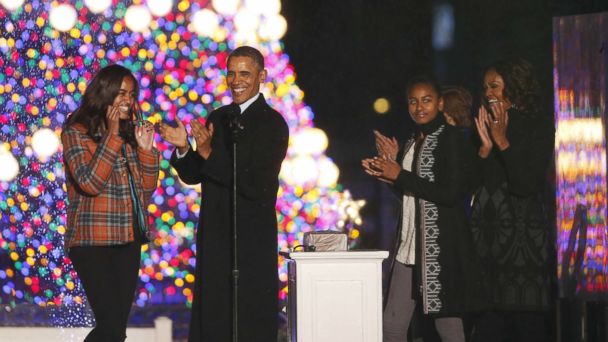 President Obama showed off his moves as he got into the holiday spirit this evening, grooving alongside a dancing elf at the National Christmas Tree Lighting on the ellipse.
After wishing the soaking wet crowd a merry Christmas and greeting the performers during the ceremony's big finale, the president tried to keep up with a little girl who was a dancer in Mariah Carey's troupe. He rocked back-and-forth for a bit, smiling, but gave up when it was clear he couldn't keep up with her.
"This show is always a great way to get in the holiday spirit. Every year, I rehearse my own little act, just in case. But it seems like, yet again, they couldn't find space to squeeze me into the program," the president joked earlier in his remarks. "You are lucky I'm not singing."
With the help of the first lady, daughters Malia and Sasha, and first grandmother Marian Robinson, the president officially lit the national Christmas tree, a massive 31-foot-tall Colorado Blue Spruce.
"For 91 years, the national Christmas tree has stood as a beacon of light and a promise during the holiday season. During times of peace and prosperity, challenge and change, Americans have gathered around our national tree to kick off the holiday season and give thanks for everything that makes this time of year so magical - spending time with friends and family, and spreading tidings of peace and goodwill here at home and around the world," he said, as the rain poured down.
The president briefly mentioned the legacy of Nelson Mandela, noting "this year, we give a special measure of gratitude for … a man who championed that generosity of spirit. In his life, he blessed us with tremendous grace and unbelievable courage. And we are all privileged to live in a world touched by his goodness."
The first lady also got in on the holiday fun, reading a spirited rendition of "Twas The Night Before Christmas" with the Muppets' Abby Cadabby. The ceremony was filled with star power and included performances from Aretha Franklin, Janelle Monáe, Arturo Sandoval and Carey, among others.