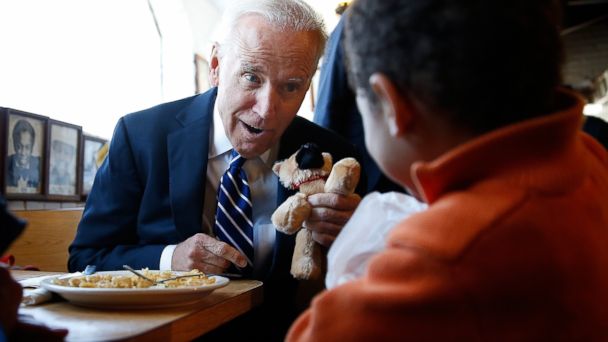 Don't bother trying to get a slice of apple pie from the Florida Avenue Grill in northwest Washington, D.C., today. The vice president snagged the last four slices and left with a plastic carryout bag early this afternoon.
Joe Biden visited the small diner just north of U Street to promote raising the federal minimum wage to $10.10 per hour - President Obama's most ubiquitous domestic policy initiative at the moment, the theme of four out of the president's last six weekly radio/YouTube addresses. Biden was also there to commend its owner, Imar Hutchins, on paying his waitstaff $3.77 an hour, well above the federal $2.13 minimum wage for employees who work for tips.
If Biden runs for president in 2016, as some have speculated, this sight will be a common occurrence in diners across Iowa and New Hampshire. Known as a skilled retail politician the VP would also count scenes like this as one of his campaign strengths.
Here is Biden, walking in with a cluster of reporters, photographers and a TV camera, asking customers seated at the end of the counter if the food at the Florida Avenue Grill is as good as he's heard.
Here is Biden, sitting down at a booth with a woman and a small child in a high chair, handing the boy a stuffed dog (with "CHAMP" printed on the collar - he carried these around and gives them out) and instructing, "You take care of him for me."
Here is Biden, glad-handing with the waitstaff and the beaming owner, walking into the back to meet the kitchen staff, telling the reporters, somewhat off the cuff and probably not accurately, "People think that waiters and waitresses make all kinds of money," and telling just about everyone that "this guy," the owner, "he went ahead … and raised it on his own" without the government telling him he had to pay his staff more. "I came here today because you've got a good guy," he said.
For all the caricatures of classic Bidenisms, he doesn't mention Scranton once (that reporters can hear) or say "God love [him/her/it]."
And here he is, walking out onto a street corner cordoned off by Secret Service, vans and SUVs blocking traffic two ways, standing and talking to the slim, suited Hutchins for five minutes - far longer than a vice president needs to, after already spending about 20 minutes in his restaurant - in the cold wind, listening to the man talk, stopping him to tell an inaudible joke that caused Hutchins to spasm suddenly with laughter, and holding in his hand the last four slices of apple pie in the place.