Bill and Hillary Clinton now have his and her Twitter photos.
Just after midnight this morning on April Fools' Day, former President Bill Clinton tweeted a picture of himself parodying the famous "Texts from Hillary" photo-turned Internet meme of Hillary Clinton texting when she was secretary of state.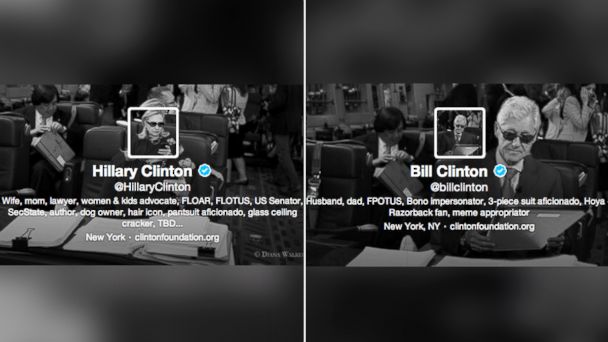 "I'm following my leader!" Clinton tweeted along with a black and white photo of himself wearing sunglasses and checking his iPad, which - like his wife - he also made his Twitter avatar.
Adding to the fun, the former president also jokingly added "meme appropriator" to the tail-end of his 160-character Twitter bio.
Hillary Clinton played along with her husband's spoof as well.
Later Tuesday afternoon she re-tweeted Bill Clinton's photo, but added in her own tongue-in-cheek remark.
"Well, that's what happened to my iPad!" she quipped.
The original photo of Hillary Clinton, in which she is wearing dark sunglasses while checking her BlackBerry, was taken nearly two years ago aboard a C-17 transport plane the day before the capture and killing of Libyan leader Moammar Gadhafi, according to the photographer, Kevin Lamarque.
It instantly became an Internet sensation, spawning thousands of memes and the now-infamous "Texts from Hillary" tumblr.
Since then, both of the Clintons have come to embrace social media.
In Hillary Clinton's very first tweet last year, she joked about the "Texts from Hillary" meme. "Thanks for the inspiration @ASmith83 & @Sllambe - I'll take it from here… #tweetsfromHillary," she tweeted, referencing the founders of the tumblr blog.
Bill Clinton tweeted out a February Presidents Day greeting, and in the process even ribbed President George W. Bush for his absence on the social media site using the hashtag "#HowAreYouNotOnTwitter?"
And just last week, the Clinton family took a "selfie" with Jimmy Kimmel at their annual Clinton Global Initiative University summit, which quickly went viral on social media.
By 10 a.m. ET today, Bill Clinton's photo had already been retweeted more than 3,000 times.