Shots Fired: Gun Violence in America
11 Days of Shooting in the Summer
By PIERRE THOMAS, GENEVA SANDS, JACK CLOHERTY, JACK DATE, MIKE LEVINE and AUDREY TAYLOR
Lor Scoota,
a 23-year-old Baltimore rapper
, had become a sudden star in his troubled city last summer.
Scoota's rap song "Bird Flu" became an anthem of sorts for Baltimore – riffing off of the city's division champion Orioles and its drug culture. It became a rallying cry after Freddie Gray's death in 2015 and the protests and riots that followed.
Police point out that Scoota had his own troubles with the law, but his family says he wanted to use his newfound celebrity to help his city.
On June 26, the rapper, whose given name was Tyriece Watson, held a peace rally full of basketball, hip-hop music and the hope brought by the rising, young Baltimore rapper.
He finished up an electrifying rally with an impassioned plea for the killing to end. But as he left the "Pray for Peace" event, exiting Morgan State University and driving into Northeast Baltimore, police say someone in a green minivan followed.
The driver pulled behind Scoota at a stoplight, hopped out of the van, and fired several shots at point-blank range.
"It was very cold and calculated," Baltimore Police Commissioner Kevin Davis said. "This isn't the killer's first time, probably, killing somebody."
Scoota died on the scene.
Police later said the shooting was an act of retaliation for a previous, non-fatal shooting. Scoota is believed to have a connection to the gunman in that case – but was not involved in the shooting.
Detective Jonathan Jones of the Baltimore Police Department Homicide Unit, who is investigating Scoota's death, looked over the city from headquarters.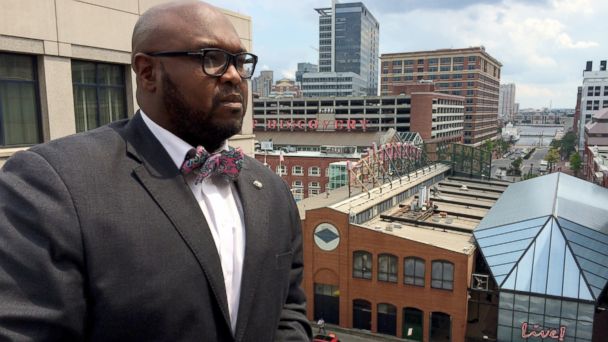 In the savage code of violence enforced on Baltimore streets, Lor Scoota lost his life because of a shooting in which someone else pulled the trigger.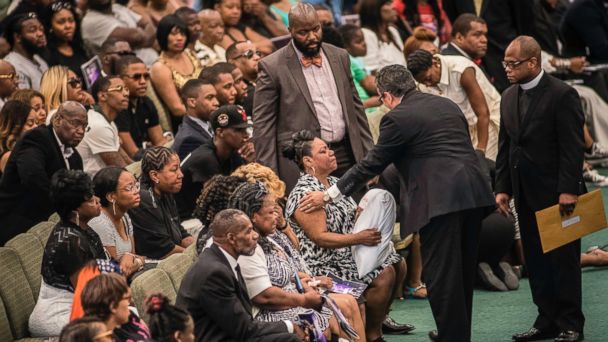 Five days later, Scoota was laid to rest in a white coffin. His family, friends and dozens and dozens of fans were there for the emotional service, as the book was closed on another promising, young life.
"The other day there were so many kids dancing to his music," his cousin, Donnell Watson, reminisced at the memorial, "and he always gave off such a positive vibe. [The violence] is so constant and so senseless."
Gun Violence in Every American Neighborhood
For 11 days this summer, ABC News and ABC stations across the country examined each and every shooting in America in an effort to gauge the pervasiveness of gun violence. The goal was to look beyond the mass shootings to take a deeper look at the toll of everyday gun violence in each state, city, county and small town.
Scoota's death was one of 509 at the hands of gun violence during the 11 days that ABC documented. His shooting death was one of 1,277 violent gun incidents across the country during that same period of time.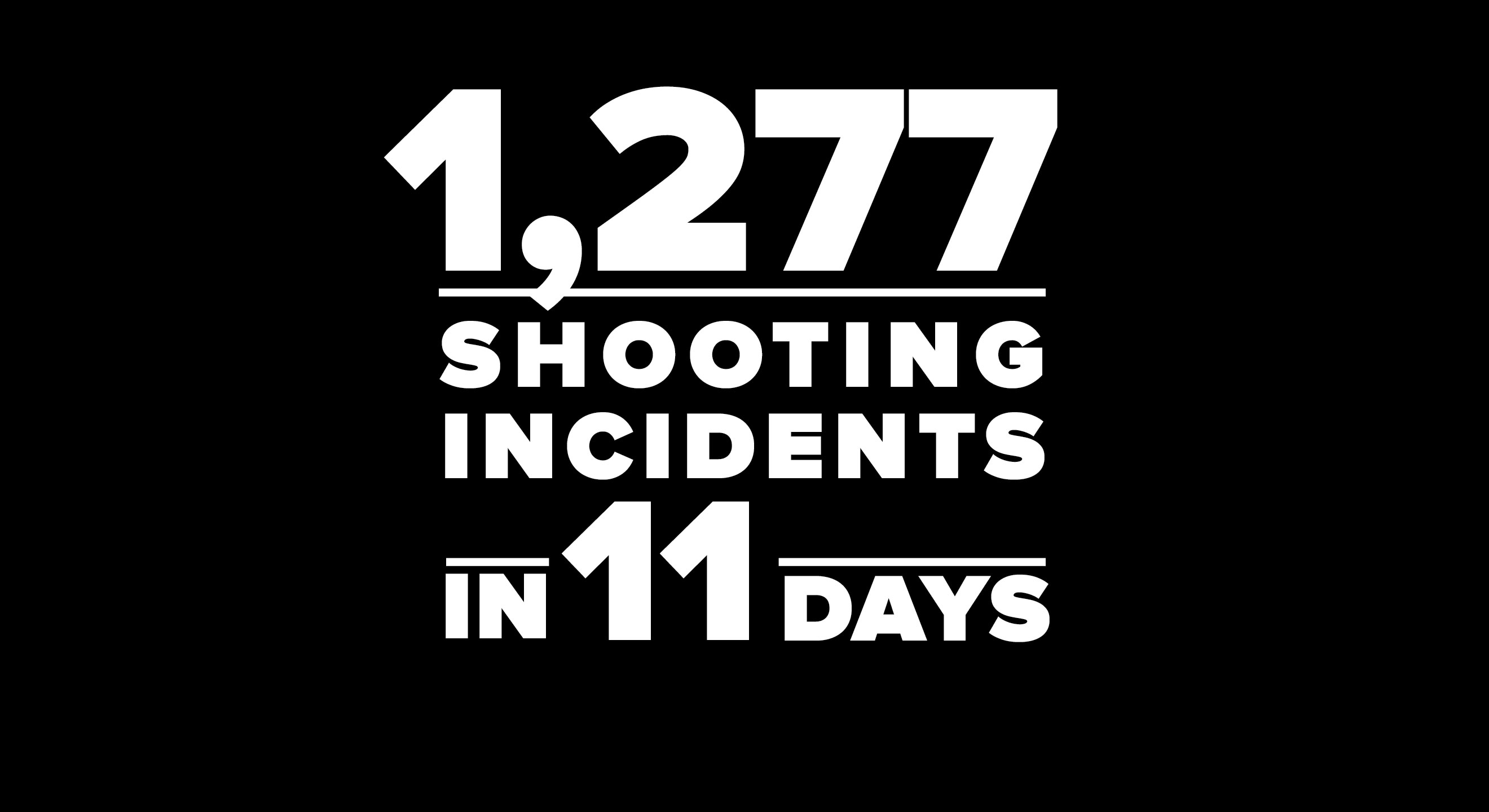 With help from the Gun Violence Archive, ABC News documented gun violence from the period of June 24 to July 4, 2016.
The grim statistics reveal that violence is unrelenting all across America.
The Gun Violence Archive, which tracks gun violence across the country, has found that an average of 36 people are killed by gun violence in the United States every day.
"You'll have some tragic incidents such as Sandy Hook that take place and there is a lot of attention that goes towards the gun violence," said Scott Thomson, police chief of the Camden County, N.J. Police Department . "But in many of the challenged communities of this country, there is a Sandy Hook in slow motion that is happening every day."
Police and the People
Recent events have shown in painful detail – broadcast to the world over social media – that the very people sworn to protect our communities can sometimes be the ones who use a gun to take away the life of a neighbor, a family member, a friend.
The officer-involved shooting that led to the deaths of Philando Castile in Minnesota and Alton Sterling in Louisiana sparked another wave of protests against law enforcement across the country this summer.
At the same time, law enforcement officers – nearly 1 million in the U.S. who put everything at risk each day to protect the communities they serve – are increasingly coming under fire and losing their lives to the pull of a trigger.
Last week, a gunman ambushed police officers at a peaceful protest in downtown Dallas, killing five of them.
So far this year, gun-related deaths of officers have jumped 44 percent compared with the same time period last year, according to the
National Law Enforcement Officers Memorial Fund.
In the 11 days tracked by ABC News, at least eight officers were shot in the course of their work, according to the Gun Violence Archive.
In one case, a Philadelphia-area officer was responding to a call involving drug use in the back of an apartment building when the suspect ambushed him by punching him and then opening fire, the officer later told
ABC's Philadelphia station WPVI-TV.
He was shot seven times, first in the face, then in the chest and leg. But thanks to a bulletproof vest, he managed to survive.
"Just realize how dangerous our jobs really are, and [how] something as simple as that can turn as bad as it did," Folcroft Police Department officer Chris Dorman said.
In Auburn, Washington, a Department of Corrections officer executing a warrant with a federal firearms task force was wounded in a gun battle that broke out in the parking lot of their suspect's apartment complex, according to
ABC affiliate KOMO-TV in Seattle
.
Over the same period of time, officers opened fire on at least 78 suspects, killing 42 of them. Hardly any of the incidents made national headlines.
A review of cases cited by the Gun Violence Archive indicates most of those shot allegedly presented a threat to others or the officers who shot them.
In one case, a Georgia trooper shot and killed a suspect who tried to drown the trooper after a high-speed chase, according to ABC affiliate WSB-TV in Atlanta.
In Pinellas Park, Florida, police killed a man who fatally shot his own son and then opened fire on them.
In Burbank, California, police shot a man who fired several rounds inside a McDonald's and then "leveled the gun" at responding officers, according to KABC in Los Angeles. The 29-year-old man later turned the gun on himself and died of his wounds, authorities said.
In the nation's capital, D.C. police shot a 63-year-old man who raised a gun toward officers and ignored their calls to "drop the gun," according to ABC7 in Washington. The gun turned out to be a BB gun. Police later released body-camera footage from the incident.
Local police and federal authorities have been looking hard at cases involving law enforcement and gun violence.
In May, FBI Director James Comey warned of a growing "disconnect between communities and law enforcement," potentially propelled in part by what he called the "viral video" effect.
"Is there something about those [viral videos] that is affecting law enforcement at the marginal proactive policing edge? That is, are officers in some places more reluctant to get out of their cars and engage in the kind of community policing that helps reduce crime?" Comey asked.
Comey
urged both sides to see things
from the other's perspective.
In Their Defense
In the 11 days tracked by ABC News, there were 49 shooting incidents involving what the Gun Violence Archive calls "defensive use" of firearms.
For example, in East Ridge, Tennessee, a 54-year-old man went into the store at a gas station and demanded money, before grabbing a female clerk and taking her hostage. As the suspect dragged the clerk out of the store, a customer spotted them, got a handgun out of his vehicle and fired several shots, hitting the suspect in the torso, according to NewsChannel9 in Chattanooga.
Similarly, in Spokane Valley, Washington, a man allegedly tried to rob a bank at gunpoint – but a customer inside the credit union was armed and fired at the suspect.
"At this point the belief is the suspect was possibly hit in the arm and fled the bank on foot," Spokane County Sheriff Deputy Mark Gregory told
ABC affiliate KXLY-TV in Spokane
after the incident.
"It's a good thing he had a gun," a Spokane Valley resident who lives near the bank said of the armed customer. "He [might] have prevented somebody really getting hurt. ... It was a damn good thing."
In total, "defensive use" accounted for less than 5 percent of the 1,125 shooting incidents identified by the Gun Violence Archive in those 11 days.
They Said They Were 'Fooling Around with the Gun' When It Went Off
In many cases, gun violence is unintended, but with the same deadly consequences.
During one of the days we tracked, at least two children under 10 years old were shot in accidental gun incidents.
On the morning of June 25, a 5-year-old boy shot and killed his 4-year-old brother, Christopher Lassiter, in East Orange, N.J.
Authorities have said the gun belonged to their mother, Itiyanah Spruill, 22, but it was still unclear how the 5-year-old got ahold of the gun, reported
ABC7 in New York.
The boy's' mother broke down crying in court while her attorney requested permission to attend her son's funeral.
She pleaded
not guilty last week
to weapons and child endangerment charges.
The same day in Cleveland, Ohio, an 8-year-old boy was injured while attempting to reload a handgun. The young boy and his friends found the gun, a Cobra FS .38-caliber semi-automatic handgun, in their uncle's car, a 2004 Cadillac Seville. They took three bullets out of the gun, but didn't know how to put them back, so they looked for a YouTube video, according to police reports. The boy shot himself in the arm.
The boy was transported to the hospital and was in stable condition,
reported ABC5 in Cleveland.
During the 11 days, the Gun Violence Archive tracked 16 accidental firearm deaths.
"Securely storing firearms when not in use is the No. 1 way to help prevent firearms accidents, thefts and misuse," said Bill Brassard Jr., senior director of communications for the National Shooting Sports Foundation, which manages
Project ChildSafe
, a gun safety program throughout the U.S.
There is a secure storage device for every individual's home circumstances, ranging from a gun lock, lock boxes, quick-access gun safes to full-size gun safes, according to Brassard.
Project ChildSafe also provides gun locks to local law enforcement to give to gun owners at no cost.
Project ChildSafe teamed up with the
Detroit Police Department to teach gun safety -- programs
that they carry out throughout the country.
"There is no excuse for not securely storing firearms to keep them away from children and other unauthorized persons," said Brassard.
Our Most Prevalent Gun Problem: Suicide
Suicides by gun are one of the most difficult types of gun violence to track in real time, as U.S. media organizations generally don't cover self-inflicted gun deaths, and privacy laws prevent reporting on a lot of the cases.
However, data show that suicide deaths have been on the rise over the past decade. Ninety percent of people who die by suicide have a mental disorder at the time of their deaths, according to the American Foundation for Suicide Prevention (AFSP).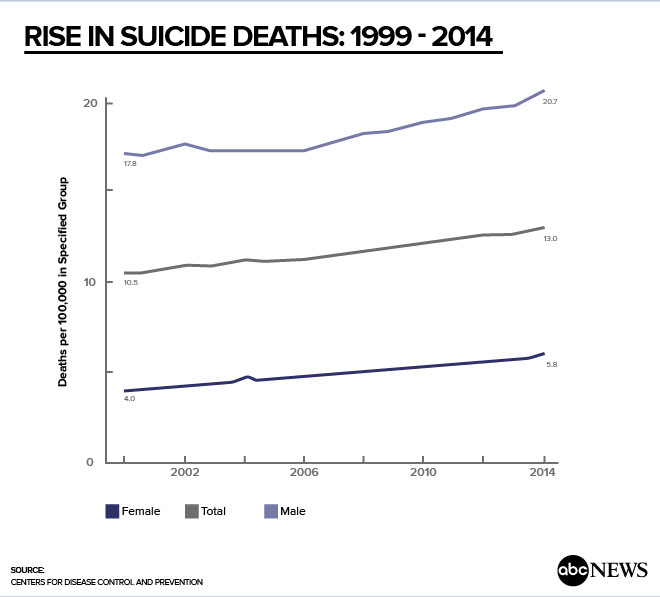 Suicide deaths by firearm are nearly double that of homicide deaths by firearm, according to CDC data.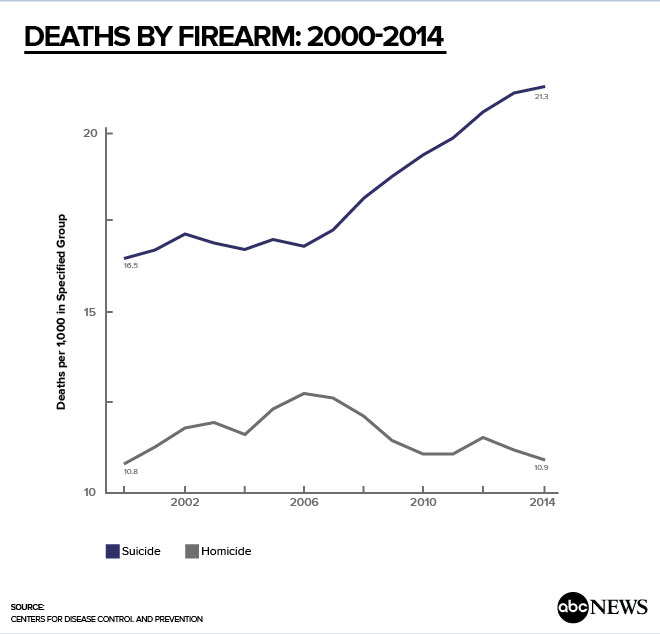 And about half of all suicides in the U.S. were committed with a firearm in 2014, according to data analyzed by AFSP.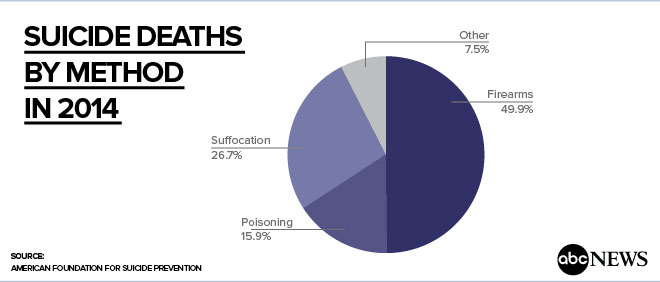 The Gun Violence Archive cataloged 335 suicide deaths by firearm so far this year.
Cathy Barber, director of the Means Matter Project at the Harvard School of Public Health, believes that partnering with gun owners and gun stores is one of the "easy ways" to help reduce suicide. The
Means Matter Project
works to find ways of reducing a suicidal person's access to highly lethal means. Most people who survive suicide attempts do not try again, so limiting access to lethal means can save lives, according to Barber.
In her work, Barber found that the values of gun owners -- promoting responsibility and preventing accidents and protecting the family -- are very consistent with the values of preventing suicide.
"This isn't about slamming guns, this is about figuring out a solution that is going to protect gun owners and their families," she said.
There is a timing issue when it comes to suicide risk. The risk of an individual is highly dynamic, it changes over time. The impulse to carry out an act of suicide may only be there for a few minutes in some cases, according to suicide prevention advocates and medical experts who study the issue.
Barber suggests getting "creative" to reduce the risk that people will use a firearm to kill themselves, and that could mean leaving your guns with a friend, putting them in a storage unit or changing the lock combination.
Summer Crime Spikes
Shootings spike during the hot and humid months across the U.S. On average in the summer, about 46 people are killed every day – and in the winter, it drops down to the high 20s, according to Mark Byrant, executive director of the Gun Violence Archive.
The Gun Violence Archive is a nonprofit that collects gun violence incidents from over 1,500 media, law enforcement, government and commercial sources daily. The organization aims to provide near-real time data about gun violence throughout the U.S.
"I don't think the country understands the level of violence," Byrant said. "If you tell them, they are absolutely shocked."
Shots Fired, Part 1: 11 Deadly Days of Shootings
ABC Breaking News
|
Latest News Videos
The annual average is about 36 non-suicide related gun deaths per day -- plus another 60 suicides, according to Bryant.
During this 11-day period, 32 children, age 17 and under, were killed with a firearm, according to the Gun Violence Archive.
ShotSpotter, a law-enforcement contractor, works with police departments in more than 90 cities across the U.S. to monitor when gunshots are fired. It places audio listening stations at key areas in each city and immediately reports to police when and where those shots are fired.
"Last year we saw approximately 60,000 gunshot incidents that were processed through our incident review center," CEO Ralph Clark said.
Here you can hear the audio of 11 shootings in 11 different cities over the 11 days.
Clark said his company has found that only about 40 percent of actual gunfire is reported to police. In high crime areas, people become accustomed to gunfire and often don't call 911. In places where gunfire is unusual, people often assume that sound is a truck backfiring or fireworks, and never pick up the phone.
Chicago
One of the cities hit hardest by rampant gun violence is Chicago.
There have been more than shooting deaths, according to police. By early July, the city had logged 100 more murders than it had at the same time the previous year.
Yvonne Nelson was the victim in homicide No. 215.
After finishing her day working as an operator for Chicago's 311 information line, Yvonne Nelson stopped at a nearby Starbucks to grab a cup of coffee before heading home. It was May 20, a Friday, at about 4 p.m.
But Nelson never made it home that day.
Shots Fired, Part 2: A Stray Bullet, A Cop's Self-Defense Claim, A Suicide
ABC Breaking News
|
Latest News Videos
As she left the coffee shop – just one block from Chicago Police headquarters – a bullet struck her in the chest. The wound was fatal. The intended target of the gunfire was a rival gang member who was also hit just a short distance away from Nelson.
The brazenness of the crime was shocking – a measure of the escalating violence in the city. Chicago Police Deputy Chief Steve Caluris was there when the shots rang out.
"I saw the reaction of the people on the street ducking for cover," he said when ABC News spoke to him at the beginning of the 11 days in June. "I saw the other shooting victim, I saw him collapsed out on the side of the parked squad car that was on the corner."
Caluris spotted Nelson, slumped in the doorframe of the coffee shop, and he tried to render aid.
In a city where murders are up 48 percent, this killing hit police close to home.
"When it happened ... it kind of infuriated me, but at the same time it just it made me sad because that just shows you that what we're up against in the city of Chicago," Chicago Police Superintendent Eddie Johnson said in an interview.
The suspect, caught on June 25, 2016, while hiding in the garage of a Southside Chicago home, was 15 years old at the time of the shooting. He is being charged as a juvenile and is now facing a murder charge.
According to police, he already had a criminal history, including an arrest and sentence of probation for robberies with a BB gun.
Much of the gun violence in Chicago, police officials say, can be attributed to a relatively small number of individuals.
"Chicago is roughly a city of over 2.6 million. So out of that 2.6 million, it's a small subset subsection of individuals – roughly 1,400 individuals – that are really driving most of our gun violence in a city," Superintendent Johnson said.
The city has worked with researchers at Yale University and the University of Chicago to attempt to identify people in the city who are at the highest risk to be involved in gun violence, either as victims or behind the trigger. Using a sophisticated algorithm which assesses an individual's criminal history and connections such as gang affiliations, police have developed what they call the Strategic Subject List -- or SSL.
"This is a list of specific criminal subjects that are most at risk for future violence," said Jonathan Lewan, Deputy Chief of Technology for the Chicago Police Department. "We call them most at risk to become parties of violence, which means they could be either a victim or an offender in gun violence either shooting or murder."
Chicago Police have been working to try to stop shootings before they happen through direct contact with people on the SSL. They visit them with what they call a "custom notification." The visit is intended to let people know that their presence on the list makes them 300 to 500 times more likely to be a victim of a shooting, according to police.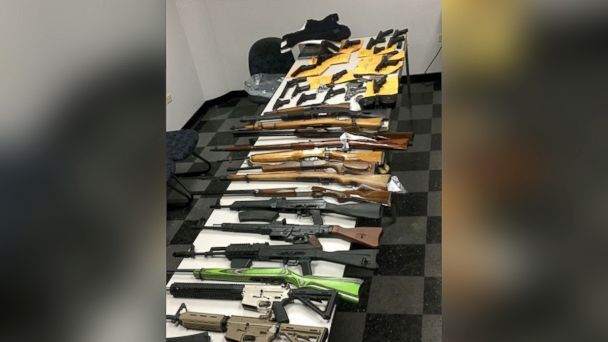 "This year alone CPD has recovered more guns combined than LAPD and New York PD combined. So essentially since January 1st, the police department has recovered one gun per hour of this year, one illegal gun per hour," Superintendent Johnson said.
That's roughly 4,000 guns recovered through June.
When Home Is Where a Fatal Shooting Is

The incidents of domestic gun violence are routine, and shocking. In our 11-day survey period, we found: an 11-year-old Ohio girl screaming in horror as she sees her mother's boyfriend kill her mom, then turn the gun on himself; a 17-year-old boy in Oklahoma who tries to intervene to help a female friend out of an abusive situation, and is shot and killed by her boyfriend; an 8-year-old boy in Texas who wakes up on a Sunday morning to find the bodies of his mother and father -- dead in a murder-suicide.

These are all people who loved or cared about each other, at least at one time. But husbands are killing wives and girlfriends, and mothers are even killing their own children. Entire families are just erased with the squeeze of a trigger. Bryant, of the Gun Violence Archive, said he finds that the public perception is that most gun violence is an inner-city problem, fueled by gangs and drugs. But he says in his research, he said an equal number of domestic violence cases -- family members killing each other.

"In the mountains of eastern Kentucky, in the prairies in Kansas and Nebraska, you see everything from domestic violence for families that the father will shoot his wife, shoot his three kids, everyone's dead," Bryant said. "Those add up at a rate equal to or more so than that what we see in urban areas."

During the 11 days we chronicled, 67 men, women and children were killed in domestic violence-related shootings, 37 were injured.

From Jan. 1 through the Fourth of July, there were 756 gunshot deaths as a result of domestic violence, with another 483 people shot and wounded.

Bryant said many of those cases were murder-suicides, where one person, often the male, kills his family and then turns the gun on himself. But there are incidents when a mother or child does the killing, as in the case of Christy Sheats, a 42-year-old mother of two.

On the evening of June 24, in a wealthy enclave west of Houston, Sheats called for a family meeting. Her estranged husband Jason, daughters Madison, 17, and Taylor, 22, gathered at the home. The family was getting ready for Taylor's wedding, set for the following Monday. But Taylor would never see her wedding day.

Christy Sheats pulled a gun and apparently started ranting and threatening her daughters. On the 911 call, placed from the home, you can hear the girls begging for their lives. "Please! Forgive me, Please, don't shoot!"

The girls run, but aren't able to escape. Christy Sheats even chased one of the girls down outside, killing her on the street. She refused to drop the gun even after police arrived, and officers shot her dead.

Mark Bryant believes that the proliferation of guns has resulted in more domestic violence deaths.

"Used to be," Bryant said, "we would see domestic violence, and as bad as it was, a woman would have a black eye, a woman would have a fractured arm, or a dislocated shoulder, or a concussion. … But now with a proximity of weapons, with people carrying guns in their pocket, or having it tucked in the couch, or next to the bed, it can escalate from hitting someone in the eye to killing them. And there's no going back. Once that triggers pulled, there is no going back."

Additional Credits
Nightline JUJU CHANG, ROXANNA SHERWOOD, GEOFF MARTZ, DURRELL DAWSON, ERIN BRADY, and ASHLEY LOUSZKO
Show Integration ERIC JOHNSON and LAUREN EFFRON
Coordinating Producer BEN BELL
Producer BARTLEY PRICE
Producer NATE LUNA
Additional Reporting and Production YSA GOMEZ-GONZALEZ
Editor PAUL SHIN
Nightline Graphic Designer VICTORIA HUNTER-MCKENZIE
Photographer (Lor Scoota Memorial) ANDRE CHUNG
Social MEREDITH FROST
Video Editor TOM THORNTON
Video Editor STEPHANIE RUTKOWSKI
Video Production MICHAEL HUBERMAN
Camden Production OZREN MILHARCIC
Art Director ANDREW VANWICKLER
Graphic Designer GABRIELA NISENBAUM
Senior Developer GREG ATRIA
Photo Editors PHAEDRA SINGELIS, JEFF COSTELLO and JEFF SWARTZ
Supervising Producer RONNIE POLIDORO
Managing Editor XANA O'NEILL