As Vice President Mike Pence said much of the coronavirus pandemic could be "behind us" by early summer, House lawmakers returned to Capitol Hill Thursday and overwhelmingly approved the Senate-passed $484 billion interim relief package that replenishes a small business loan program and also boosts funding to hospitals and testing.
Lawmakers, many donning masks per CDC guidelines, some wearing gloves, returned to vote in person on this fourth stimulus measure after Republicans insisted on the in-person vote.
The vote Thursday was 388-5.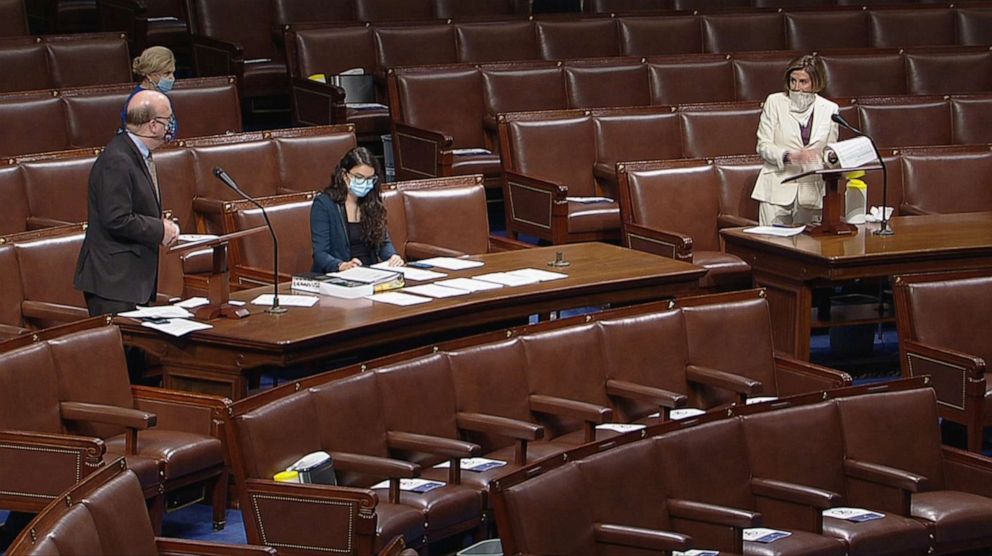 Rep. Alexandria Ocasio-Cortez of New York was the lone Democrat to oppose the measure along with Republican Reps. Andy Biggs of Arizona, Ken Buck of Colorado, Georgia's Jody Hice, and Thomas Massie of Kentucky.
President Donald Trump said that he would probably sign the measure later Thursday.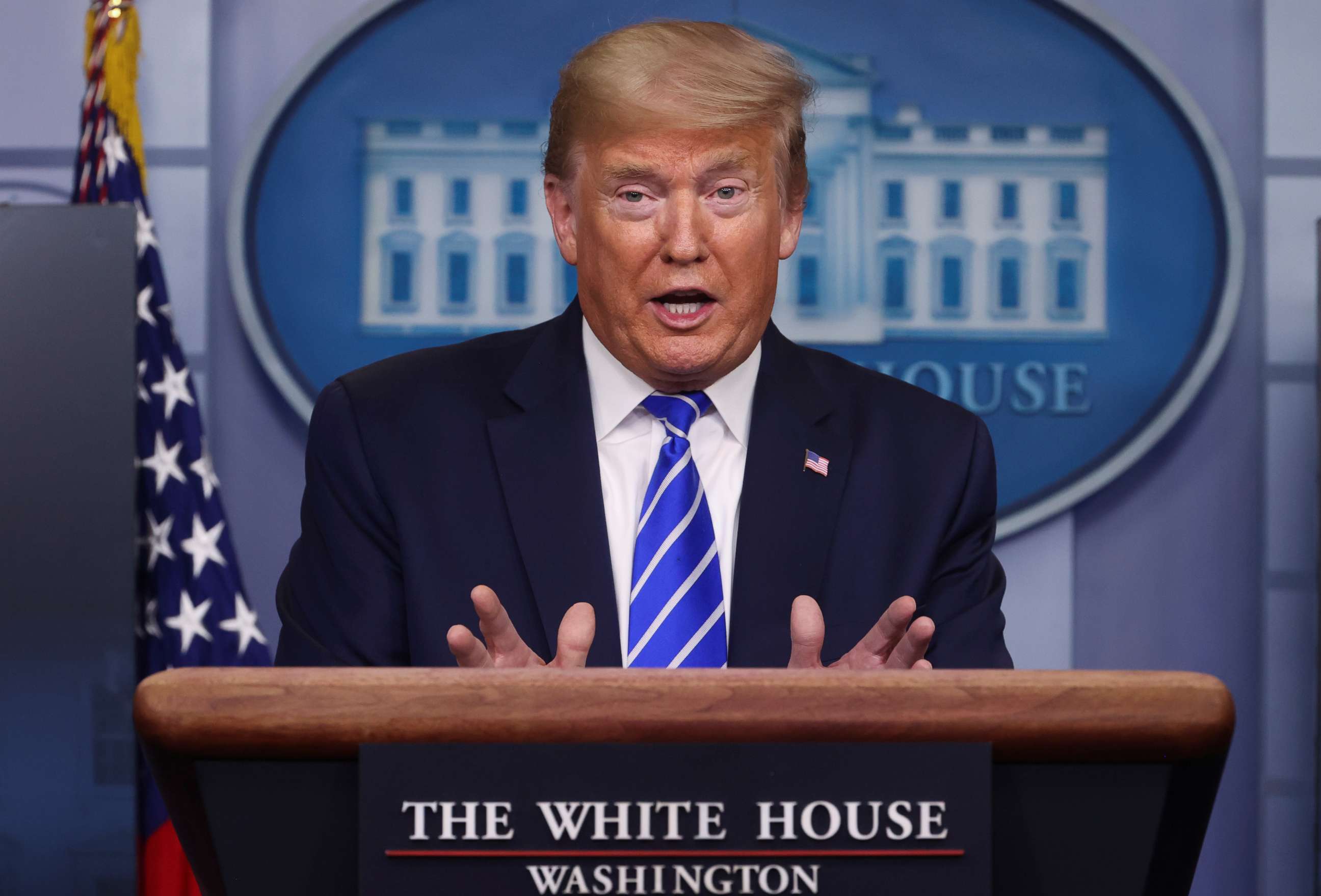 Tune into ABC at 1 p.m. ET and ABC News Live at 4 p.m. ET every weekday for special coverage of the novel coronavirus with the full ABC News team, including the latest news, context and analysis.
Here are Thursday's most significant developments in Washington:
Pence says the pandemic could be "behind us" by early summer
House passes deal on replenishing small business loan fund that also includes national testing plan pushed by Democrats
Trump touts 'Opening Up America Again' guidelines as states plan to reopen but breaks from Georgia's Gov. Kemp
Here are the latest developments in the government response:
'Our only conclusion is that we're getting there, America,' Pence says
Vice President Mike Pence delivered an optimistic prediction at Thursday's White House briefing, saying that much of the coronavirus pandemic could be "behind us" by early summer.
"Our task force actually believes, Mr. President, that if we continue these mitigation efforts in the days ahead, as states implement their policies, including phased reopening that will preserve those gains, we do believe by early summer, we could be at a much better place as a nation with much of this coronavirus epidemic behind us," Pence said, turning to the president.
Pence also ran through a list of places, previously known to be hot spots, that appear to be past their peak caseload of the virus, including the New York metro area, New Jersey, Connecticut, Detroit, and New Orleans.
"Our only conclusion is that we're getting there, America," Pence said.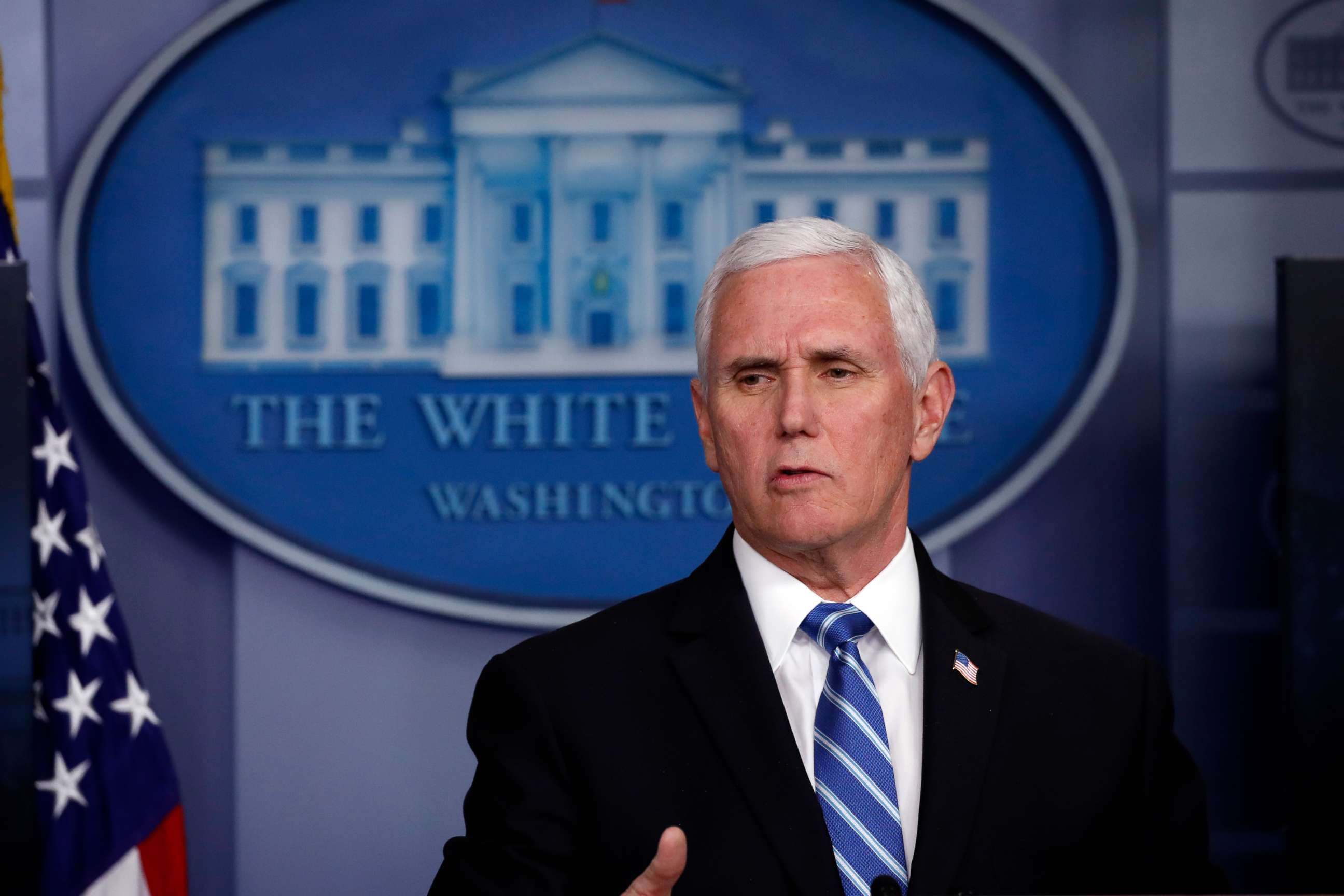 Trump says social distancing may extend through the summer
After Trump predicted the country will be a better place by early summer, he was asked if that meant he would extend the current White House social distancing guidelines set to expire at the of April.
"We may go beyond that. We're gonna have to see where it is. And I think people are going to know -- you're gonna know, I'm gonna know. I think people are gonna know just out of common sense. At some point we won't have to do that. But until we feel it's safe, we are going to be extending," the president said.
Trump's comments came as Pence announced there were 16 states that had released formal plans to re-open their economies, 13 of which moved forward with plans to re-open after the administration released its three-phased approach for states to follow.
"We are encouraged to see so many states embracing the phased approach to reopening their economies that is contemplated in our guidelines for opening up America again," Pence said.
Idaho, Missouri and Pennsylvania each have plans to begin reducing restrictions and stay at home orders in the coming weeks, Pence said.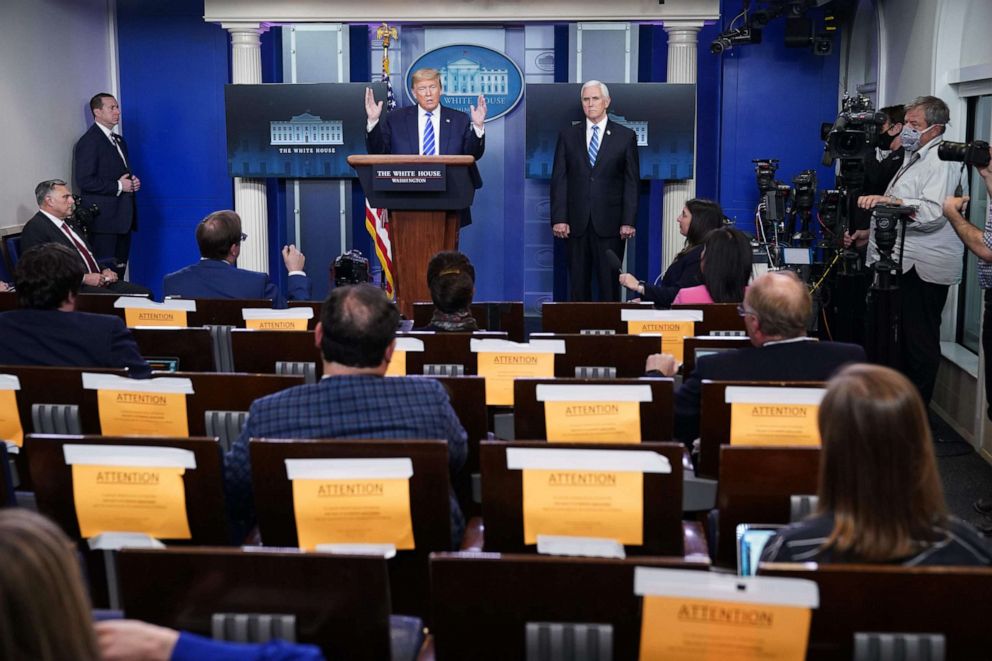 House voting reflects new normal amid pandemic
Lawmakers -- many donning masks per CDC guidelines and some wearing gloves -- returned to vote in person on this fourth stimulus measure, a $484 billion piece of legislation.
Aside from the members' use of personal protective devices Thursday, the actual vote was unusual due to pandemic social distancing concerns, with lawmakers -- broken into at least eight different voting blocks -- entering the chamber from a side door, voting at the back of the chamber over an extended period of time and then promptly departing.
Podiums and microphones were wiped down after each representative spoke during the debate. The chamber was closed and thoroughly cleaned between the two votes of the day. And the number of lawmakers and staff permitted on the House floor at any given time was reduced, with the chamber doors left wide open, something rarely, if ever, done.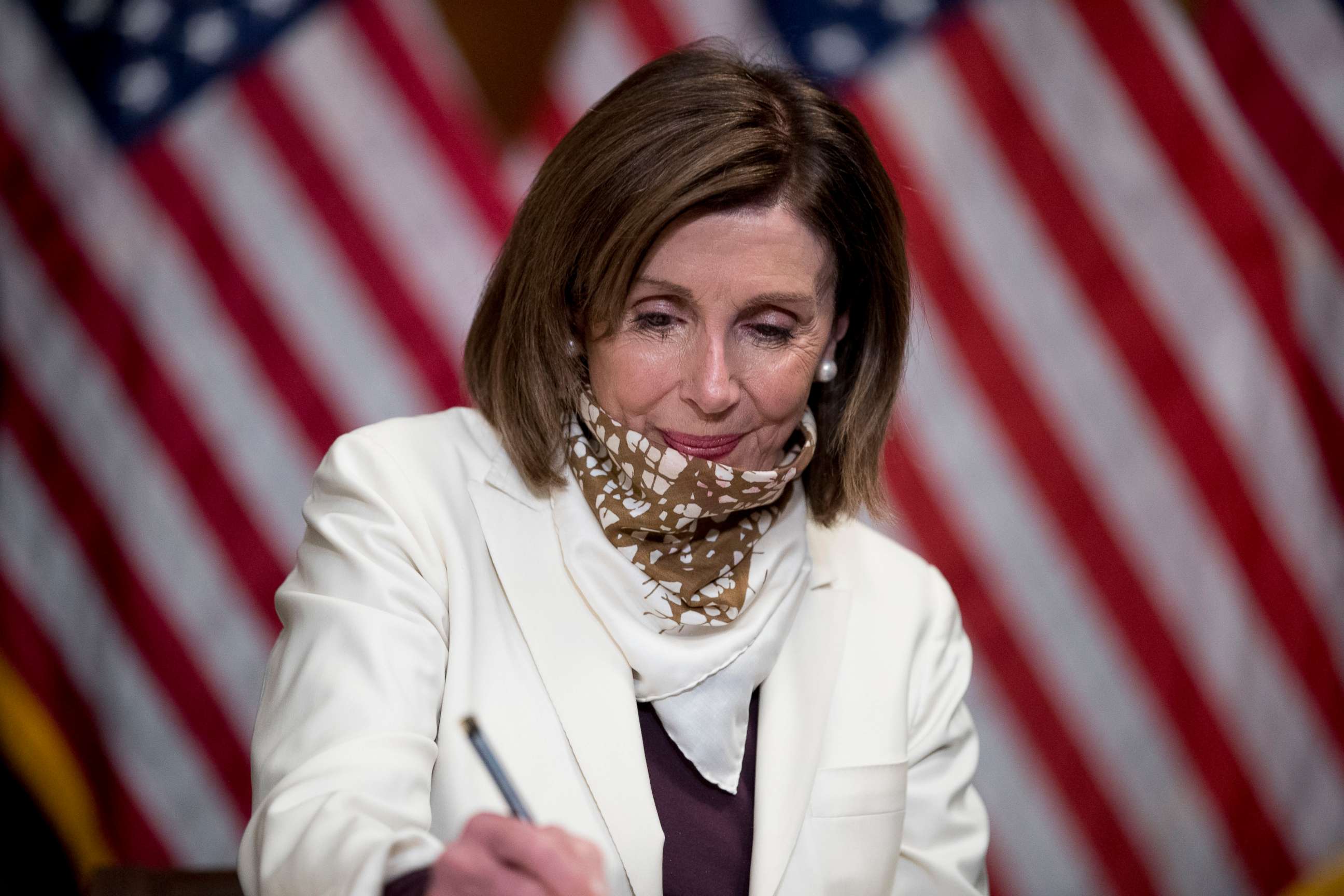 Poignant moments punctuated the day. Lawmakers have not been spared the heartache of losing loved ones to the virus just as many of their constituents have.
Rep. Maxine Waters, D-Calif., announced that her sister was in a St. Louis hospital, dying of the coronavirus. Rep. Brenda Lawrence, D-Mich., in the middle of her speech in support of the bill, said she had just received a phone call saying she had "lost another dear friend to the virus."
And Rep. Robin Kelly, D-Ill., offered her condolences to Sen. Elizabeth Warren who lost her brother to COVID-19.
"We come to the floor with nearly 50,000 deaths, a huge number of people impacted. The uncertainty of it all. We have to be very prayerful," said House Speaker Nancy Pelosi.
ABC News' Trish Turner
'I'm not happy about Brian Kemp': Trump
Republican Gov. Brian Kemp of Georgia is not on the president's good side, Trump said Thursday, in the wake of Kemp's decision to reopen much of the state this week.
Neither he nor the doctors on the coronavirus task force were happy with the steps Kemp took, including approving the opening of places like tattoo parlors and hair salons that prove a challenge for social distancing.
"I said you make your own decision," Trump said. "I don't want this thing to flare up because you're deciding to do something that is not in the guidelines. And I went to Deborah (Birx) and Dr. Fauci and other people and they weren't thrilled about it," Trump said.
"I said, you do what you think is best. But if you ask me, am I happy about it? I'm not happy about it, and I'm not happy about Brian Kemp," Trump said.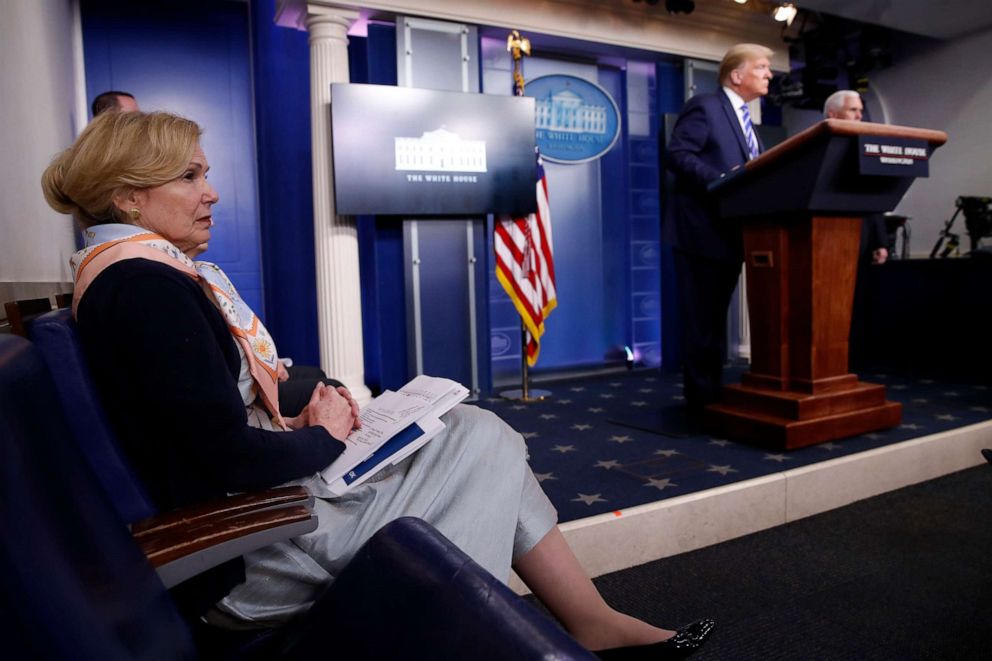 Trump openly disagrees with Fauci on testing
The president openly disagreed with the nation's top infectious disease expert, Dr. Anthony Fauci, who was not present at the briefing but told Time on Thursday that he's not confident the U.S. is where it needs to be on testing.
"We need to significantly ramp up not only the number of tests, but the capacity to perform them, so that you don't have a situation where you have a test but it can't be done because there isn't a swab, or because there isn't extraction media, or not the right vial ... I am not overly confident right now at all that we have what it takes to do that. We are doing better, and I think we are going to get there, but we are not there yet," Fauci told Time.
But in the briefing, asked about Fauci's analysis, Trump touted the nation's testing levels as "very advanced."
"I don't agree with him on that. No. I think we're doing a great job on testing. I don't agree -- if he said that, I don't agree with him," Trump said.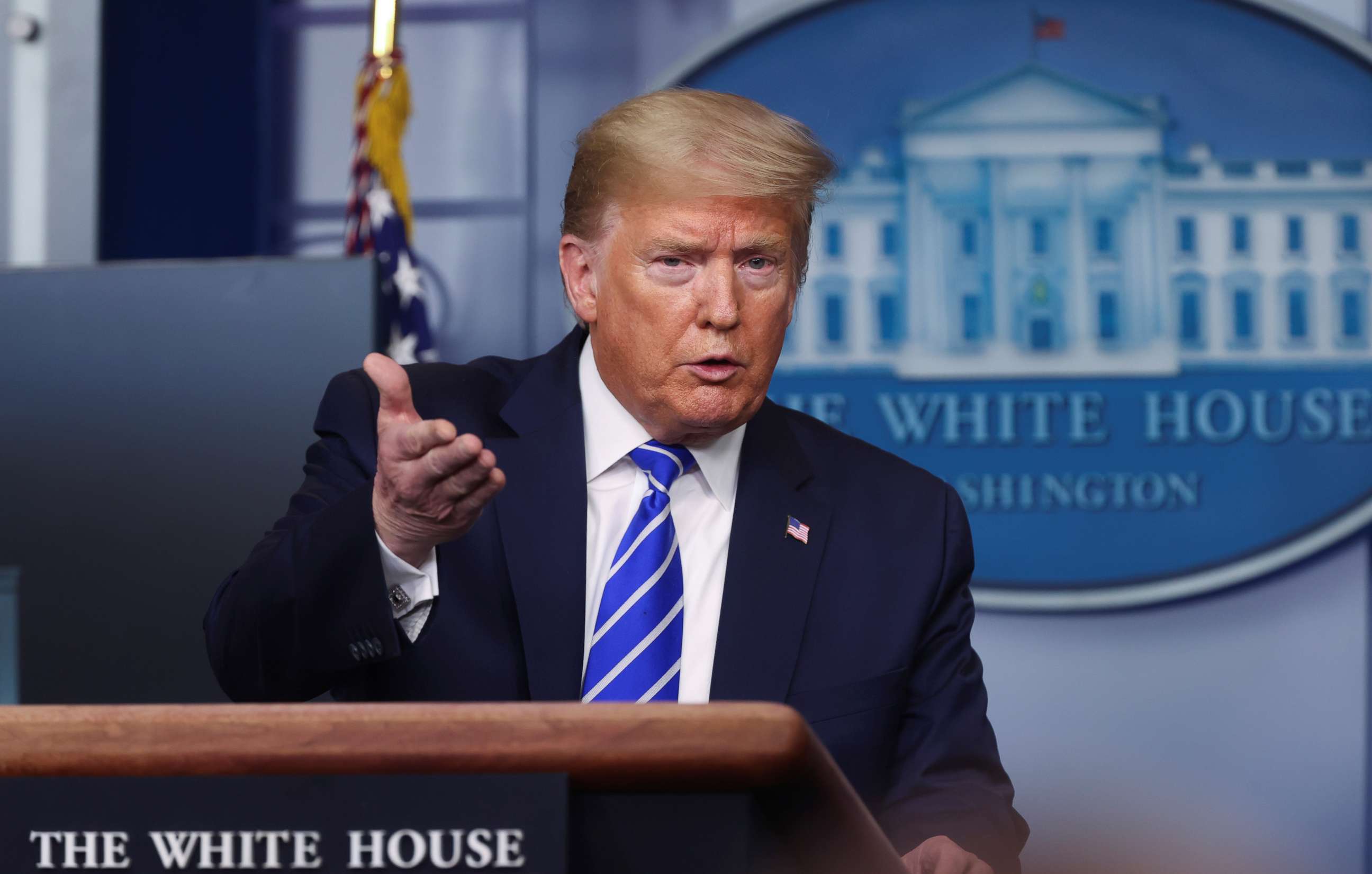 DHS official says virus does less well in sunlight, warm, humid conditions
Bill Bryan, an official from the Department of Homeland Security, said the agency's research has found that COVID-19 survives for a shorter time in warmer, more humid conditions and when exposed to direct sunlight.
"Our most striking observation to date is the powerful effect that solar light appears to have on killing the virus, both surfaces and in the air," Bryan said at the White House briefing Thursday, where he announced the research. "We've seen a similar effect with both temperature and humidity as well where increasing the temperature and humidity or both is generally less favorable to the virus."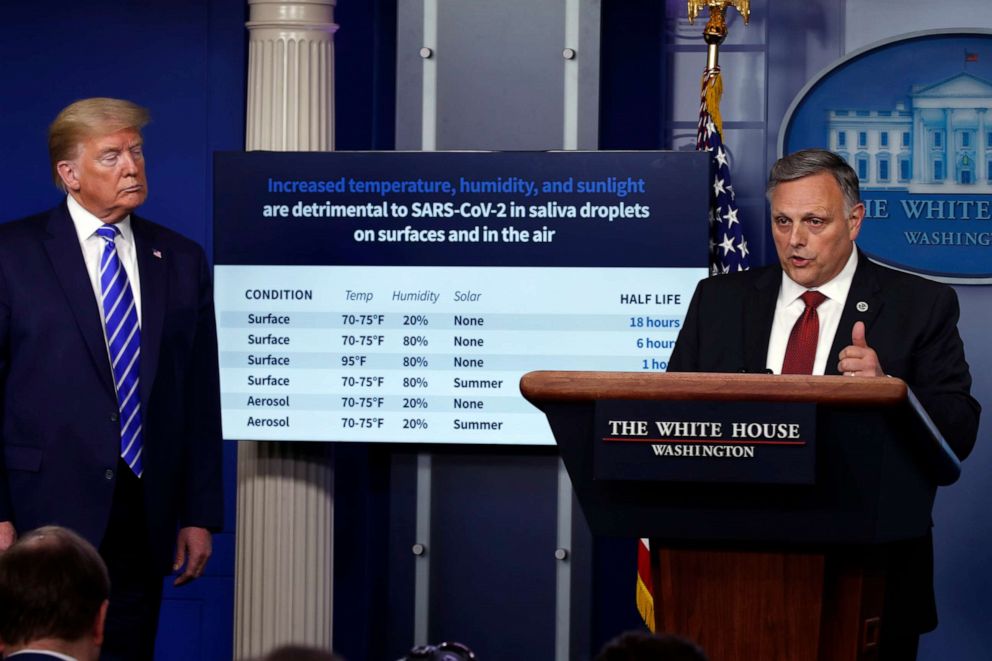 Trump has previously said that the virus will go away in April because of warmer weather, though he was criticized for saying so well before substantial research backed up the claim. On Thursday, he pointed that out, and also joked he was "thinking about moving outside to the Rose Garden" for the sunlight.
But Bryan warned that "it would be irresponsible for us to say that we feel the summer will totally kill the virus."
Bryan also said research has shown the virus dies in bleach in about five minutes and isopropyl alcohol in 30 seconds, with no manipulation, no rubbing -- only spraying it on and leaving it. "You rub it and it goes away even faster," Bryan said.
Fauci was absent from Thursday's briefing, but has previously said that he wouldn't count on warmer weather to stop the spread.
"We do not know what this virus is going to do," Fauci told the House Oversight Committee on March 11. "You would hope that when we get to warmer weather, it would go down, but we can't operate under that assumption."
ABC News' Ben Gittleson
Trump dismisses questions on McConnell's bankruptcy suggestion
Senate Majority Leader Mitch McConnell was facing heat Thursday morning after he made clear he has no desire to help state and local governments hardly hit by the deadly coronavirus in the next funding package, suggesting in a radio show Wednesday those states consider filing for bankruptcy instead.
"I would certainly be in favor of allowing states to use the bankruptcy route," McConnell told The Hugh Hewitt Show. "It saves some cities. And there's no good reason for it not to be available."
Trump for the second day in a row dismissed questions on McConnell's suggestion that states hard-hit financially by the pandemic should declare bankruptcy instead of looking for help from Congress, saying, "I don't want to talk about it now," and pointing back to Bryan's presentation.
ABC Chief White House Correspondent Jonathan Karl pressed him on whether he agreed that McConnell's office releasing a statement on "Stopping Blue State Bailouts" was a "vicious" act, as New York Gov. Andrew Cuomo had called it earlier.
"I don't know if it's a vicious attack, but certainly some people do look at it that way. I've spoken to Mitch about it. I've spoken to numerous senators about it, and we're working with senators that are on the other side of the issue, and we'll see what happens," Trump said.
Trump added that additional funding to state governments is "certainly" the next topic they'll be discussing and called it "interesting" that most of the hard-hit states are represented by Democratic governors -- one of the reasons the Republican senate leader is facing strong, bipartisan backlash for his comments.
"I'm open to ideas that are gonna be great for the people of this country," Trump continued. "If we can help states, we're always gonna help states. Now there's different ways of helping states. Some ways are better than others. So we are looking. It is interesting that the states that are in trouble do happen to be blue. It is interesting."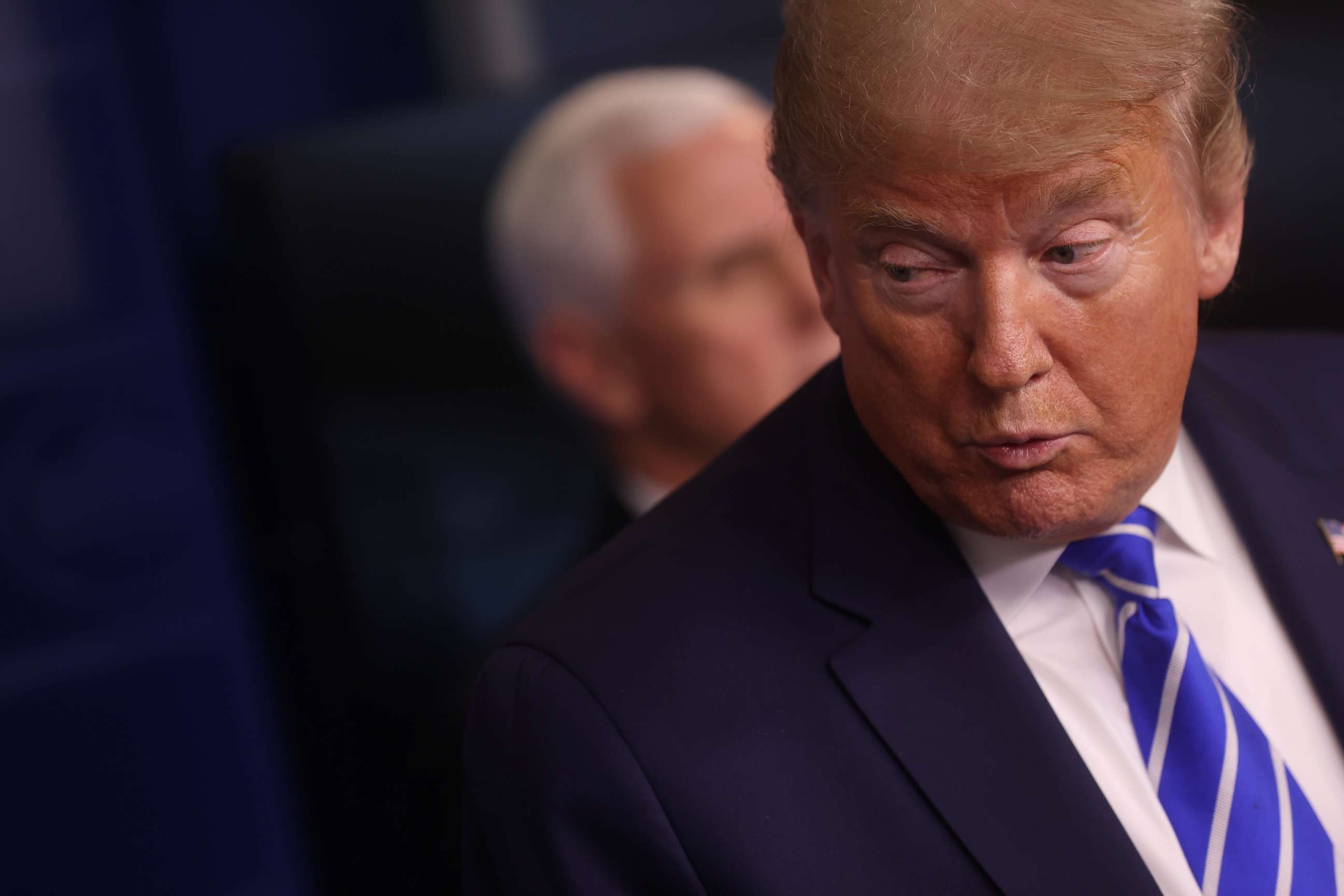 Treasury asks publicly traded companies to repay coronavirus small business loans
The Trump administration issued new guidance Thursday telling publicly-traded companies to repay their coronavirus stimulus loans meant to help small businesses by May 7.
In updated guidance on the implementation of the CARES Act, the Treasury Department and Small Business Administration said "it is unlikely that a public company with substantial market value and access to capital markets will be able to make the required certification in good faith" attesting to its need for the loan.
"Any borrower that applied for a PPP loan prior to the issuance of this guidance and repays the loan in full by May 7, 2020 will be deemed by SBA to have made the required certification in good faith," the new guidance reads.
Several prominent publicly traded companies have been criticized for seeking loans under the Paycheck Protection Program.
Shake Shack and Ruth's Chris Steak House separately said they would return their loans after facing backlash this week.
ABC News' Benjamin Siegel
Trump's reopening push comes as 4.4 million more people file for unemployment, jobless claims worse than in Great Recession
A record-shattering 26 million people have filed for unemployment in the last month, wiping out a decade of employment gains and jobless claims reaching a number worse than the Great Recession, the key reason driving President Trump's "Opening Up America Again" plan.
Last week alone, 4.4 million people filed for unemployment insurance, according to a Department of Labor report released Thursday morning.
The unprecedented influx in jobless claims has created a number of issues for those in dire need of benefits as businesses across the country are forced to close their doors and Americans report ongoing struggles in the unemployment application process.
Prior to the pandemic, the unemployment rate in the U.S. was at a historic low of 3.6%.
Mixed messages on reopening the country, the return of the virus
Even after pushing for the country to reopen "very soon" and predicting large gatherings will return by Independence Day, President Donald Trump says he "strongly" disagrees with the Republican governor of Georgia's decision to open businesses like nail salons Friday, raising questions around what the president is expecting from governors weighing difficult decisions on lifting restrictions amid the COVID-19 pandemic.
"I told the governor of Georgia, Brian Kemp, that I disagree strongly with his decision to open certain facilities which are in violation of the phase one guidelines for the incredible people of Georgia," he said at Wednesday's White House briefing, before stopping short of intervening, adding, "But he has to do what he thinks is right."
Michigan Gov. Gretchen Whitmer, a Democrat, whom the president has highly criticized for restrictions she's imposed, told CNN this morning she's reconsidering her state's stay-at-home order and expects to announce adjustments in the coming days, after facing protests Trump appeared to encourage.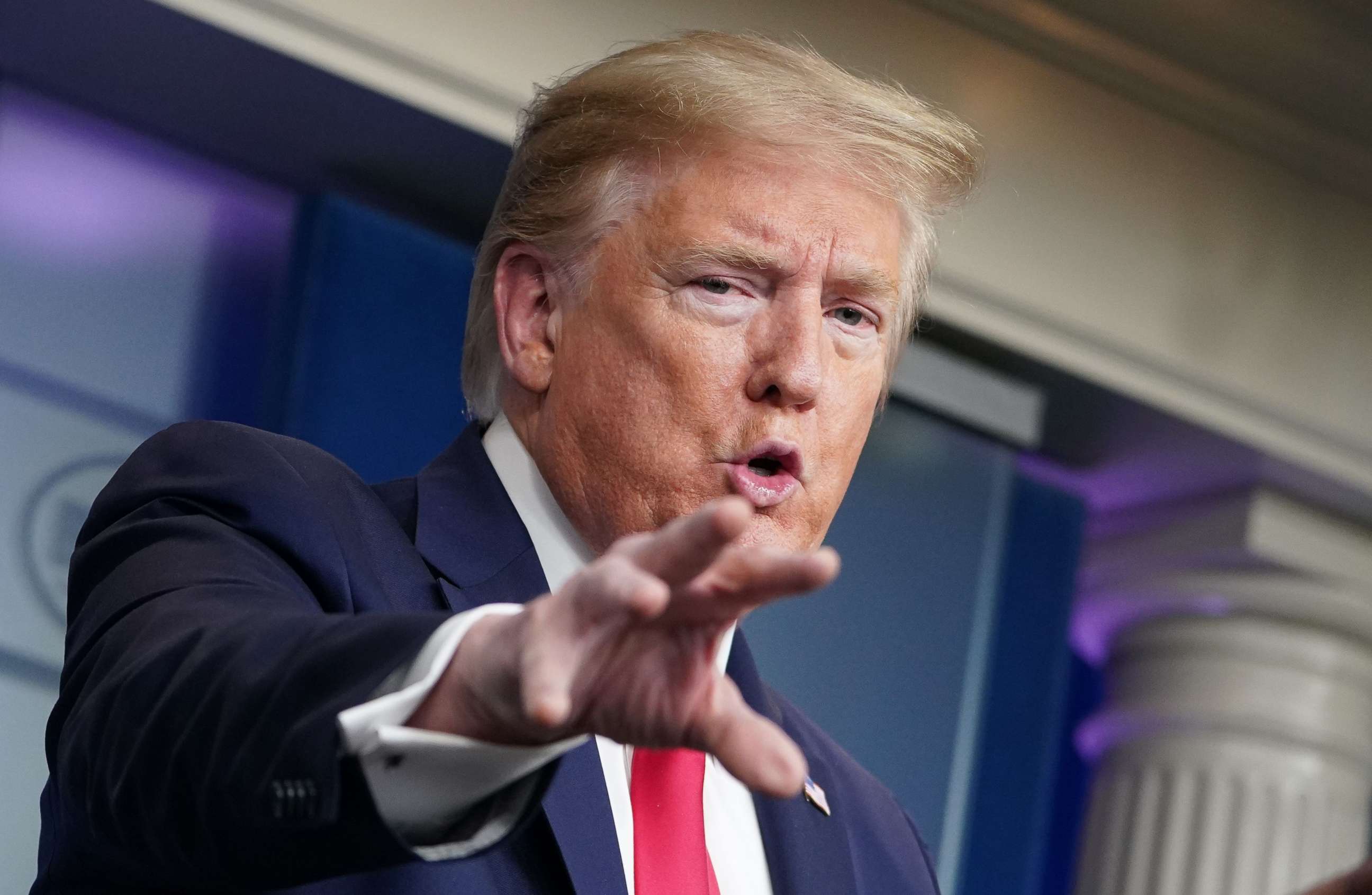 Task force members also delivered mixed messages on the seasonal return of COVID-19 at Wednesday's briefing.
The president called up Centers for Disease Control and Prevention Director Dr. Robert Redfield to back up Trump's claim he was "totally misquoted" in a Washington Post article saying it's possible the "assault of the virus on our nation next winter will actually be even more difficult" if it coincides with flu season.
But after Redfield ultimately confirmed the quote as accurate Trump then downplayed the danger of the virus returning this fall, including during the November presidential election.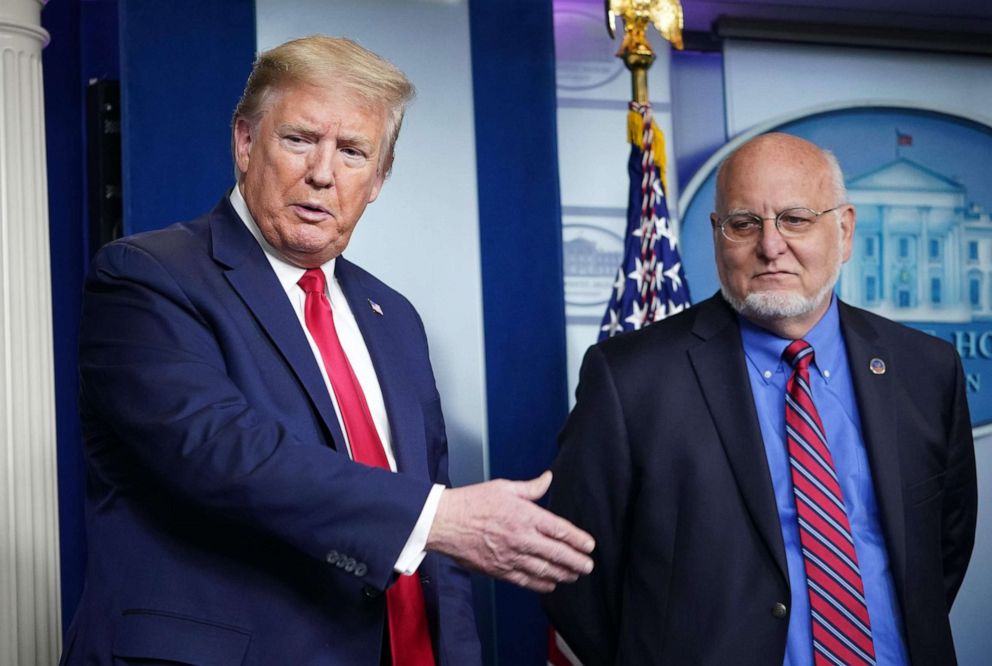 "Now, if we have little pockets, a little pocket here, then we're going to have it put out. It goes out, and it's going to be put out fast," Trump said. "But it's all possible -- it's also possible it doesn't come back at all… We may not even have corona coming back."
Dr. Anthony Fauci, the nation's top infectious disease expert, contradicted Trump, saying he was "convinced" that a fall return is inevitable, but he and Dr. Deborah Birx, the coronavirus response coordinator, both agreed that the impact would likely be less because the country would be better prepared.
What to know about the coronavirus: