The 71st annual Little League World Series is underway in Williamsport, Pennsylvania, but one player in particular has been getting a ton of shine online and off for his catchy introduction.
Before the players hit the field, they introduce themselves. The introductions show a bit of creativity, humor and personality, and it was Alfred Delia's introduction that stole the show this year when it aired on ESPN on Aug. 10.
"Hi, my name is Alfred Delia. At home, they call me 'Big Al.' And I hit dingers," said Alfred, 12, of Middletown, New Jersey.
Unfortunately, his team was knocked out of the tournament, but Alfred was already a star.
His video introduction went viral thanks to ESPN and the Little League, and even captured the attention of "Jimmy Kimmel Live."
The rising seventh-grader, who plays third base, pitcher and left field, told Kimmel recently that he did not think the introduction would go viral.
"I woke up one day, the next day after we lost, and I was like, 'Hey, I'm viral,'" he said.
Alfred told Kimmel that he'd made up the line on his own -- with the help of his teammates -- and that he didn't run it by anyone beforehand.
During a SportsCenter interview, he said he was busy meeting people and even signing a few autographs and taking pictures.
"I'm just always getting like noticed by everybody... people come up, I'm eating my sandwich and they're like, 'Yo, Big Al. What's up?'" he said.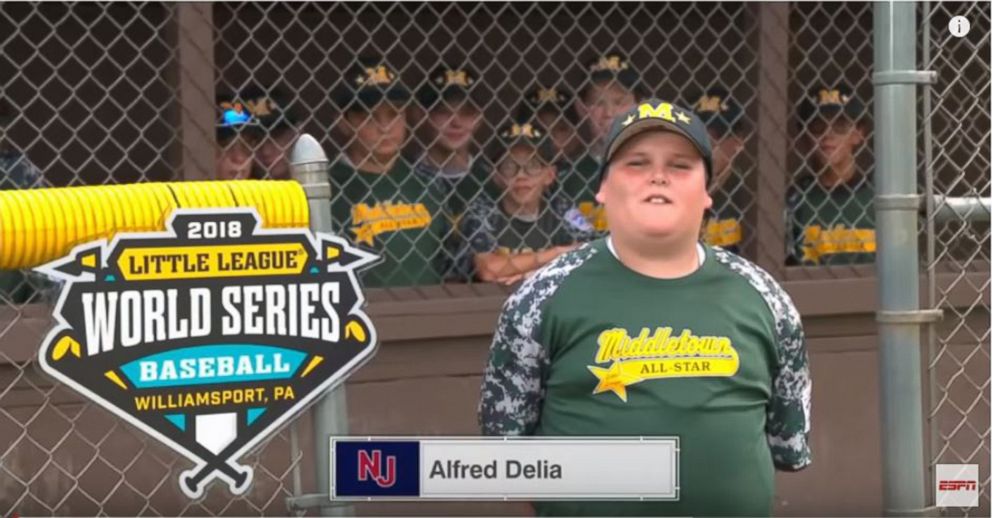 Alfred, who said he'd gotten the nickname from his father and grandfather, shared some helpful advice to other future Little Leaguers hoping to hit dingers.
"Keep your front shoulder in. Try your best and just keep your eye on the ball," he said.