Edward R. Murrow Awards
Overall Excellence

From a landmark feature-length documentary on six months in the life of the students of Marjory Stoneman Douglas High School in Parkland, Florida, to sensitively and thoroughly covering the border crisis, to navigating the enormous logistical and technical challenges while tracking Hurricane Michael, to featuring new augmented reality technology geared to enhancing viewer understanding during our midterm election coverage, ABC News was at the forefront of the biggest events, issues and cultural touchstones of the last 12 months. The network was there with exclusive, and timely first interviews with newsmakers such as James Comey and Michael Cohen which drove the national conversation for days. In 2018, ABC News put compelling journalism, and masterful storytelling front and center, showing again and again what the ABC News team can accomplish.

Each piece in our Overall Excellence entry is an example of storytelling not seen anywhere else. Many of the stories, including our six-month long investigation into inadequate medical care in detention centers, the largely untold plight of the Rohingya refugees in Bangladesh, and our three informative prime-time hours on the rescued Thai soccer team, all illustrate our long-term commitment to telling important stories over time. We chose to begin and end our entry with two very different high school graduations - one of the Parkland students and their families after five months of sensitively documenting their lives, and one of a class of children from Camden, NJ, which Diane Sawyer and her team have been reporting on for more than a decade.

In 2018, ABC News took major steps forward as a news division in the digital space - we launched ABC News Live, our new streaming service; we brought cutting-edge political forecasters FiveThirtyEight into the ABC News family; we developed new content for new and traditional platforms, including goodmorningamerica.com and On Location, a vertical daily news show; we created our flagship podcast Start Here; we fostered better communication across our teams and an environment where everyone here is encouraged to contribute and grow; and we covered an extraordinary year of news with distinction.
We end with World News Tonight with David Muir's November 9th newscast. This newscast, anchored from Southern California is an example of what we strive to give our viewers every single day - comprehensive, visceral reporting on breaking news stories, an unparalleled commitment to covering Washington D.C. during this divisive time, and a deeper global perspective on the world in which we live. This broadcast illustrates our strength in covering multiple breaking news stories on the same night, from the vicious fires tearing through both ends of the state to the mass shooting which killed 12 people in Thousand Oaks just 24 hours before. David reported from California three days in a row, more than any other evening newscast.

ABC News respectfully submits a selection of our strongest original storytelling and news coverage not seen anywhere else for your consideration, and sincerely hope you find ABC News deserving of the 2019 Edward R. Murrow Overall Excellence Award.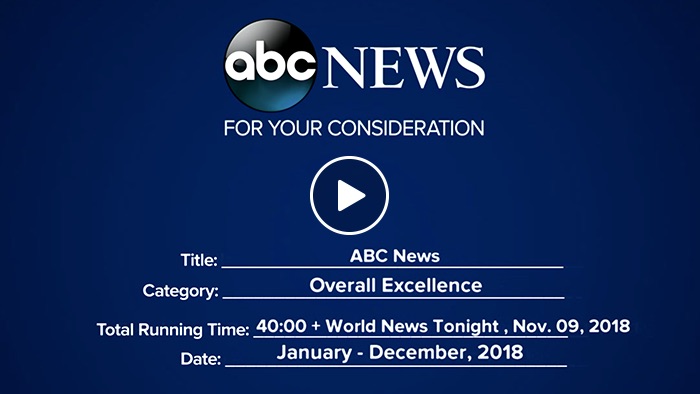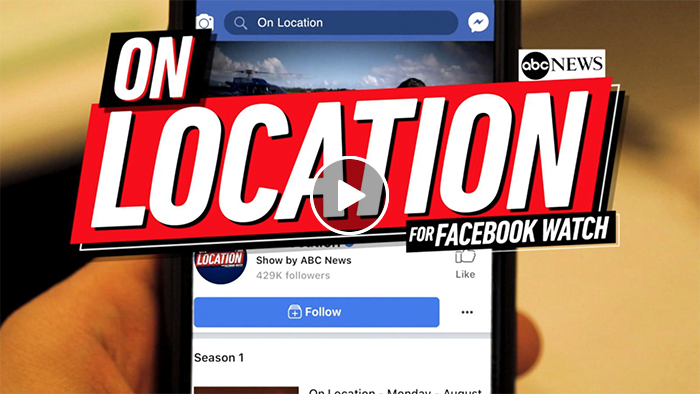 We've developed new content for new platforms with On Location, a vertical video daily newscast. On Location utilizes ABC News' seasoned and trusted journalists from around the globe as they deliver on-the-ground reporting on the top headlines, live events and in-depth interviews driving the day -- all experienced through Facebook Watch. Episodes of On Location immediately reached an average of more than half-a-million views, with top episodes regularly in the millions – something our competitors are struggling to achieve. Clever use of graphics help tell the story silently for those who wish to watch on their phones without sound. On Location doesn't put TV news on Facebook Watch. It makes ABC's global news gathering social and puts it in front of viewers who don't typically turn on the television to get their news.





Live Streaming Service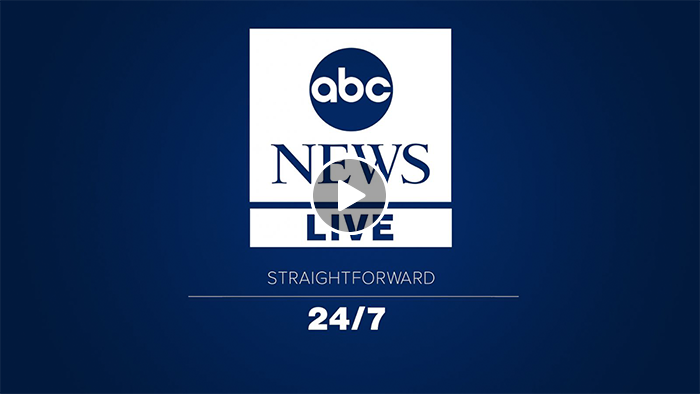 In 2018, we launched ABC News Live , our go-to streaming news service for a younger audience looking for options beyond television. From 41 hours of takeover coverage on abcnews.com during hurricane Florence where we helped get vital information to people in the midst of the crisis, to behind-the-scenes at confirmation hearings, to midterm campaign rallies, to 17 hours of New Year's Eve programming featuring celebrations across the globe, ABC News Live is there, streamed on Roku, Hulu, and has expanded onto the rapidly-growing OTT service and Amazon Fire. Our audience is poised to collectively stream over 1 million hours of ABC News Live each week.

We knew the midterms would be a history-making election, so in addition to giving our digital audience a 9.5-hour election night show from our augmented reality set,


ABC News Live developed The Big Vote.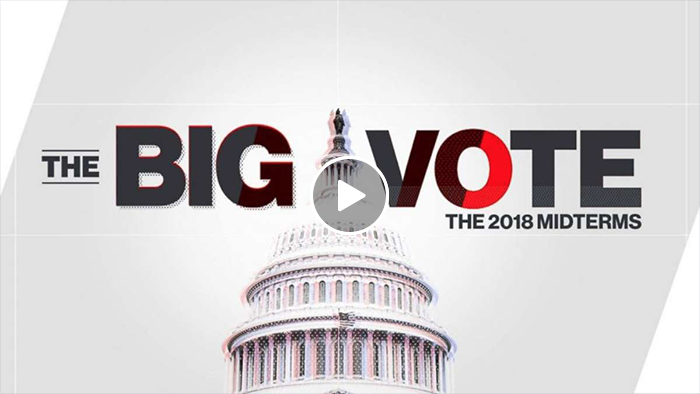 The Big Vote cut through the noise of the mind-numbing flurry of political headlines, deluge of TV ads and endless punditry on cable TV by catering to an audience of smart, savvy and socially-aware 18-35 year-olds. We provided them with the smart, concise information they say they need to make informed decisions and engage in our country's great democratic debate. We reached them directly on the platforms they use most: smartphones, tablets and OTT streaming services. Over five weeks, hundreds of thousands engaged.

Our team delivered a broad and close-up look at the immigration debate from the farm fields of northern California to the crab-picking sheds of Maryland and the Texas border with Mexico. The Big Vote heard calls for action from neonatal opioid addiction nurses in West Virginia, transgender youth fighting for equality in North Carolina, Amazon workers seeking higher wages, Florida high school students demanding tighter controls on guns, and Native Americans fighting for their voting rights in North Dakota.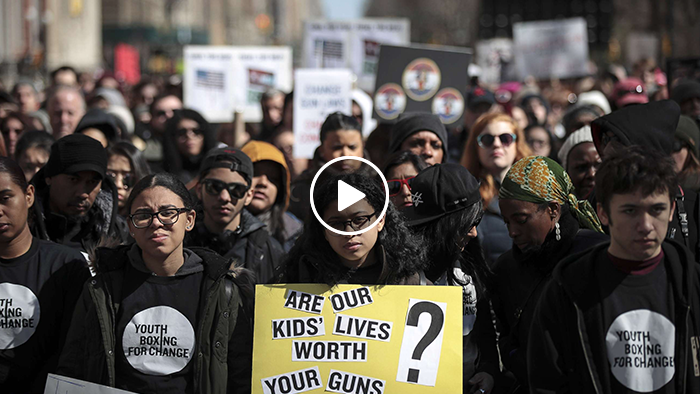 ABC News' extensive continuing coverage of the mass shooting at Marjory Stoneman Douglas High School in Parkland, Florida was comprehensive, original, and above all, sensitive to the grave loss of life while families, friends, and the entire community experienced shattering grief.
ABC News provided four continuous hours of live, anchored digital coverage of the March for Our Lives protests, synchronizing multiple events in major cities across the country into a single informational, experiential livestream.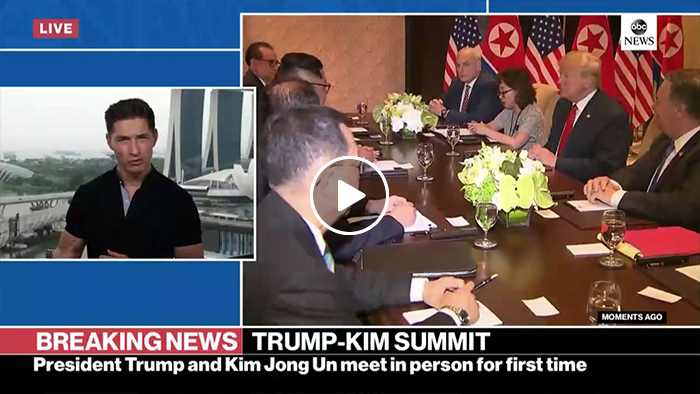 ABC News Live broadcast extensive live coverage throughout the summit, featuring not only the headlines, but the perspective of ABC News correspondents such as Juju Chang and Eva Pilgrim, sharing their personal stories from their Korean families. Throughout the coverage, ABC News Live showed simultaneous feeds of both South and North Korean TV, illustrating the complete absence of North Korean summit coverage, essentially keeping the country cut off from what was happening.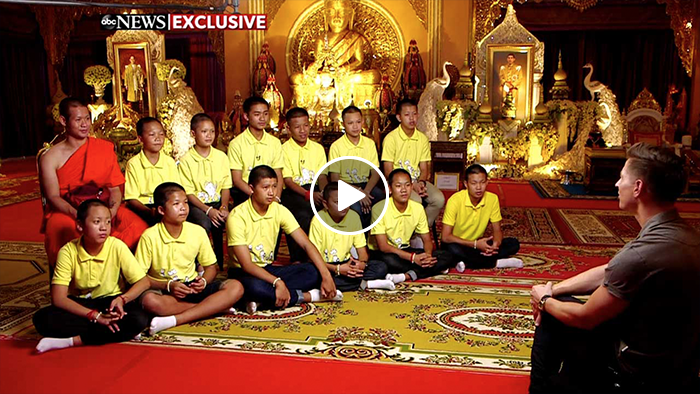 This was a story that captured worldwide attention, and ABCNews.com recognized it immediately, allocating enormous resources to cover the search and rescue of the 12 lost soccer players and their coach in the Tham Luang Nang Non cave in northern Thailand. We provided round-the-clock live video, graphic, and text coverage of the rescue for more than two weeks, beating our competitors to the site and staying long after others had left. These stories offered ABC News users an all-encompassing look at every turn of this compelling story, and captured the drama and high stakes encountered by rescuers, and the jubilation of the successful operation. Digital coverage featured on-the-ground interviews, correspondent-anchored livestreams, middle-of-the-night special reports detailing every twist of the dramatic rescue, and interviews with family and villagers -- culminating with an exclusive interview with the boys and their coach. Our digital coverage received more than 30 million views and featured coverage not seen on any other social channel.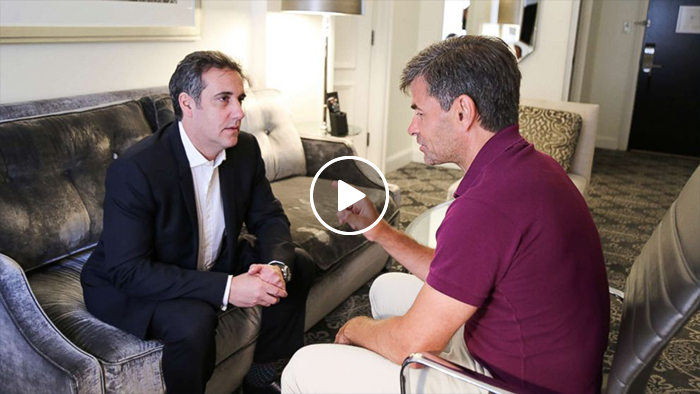 Prior to the 2016 election, when Donald Trump was one of many candidates, ABC News producers knew that if they wanted to learn about Mr. Trump, they needed to get to know Michael Cohen. They, along with Chief Anchor, George Stephanopoulos, met with Cohen for more than a year and a half, knowing he was someone with potentially more to say, but having no idea what was to come.
On July 2, Stephanopoulos broke major news on ABCNews.com first. In this published story, Cohen, long an unshakeable Trump ally, declared for the first time publicly that his loyalty had now shifted. "My wife, my daughter and my son have my first loyalty and always will," Cohen told Stephanopoulos "I put family and country first." That 45 minute, off-camera interview, which took place in a Manhattan hotel, marked the beginning of an ongoing heated war of words between Cohen and his longtime boss and mentor. The story also included exclusive reporting that Cohen intended to exit from a joint-defense agreement he once shared with the President.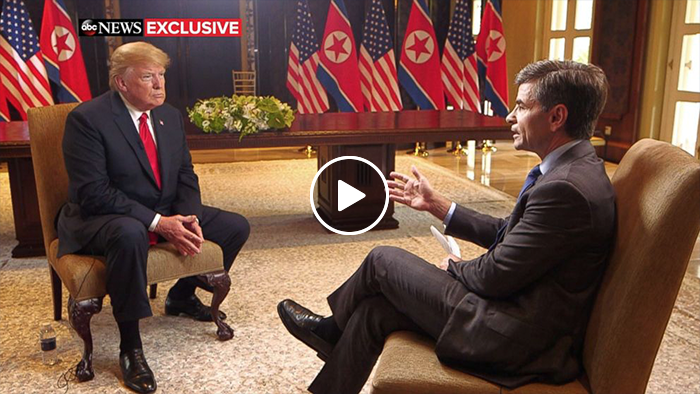 ABC News Live broadcast extensive coverage throughout the summit, featuring not only the headlines, but the perspective of ABC News correspondents such as Juju Chang and Eva Pilgrim, sharing their personal stories from their Korean families. Throughout the coverage, ABC News Live showed simultaneous feeds of both South and North Korean TV, illustrating the complete absence of North Korean summit coverage, essentially keeping the country cut off from what was happening.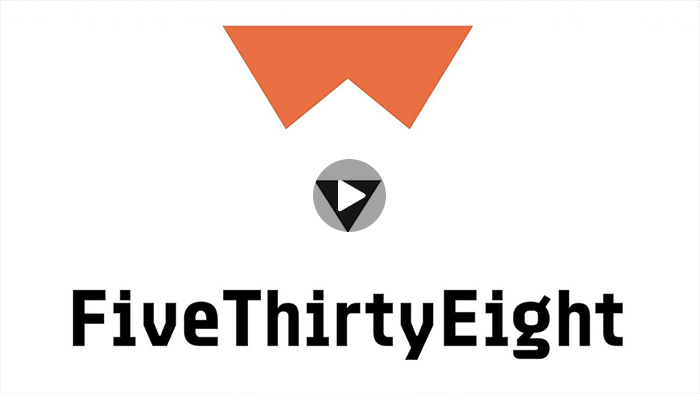 We fortified ABC News' political coverage by bringing cutting-edge political forecasters FiveThirtyEight into the ABC News family. At a time when politics has never been more extraordinary and confusing, FiveThirtyEight has helped to bring more clarity and insight to what's really going on with their comprehensive statistical analysis and data visualization.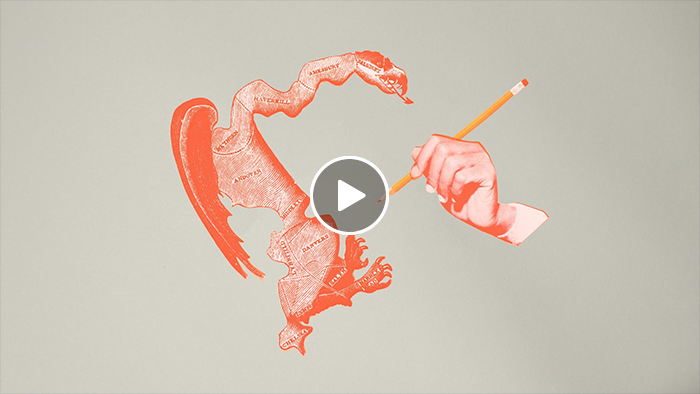 FiveThirtyEight created a deep dive project redrawing each state's boundaries based on different priorities in order to give voters a better understanding of how subtle (and not so subtle) changes to district lines can affect the makeup of the U.S. House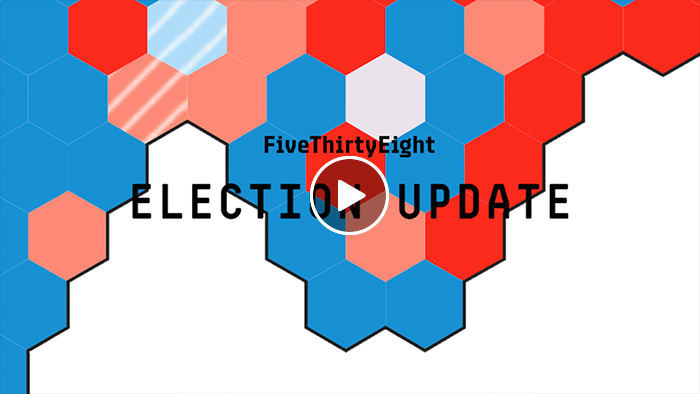 FiveThirtyEight crunched the numbers to forecast seat breakdown in the House and Senate for 2018, and tracked the changes in the breakdown for every election since 1924.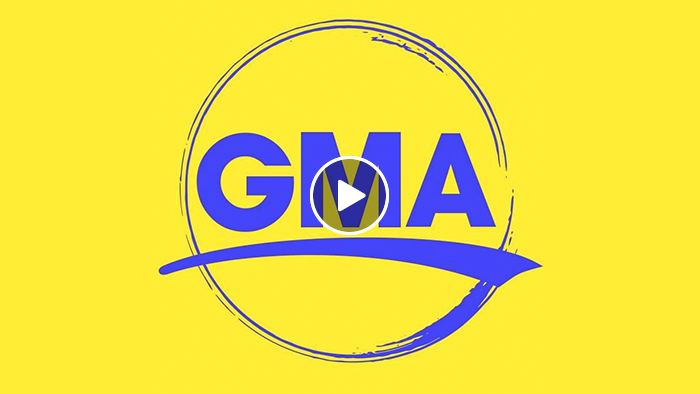 In its storied 40-year history, two things have always been true at Good morning America - its unwavering commitment to outstanding journalism and powerful storytelling, and its unique ability to adapt to better serve our audience. In 2018, we developed new approaches for traditional platforms, including goodmorningamerica.com a new website full of wellness, health, and human interest stories for digital and social, complimented with a new daily newsletter, the GMA Wake-Up.

With women are running for elected office this year in historic numbers, this innovative GMA.com digital series, The Women Who Run, featured first-time candidates. From school boards, to city council, to congressional and gubernatorial races, the women running for office this year were fascinating, bringing their diverse backgrounds, experiences, and professions to voters and viewers.





ABC News Features is a branded digital series of longer pieces which give viewers a personal and more complete understanding of complex issues flooding the news cycle. These features span the globe, from exploring the carbon-negative nation of Bhutan fighting climate change along its rapid flowing rivers, to investigating a forgotten horrific crime against the gay community in New Orleans 45 years ago. We heard powerful testimonials from people at the heart of one of the fiercest political and environmental debates of the Trump era to the journey of a long-distance runner as she tries to cross the world's deepest lake, testing her limits at the end of the earth. We have included two features for your viewing as well as a link to our other cinematic productions: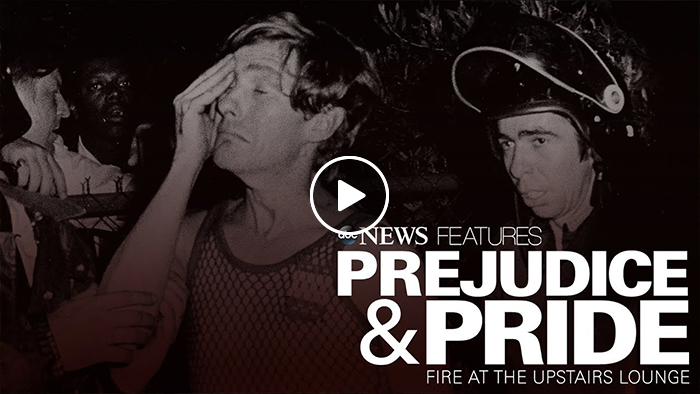 In 1973, an arsonist set fire to a popular gay bar in New Orleans' French Quarter called the UpStairs Lounge, killing 32 people and injuring many more. The fire effectively outed what was previously a deeply closeted Deep South gay community and exposed, in the city's response to the tragedy, pervasive prejudices in the famously live-and-let-live Big Easy. In Prejudice & Pride, ABC News joined one family's desperate search for a loved one whose mysterious disappearance had long troubled those who cared about him. Because of this report, there was renewed interest and fresh outrage at the plight of this family, as well as calls from both the Louisiana Senate Committee on Veterans Affairs and the Mayor's office to do more. A new LGBTQ+ Task Force was created to address the needs of the city's "marginalized" citizens.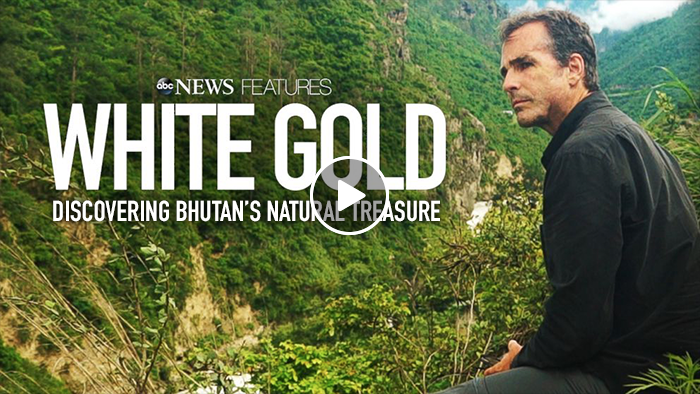 In White Gold, ABC News correspondent Bob Woodruff journeys to this last Himalayan Kingdom on the foothills of the 'Third Pole' to bring viewers a different climate change documentary. There are no rising sea levels here or dramatic collapsing ice-shelves, yet Bhutan is the canary in the proverbial coal mine for our rapidly changing planet -- planning to maintain their carbon neutral status with a series of hydropower plants and dams.

Woodruff tells the story of one river system downstream from an endangered glacial lake, exploring the lives of the river guides and activists who make a living on its waters, and visiting the massive hydropower project that will change the lives for the people who live around it.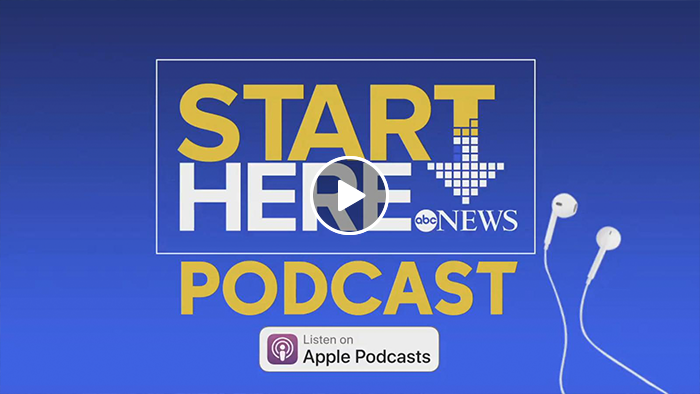 In 2018, ABC News provided a full library of original podcast programming hosted by some of ABC's top correspondents, including Good Morning America Anchor Robin Roberts, ABC News Chief Business and Economics Correspondent Rebecca Jarvis, and Nightline Anchor Dan Harris. http://ABCNewsPodcasts.com

We also created our flagship podcast, Start Here, accessible on Apple Podcasts, TuneIn, Spotify, Stitcher, Google Play Music and the ABC News app. Each daily episode features four-to-six stories with an emphasis on taking listeners right to the scene of compelling moments using natural sound and on-location reporting, as well as investigative reporting and high-profile interviews.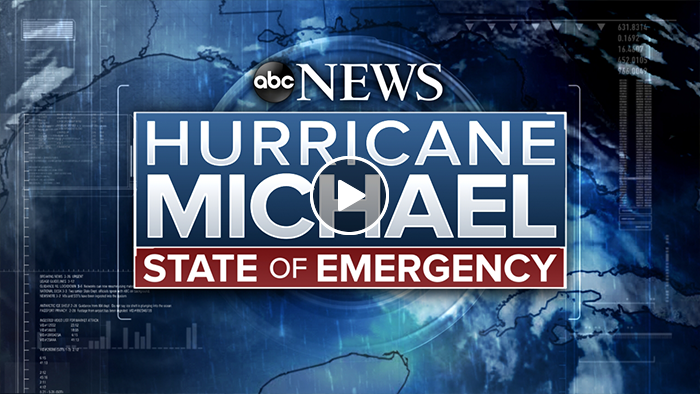 The October 11th episode of Start Here led with Hurricane Michael - Our teams had traveled into Florida 36 hours ahead of the storm, expecting to cover a category 1 or 2 hurricane. It soon became abundantly clear that the Florida Panhandle would be dealing with a monster. ABC News journalists David Muir, Ginger Zee, Rob Marciano and Aaron Katersky were in Mexico and Panama Cities experiencing ferocious winds from the eye wall, the most dangerous part of the storm, struggling to stay on the air. Start Here also covered the Dow Jones tumbling more than 800 points, and the investigation into U.S. resident and Saudi journalist Jamal Khashoggi's disappearance.