Christine Franke was a 25-year-old college student when she was shot dead in her Orlando apartment on Oct. 21, 2001.
Though DNA was left behind at the crime scene, years went by without an arrest.
The killing and the wait for justice devastated her mother and relatives.
"It's a terrible thing not knowing," said her mother, Tina Franke. "I wouldn't wish it on anybody."
But all that changed in November when a suspect was arrested after police say he was identified through genetic genealogy.
"After all this time, I wasn't sure we would ever find out," Tina Franke told ABC News weeks after the arrest. "They had DNA all along and just nobody ever matched up. I thought, you know, possibly he would be dead. How can you live 17 years under the radar?"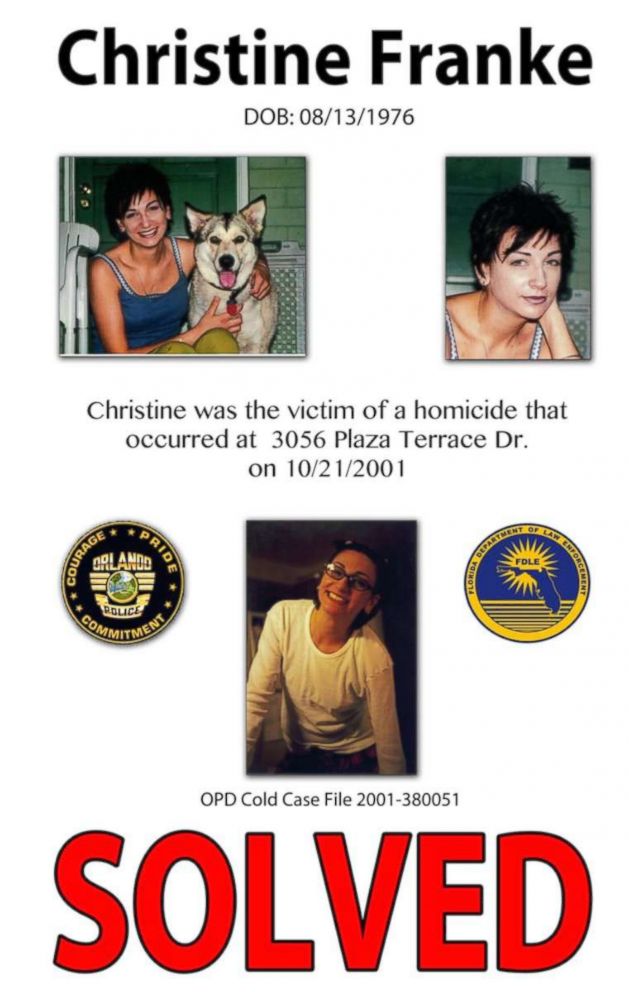 A new law enforcement tool arrives on the scene
Genetic genealogy only got on the public radar in April after the first public arrest through this DNA-and-family-tracing technique.
Since then, genetic genealogy has helped lead to 24 other suspect identifications, according to genetic genealogy expert CeCe Moore.
Moore is a chief genetic genealogist with Parabon NanoLabs, the company that's worked on the majority of the cold cases cracked through genetic genealogy this year.
Parabon has made 23 successful DNA identifications this year -- including in the Christine Franke killing. Two other cases not connected to Parabon were also publicly solved this year through genetic genealogy, Moore said.
Through genetic genealogy, an unknown killer's DNA from a crime scene can be identified through his or her family members, who voluntarily submit their DNA to a genealogy database. This allows police to create a much larger family tree than using law enforcement databases like the Combined DNA Index System, or CODIS, in which an exact match is needed in most states, CeCe Moore said.
"In a genetic genealogy database we can reverse engineer the [suspect's family] tree from their distant" relatives who have submitted DNA, Moore told ABC News. "So it doesn't matter that they haven't had their DNA tested through another arrest or crime scene, we don't need their DNA. We need somebody from their family to have tested in order to resolve these cases."
Parabon's cracked cases range from the 1986 rape and murder of a 12-year-old Washington state girl to the 1988 killing of an 8-year-old girl in Indiana, where the unsolved slaying had haunted the community" for 30 years, according to the prosecutor.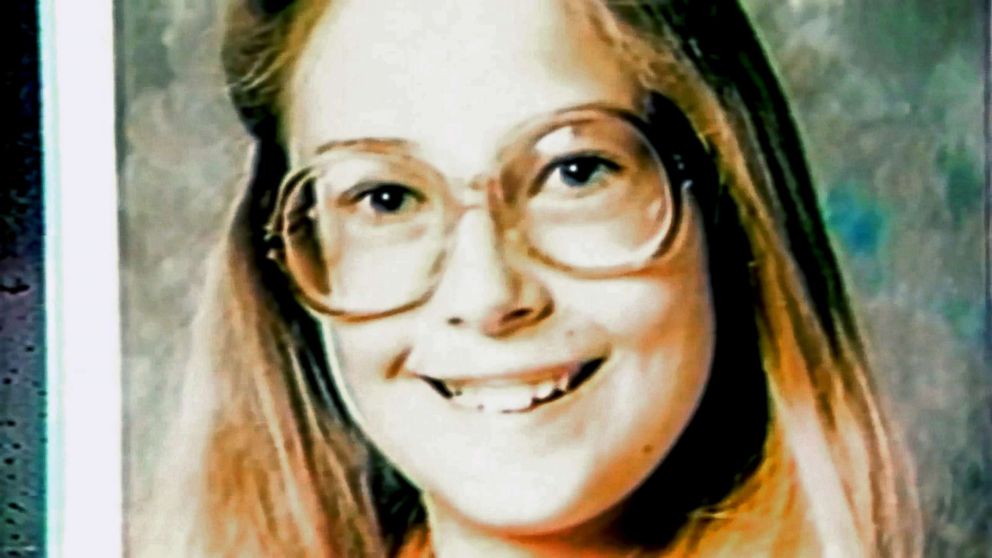 But Moore called solving Christine Franke's 2001 killing the longest genetic genealogy case she has worked on, citing the suspect's large family and difficult-to-trace family tree.
Michael Fields, a detective with the Orlando Police Department who worked the Franke case, partnered with Moore this summer.
Fields said they began with two relatives of Christine Franke's unknown killer who had voluntarily submitted their DNA to GEDmatch -- a third-party genealogy database that permits people to upload their DNA -- to find other family members.
From there, tracing the massive family tree began, Fields told ABC News.
Eventually, Fields said he interviewed family members of the unknown suspect and zeroed in on one woman who had two sons in Orlando.
The woman voluntarily gave her DNA to police -- and that sample confirmed she was the mother of Franke's suspected killer, Fields said.
Investigators then narrowed the search down to one of the two sons -- Benjamin Holmes.
Police placed Holmes under surveillance and took a sample of his DNA from a discarded cigar butt, Fields said. The DNA on that cigar matched the DNA left behind by the suspected killer at the Christine Franke scene, Fields said.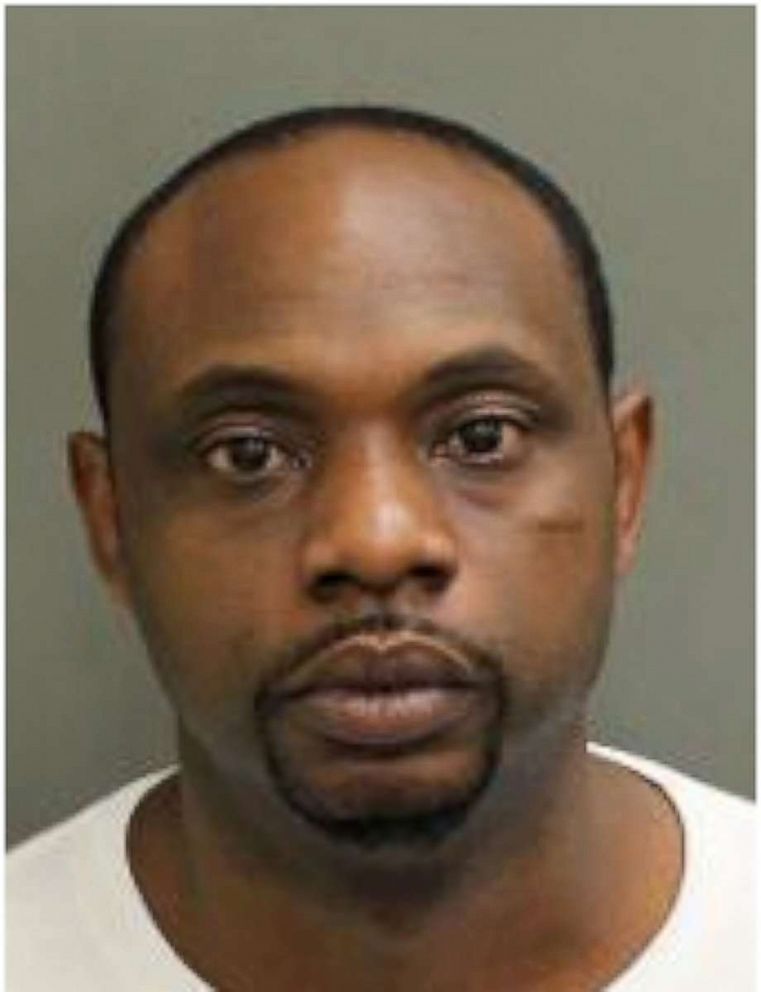 The moment Fields learned of the match "was a feeling that I thought I would never have," he said.
And sharing the news with Christine Franke's mother was "more emotional than learning for myself," Fields added.
For Tina Franke, the news brought an overwhelming wave of relief.
"I couldn't believe it finally happened," she said.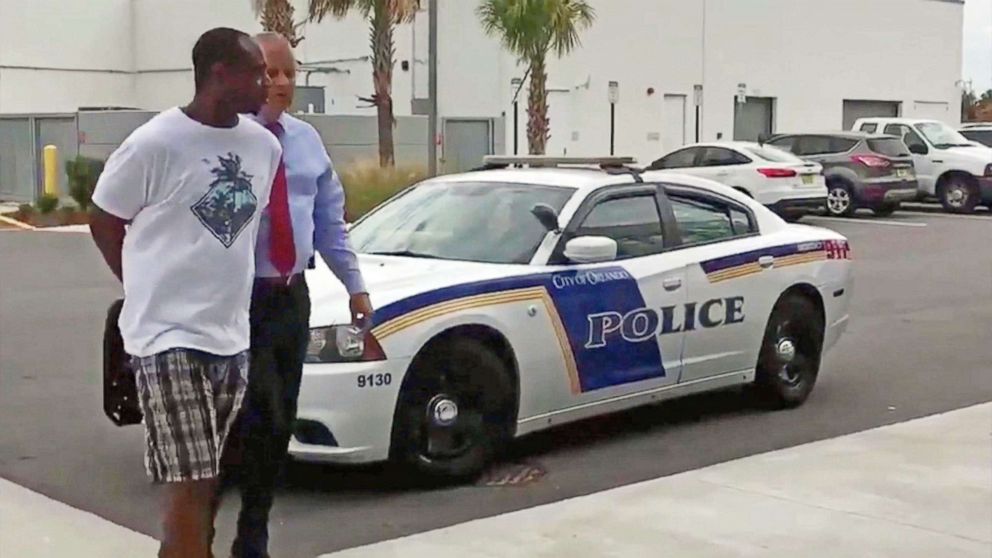 When Holmes was taken into custody in November, he "denied having any knowledge or being near the crime scene," Orlando police said.
Holmes entered a plea of not guilty. His public defender, Robert Wesley, told ABC News, "We don't discuss clients or their cases without explicit consent and directions to do so from the client."
'Golden State Killer' opens the floodgates
The moment Fields realized genetic genealogy was the potential key to solving the Christine Franke killing was when he saw the April arrest of the suspected "Golden State Killer," he said.
The "Golden State Killer" case was the first public arrest this year linked to genetic genealogy, Moore said, though Parabon was not involved in the investigation.
In the 1970s and 1980s, the "Golden State Killer" was believed to have committed over a dozen murders and multiple rapes in Northern and Southern California, instilling fear in families, young women and suburban neighborhoods.
As the years went by, his crimes seemingly stopped -- but police kept investigating.
In the early 2000s, authorities obtained the unknown killer's DNA at one crime scene: the 1980 double murder of Lyman and Charlene Smith, who were bludgeoned to death at their Ventura County home.
Investigators then started reviewing rape kits -- which contained DNA samples from victims -- in other counties, said Sacramento County District Attorney Anne Marie Schubert.
This year, investigators plugged the mystery killer's DNA into the genealogy website GEDmatch.
Based on the pool of people on GEDmatch, investigators built a family tree of the unknown killer's relatives who had submitted their DNA to the database on their own.
Authorities narrowed the search based on age, location and other characteristics, leading them to 72-year-old former police officer Joseph DeAngelo.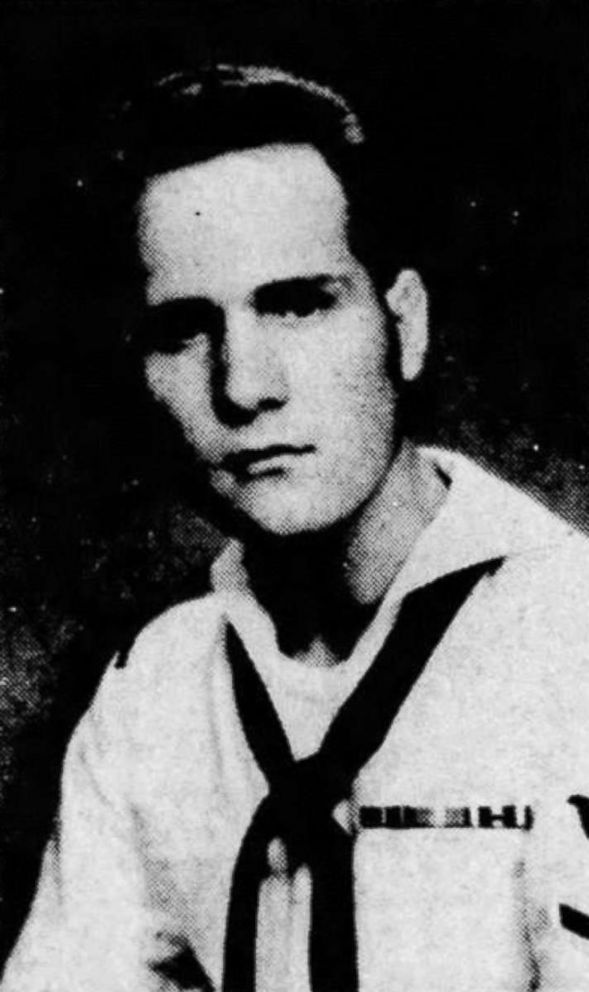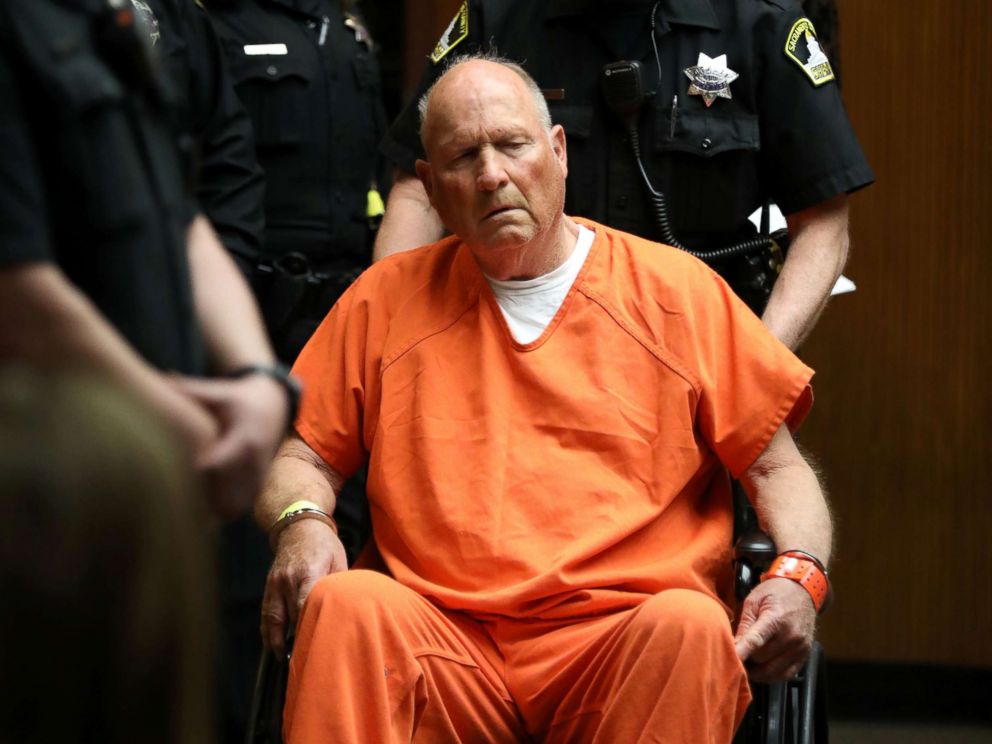 Investigators placed DeAngelo under surveillance and eventually collected his DNA from a tissue left in a trash. They then plugged his discarded DNA back into the genealogy database and found a match, linking DeAngelo's DNA to the DNA gathered at multiple "Golden State Killer" crime scenes, Schubert said.
DeAngelo, accused of 13 murders and other charges, is awaiting trial in Sacramento County. He has yet to enter a plea.
His public defender declined to comment to ABC News about the genetic genealogy component of the case.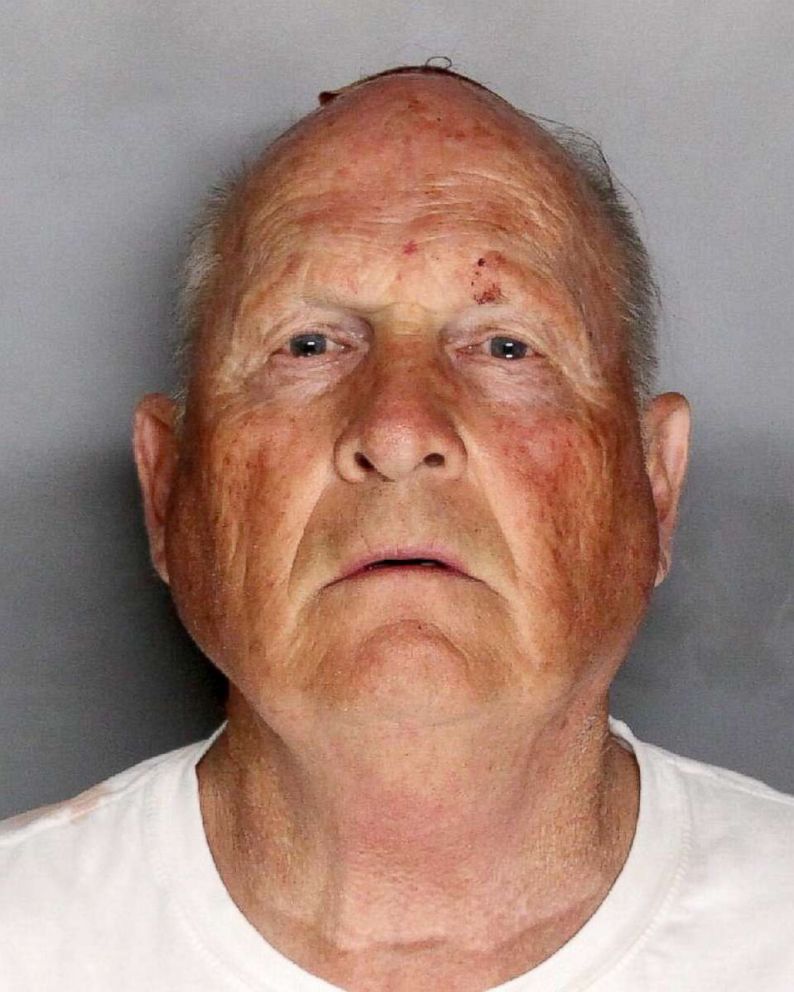 Privacy concerns
As genetic genealogy cracks more and more cases, its use is also drawing criticism from some civil liberties advocates who say it unfairly gives up the privacy of law-abiding people because of their family members.
"Our DNA is essentially like a blueprint to ourselves," said Vera Eidelman, a staff attorney with the American Civil Liberties Union (ACLU). "DNA can tell us about hereditary diseases potentially, our ancestry... there are already attempts to tie genetic information to personality traits, to mental health, to other predictors of life outcomes. So giving that deeply detailed information over to government investigators is troubling in that it just exposes so much information about ourselves."
Eidelman said the use of genetic genealogy by law enforcement "compounds the privacy harms and concerns in terms of one person's genetic material actually disclosing information about so many others -- including people who are no longer alive, people who have yet to be alive."
"It's a frustrating position to be in, because we should be able to enjoy the benefits of technology ... without having to fear that that information will then go into the hands of the government or others," Eidelman said.
Eidelman said setting guidelines now for what is acceptable is imperative as the use of genetic genealogy by law enforcement increases.
"It may end up being the case when you're thinking you're sharing information for only one purpose, the reality may be that that information gets used for very different things than what you intended to share it for."
But Moore stressed that direct-to-consumer DNA companies, including AncestryDNA and 23AndMe, do not allow their DNA samples to be searched by authorities.
Those companies, however, do allow users to download their raw data. And third-party genealogy databases like GEDmatch permit people to upload their DNA information, making the samples widely available for searches -- and that's how genetic genealogists have been cracking these cold cases.
"The only way your DNA can be used for our purposes is if you go through the steps of downloading it and uploading it to GED Match," Moore stressed. "We're not using your DNA unless you've gone through that process."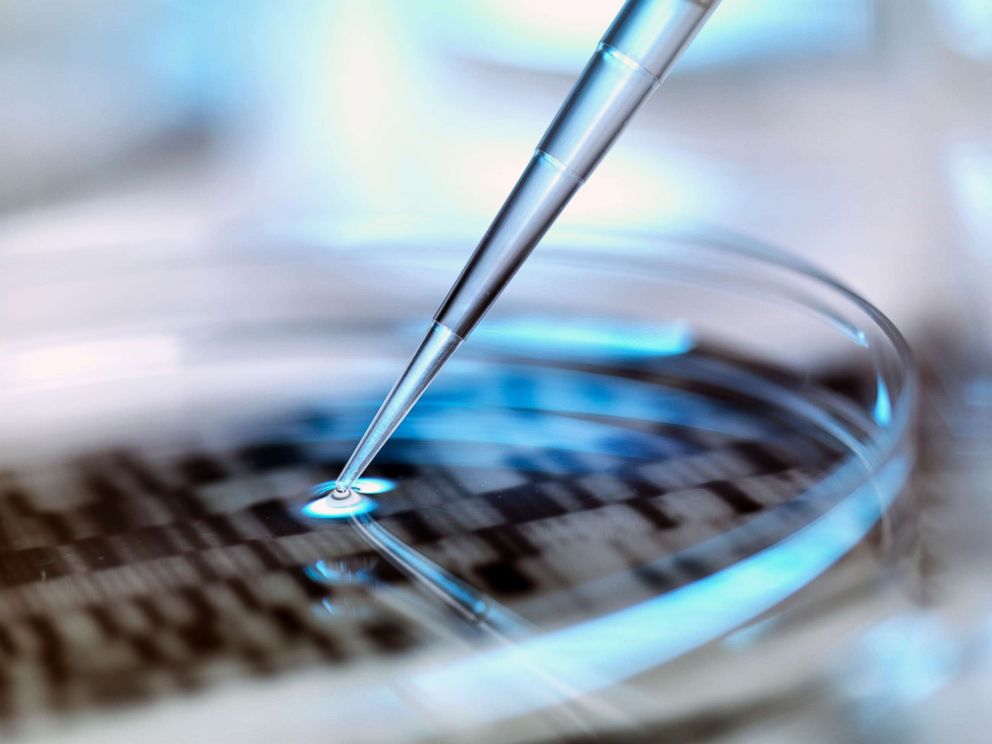 "People give their permission when they go on our site," added GEDmatch co-founder Curtis Rogers. "We make it very clear to them that law enforcement is involved and if you have any concerns, do not put your information on our site."
"Privacy is not lost by anyone on GEDmatch. No DNA is visible on GEDmatch," Rogers told ABC News. "The people who would have their privacy lost would be someone who is a direct family member."
He said he's received emails from family members of criminals -- including the daughter of a serial killer -- who want their DNA included on GEDmatch to potentially help solve cold cases.
Moore agreed.
"A lot of people are uploading to GEDmatch for the expressed purpose of helping us resolve more of these cold cases," Moore said. "I understand the privacy concerns, but I think in this particular argument the good to society, to individuals, far outweighs the risks."
"For me, it's all about the families," Moore said. "We can't fix the damage ... we can only help give some answers and peace."
Tina Franke, the mother of slain Orlando student Christine Franke, said she's "all for" law enforcement's use of genetic genealogy.
"Maybe it's not fair to invade privacy, but he invaded my whole life," Tina Franke said of her daughter's suspected killer. "He changed my life in the blink of an eye. And if it can help catch a criminal, that's more important to me than anything."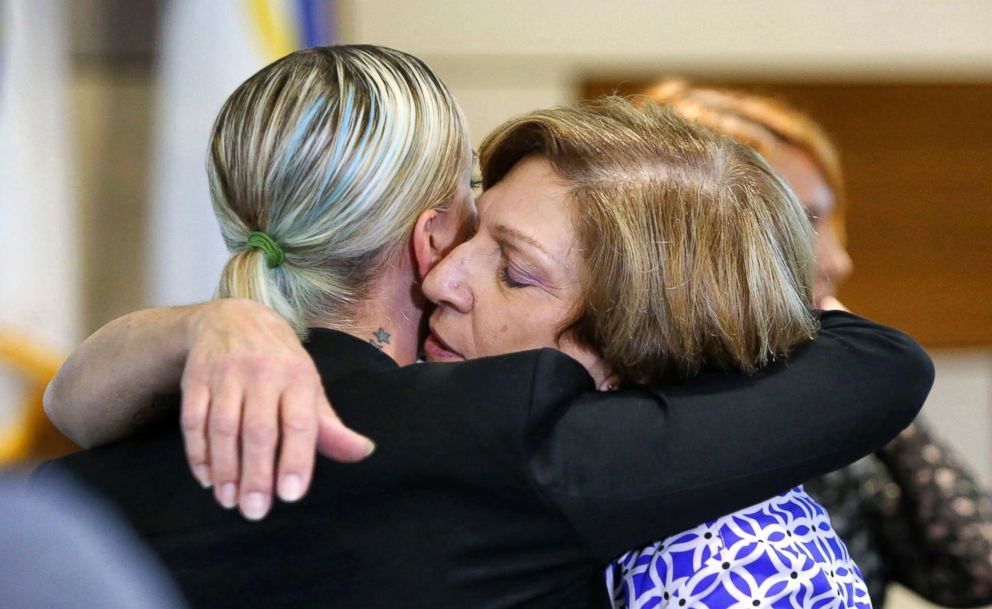 'It's going to be a game changer'
Now that genetic genealogy is in the hands of authorities, Fields, who called it "an unbelievable tool," predicts "it's going to be a game changer in how we do business."
But the Orlando detective added, "Not everyone is going to have the opportunity to use it, because it's expensive, time-consuming and it can be really difficult."
"I just hope that people use it and can solve as many cases as they can," he said.
To Tina Franke, genetic genealogy's biggest strength is its ability to give answers, and possibly closure.
"I hope it helps another family who is struggling with similar circumstances," Franke said. "I would want the same relief for them as we felt."