Jun 27, 2014 11:31am
Hillary Clinton is finally nearing the end of her nationwide book tour.
After three more stops — a book-signing Friday morning at a Walmart in Little Rock, Arkansas, another one later this evening near Dayton, Ohio, and an event Sunday in her hometown of Chappaqua, New York — Clinton will have traveled to more than 10 states and held roughly 20 events in three weeks to promote her new memoir, "Hard Choices."
Arkansas GOP Official Who Suggested Clinton Would 'Get Shot' Resigns

Why an Old Foe Thinks Clinton Is the Kim Kardashian of Politics
Clinton Stumbles From 'Dead Broke' to 'Not Truly Well Off'
Along the way, the potential presidential candidate has met a colorful, and uniquely diverse, group of people. From a conservative rodent to a Supreme Court justice, here's a look at some of the highlights from the book trail:
Mysterious 'Grandma':
An unknown person dressed in a hospital gown went charging at Clinton at the end of her first book-signing in New York City.
"It was odd and very quick," according to Andrew Ashey, a witness who took a photo. "The woman – dressed in hospital garb, including bracelet – held a FedEx package. She stood close, and continued to creep closer, than anyone else while waiting. When Clinton emerged, she ran into the secure zone – cane and all – to hand over the package. Security intercepted, as did [Clinton aide] Huma [Abedin], who took the package."
A Die-Hard Fan:
Sean Brennan, 41, of Queens, New York, was the first person in line to meet Hillary Clinton during her first book stop event at a Barnes & Noble in New York City.
A Supreme Court Justice:
Supreme Court Justice Sonia Sotomayor made a surprise stop at Clinton's book-signing at the Costco in Arlington, Virginia. Sotomayor says she was just doing some Saturday shopping at the superstore when she was alerted that Clinton was there, too.
A Republican Squirrel:
In a show of goodwill toward giant costumed rodents everywhere, the former secretary of state handed a copy of her book at an event in Washington, D.C., to a giant Republican squirrel before her book-tour event.
A Baby:
In true campaign swing, er, book tour, fashion, the soon-to-be grandmother mingled on the stage, while holding an unidentified baby from the audience, at a book-related event in Washington, D.C.
A Pop Star:
At a book signing in Los Angeles, Clinton got a high-profile visit from pop star Katy Perry, who later tweeted a photo of her and Clinton together and offered to write a "theme song" for the potential presidential candidate, "if she needs it."
A Glee Star:
Actor Chris Colfer, who plays Broadway-loving Kurt Hummel on Fox's "Glee," waited in line, along with hundreds of others, to get his book signed by HClinton in Los Angeles. Upon meeting, the two looked positively gleeful, and Colfer tweeted a photo expressing his sheer excitement.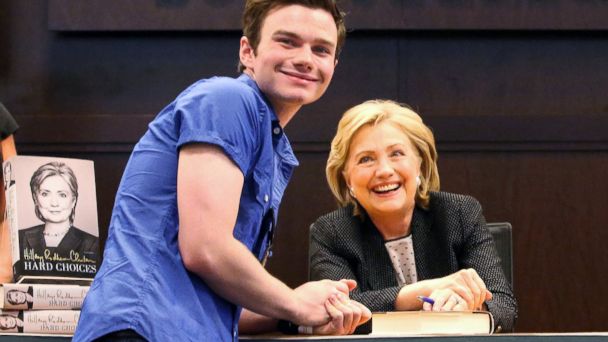 (Photo Credit: Nick Ut/AP Photo)