A Killing on the Cape
How the murder of Christa Worthington brought an entire town under suspicion
An encore presentation of this "20/20" report will air on Friday, Dec. 28, 2018, at 9 p.m. ET on ABC.
This is an investigative series by "20/20" and ABC Radio looking into the murder of Christa Worthington and the trial and conviction of Christopher McCowen. Watch the two-hour "20/20" documentary, "A Killing on the Cape," HERE and the six-part podcast can be heard on Apple Podcasts, Spotify, Google Play Music, TuneIn, Stitcher and under the "Listen" tab on the ABC News app.
Episode 1 - The Murder
Episode 2 - The Shellfish Constable
Episode 3 - More Leads, More Dead Ends
Episode 4 - The Garbage Man
Episode 5 - The Verdict
Episode 6 - The Interview
MORE: Man convicted of murdering Christa Worthington speaks out: 'I'm not guilty of anything'
It was a crime that rocked an idyllic seaside town on Cape Cod.
The 2002 murder of Christa Worthington, found stabbed to death with her 2-and-a-half-year-old daughter, unharmed at her side. What came next was a three-year search for her killer that would involve unorthodox steps by police, a lengthy list of potential suspects and an entire town under suspicion.
Worthington's garbage man, 45-year-old Christopher McCowen, was convicted of murdering and raping the 46-year-old fashion writer and single mother, but his defense would raise questions about the evidence, investigative methods and whether racial prejudice played a role. Prosecutors say the evidence against McCowen is "overwhelming" – investigators got a DNA hit, an incriminating statement from McCowen and a guilty verdict -- but McCowen's current attorney Gary Pelletier believes his client is innocent and has been working on gathering new evidence for what may be the convicted murderer's last chance to get a new trial.
ABC Radio and "20/20" take a look at all the evidence and interview McCowen, who never testified at trial and who has been in prison for more than 10 years, as well as Worthington's friends, authorities, first responders, experts, neighbors and local residents.
EPISODE 1: The Murder
The sun had just set on Jan. 6, 2002, when Tim Arnold and his father, Robert, drove over to 50 Depot Road in Truro, Massachusetts. It was the home of Tim Arnold's ex-girlfriend, Christa Worthington, and he was stopping by to return a flashlight he had borrowed.
Truro is a sleepy Cape Cod town with about 1,400 year-round residents, and Depot Road is a quiet street away from the center of town, pockmarked with residential homes. Christmas and New Years had come and gone. Old Christmas trees were being tossed out and everyone was starting to move on from the holidays.
Like many driveways in the Cape Cod area, Worthington's was covered with crushed clam shells. When he pulled up, Tim Arnold said he noticed two newspapers sitting at the end of her drive. He got out of the car, scooped them up, then he and his father made their way up the long, winding driveway that wraps around Worthington's four-bedroom house.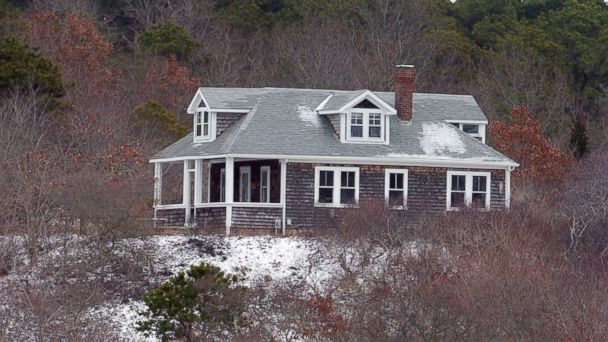 When they got there, Arnold said he was surprised to find Worthington's car sitting there in the driveway. He said he had tried calling the house before stopping by and didn't get an answer so he figured she wasn't home.
His father parked and Arnold got out. He said he walked up the house steps to find the door that leads into the kitchen open slightly.
He walked inside and called out Worthington's name, then he found her lying on the floor. Her 2-and-a-half-year-old daughter Ava was beside her, trying to nurse.
Arnold said he didn't notice the blood at first.
He later said that that first he thought it was simply an odd place to nurse Ava, but when he called out Worthington's name, only the little girl's head turned around. That's when he said he knew something was wrong.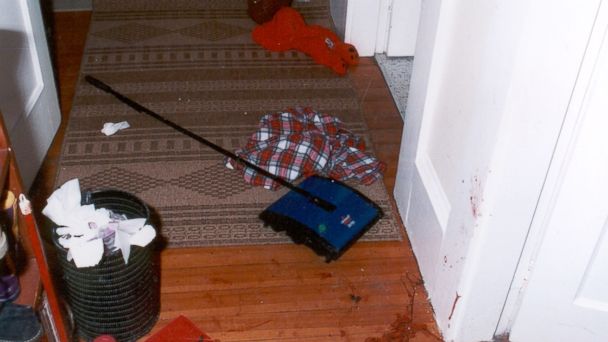 "I've seen the crime scene photos," Peter Manso said. "Blood had come out of her mouth, out of her nose, there is a pool of blood under her head, her body is bloody... I mean, this is Dantesque. This is truly horrible stuff."
Manso is the author of "Reasonable Doubt: The Fashion Writer, Cape Cod and the Trial of Chris McCowen," the story of Worthington's murder case. He has lived on Cape Cod since childhood and was a consultant on this story.
After seeing Ava, Manso said Arnold picked up the little girl and took her outside to his father, who was waiting in the car, telling him that "Christa is D-E-A-D," spelling it out so not say the word out loud in front of Ava.
Arnold later told police he searched for a phone inside the house and couldn't find one, so he ran back through the woods to his father's house next door to call 911.
"Please send someone to 50 Depot Road," Arnold is heard telling the 911 operator that night. "It's Christa Worthington. I don't know what happened, I think she fell down. I'm sure she's dead. I think she's dead."
But first responders soon discovered that Worthington had been beaten and stabbed once in the chest.
"She was stabbed… through the trapezius muscle to where the blade nicked the floor," said Maria Flook, the author of "Invisible Eden: A Story of Love and Murder on Cape Cod," a book about Christa Worthington's past as a New York City fashion writer, her life and her murder. "The kitchen door had been forced open, possibly kicked open."
According to Flook, the house had a cordless phone but it was never found. Worthington's cell phone was found on the kitchen counter "with just the digit '9' punched in," Flook said. "As if she had been trying to dial 911."
Cheerios and a sippy cup were found on the floor, as well as little footprints from where Ava had walked through the blood, Flook said.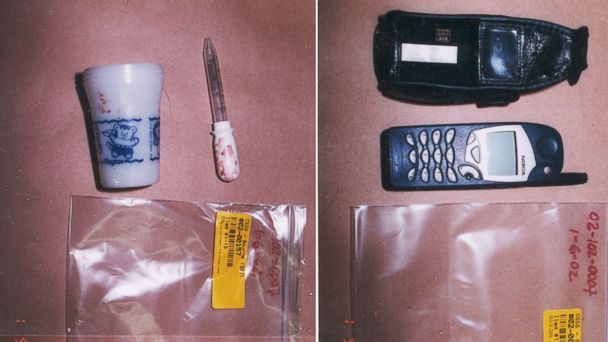 Christa Worthington's mysterious and gruesome murder rocked the small town. At the time, there hadn't been a murder in Truro in roughly 30 years.
'There just isn't a lot of violence in Truro," said Nick Brown, a realtor on Cape Cod who sold Worthington's home a few years after her death. "Fifty percent of our people don't even have keys to our front doors. It's a very open society, it's very friendly with very, very little crime."
Truro sits about 20 minutes south of the bustling tourist spot, Provincetown, at the end of Cape Cod. The hook-shaped peninsula was once bolstered by a robust fishing industry, but now Manso said it is a one-season vacation economy, and Truro is a place propped up by the service industry and blue collar workers.
"Young people, if there are going to stay here, if they are going to live here year round, typically have to be in the construction trades," Brown added. "They come out of high school, they do not go to college. They immediately go into the trades – carpenters, plumbers, electricians and they do very well."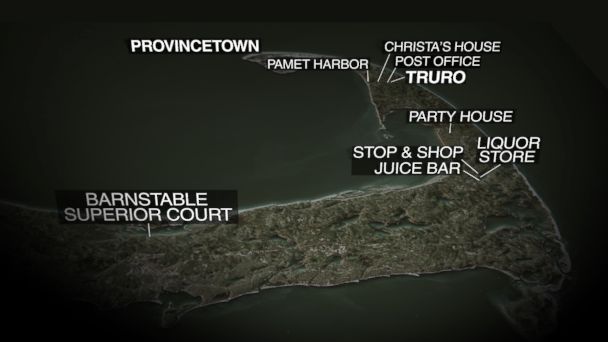 But like any American community, Truro was not completely immune to crime.
"We would get toned [called] out for somebody that's having a drug overdose," said George Malloy.
Malloy was an EMT with the Truro Rescue Squad and one of the first responders who arrived on-scene on Depot Road the night that Arnold found Worthington's body. During his years as an EMT, he said he had been to numerous drug overdose and suicide scenes, but never a murder before that January night.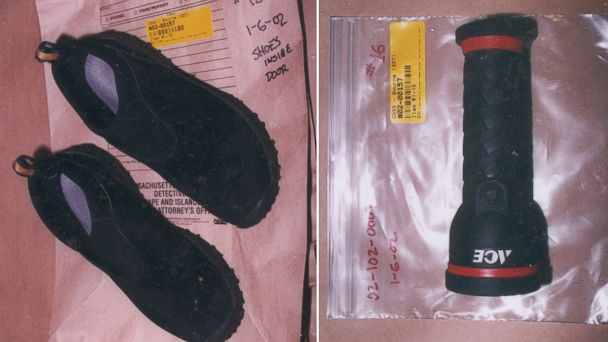 That night, Malloy said he was in his office when the call came in for an unresponsive female at 50 Depot Road.
"They don't dispatch a name where the house is, they just tell you what the address is," he said. "When I got up to leave, I started to put it together and I thought, 'Gee, I think that's the Worthington residence.'"
Malloy said he followed an ambulance to the address and knew right away they were dealing with a crime scene. The first responders who had arrived ahead of him seemed distraught, he said, and told him the woman inside was dead.
"So I went in and just looked and Christa was naked from the waist down, lying on her back," he said. "I turned and came out just as the first officer was coming up the road."
That officer was Meredith Allen with the Truro Police Department. Her incident report from that night said she said she heard a call on the radio that they were dealing with a dead body. According to her report, she walked up the driveway and one of the paramedics told her the body had been there for a while because she was already stiff.
When Allen entered the home, her report says she noted that the body was covered by a blanket, brownish in color, as well as a yellow plastic cover from one of the rescue trucks. She says she saw a "large amount of brownish, stale blood" that had collected around Worthington's head. That's when she told everyone to leave the house.
But by that point, several people -- from Tim Arnold, to his father who had gone into the house to look for a phone after Tim told him Worthington was dead, to the paramedics, to Allen -- had already walked through the crime scene.
There was also Christa Worthington's cousin, Jan Worthington.
"Jan had worked not only as a member of Truro Rescue Squad but she has a part-time job working as a dispatcher," for the police switchboard, Manso said.
Jan Worthington lived on Pamet Road, just a few minutes away from Christa Worthington's house. She later testified at a McCowen's trial that she was at home reading a newspaper when she heard the call come over the radio and had gone over to Christa's house.
"I put my hand on her left carotid artery and she had no pulse. I knew she was dead," Jan Worthington testified. "I was frightened because I didn't know what had happened, but I knew she had been murdered."
Police searched the home to make sure no one else was inside and then, as is customary to do in Truro for a dead body found under suspicious circumstances, they called the state police.
A crime scene log-in sheet from that night shows 14 names, but it's incomplete. It doesn't include some of the EMTs, paramedics or police officers who were first on the scene.
The first state troopers arrived, along with investigators and crime scene techs, who began collecting evidence. According to police reports, they found Worthington's keys, eyeglasses and a sock outside on the ground near her car. There also appeared to be two parallel drag marks in the ground not far from her car. In the flowerbed near the house, they found another sock, and closer to the door, they found what is described as a red wrapper they assumed was from a granola bar, as well as a hair barrette.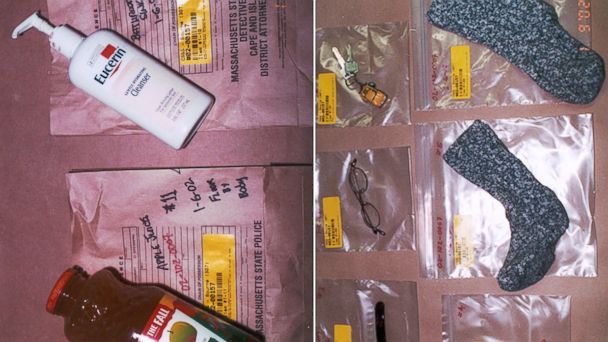 Chemist Robert Martin with the state crime lab and Lt. Kenneth Martin with crime scene services, no relation, processed the crime scene. Kenneth Martin later testified that he saw a large pool of blood near Worthington's head and what appeared to be grass in her matted hair. He also noted that Worthington's feet were clean.
They took samples of blood found in the bathroom where a child's step stool was in front of the sink. Police believed Ava had tried to clean her mother.
The house was a mess, with a pile of dirty dishes in the sink, toys and clothes everywhere, but police did not believed it had been ransacked. Flook, a single mother herself, believes it was just the life of a single parent. Worthington's Christmas tree was still up in the living room.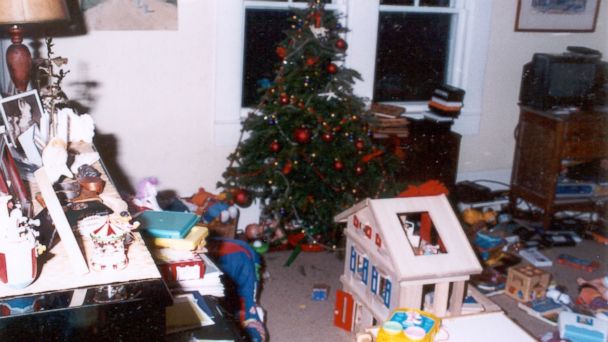 Investigators also collected fingerprints from the house and Worthington's car and found a total of nine prints near her body. The brown blanket that was found draped over her was collected, as were knives from a cutting board in the kitchen, a bloody washcloth and a child's broom that appeared to have blood on it.
Nick Brown, the realtor who eventually sold Worthington's home, also helped clean it up after she was killed.
'I'll never forget picking up a scatter rug and see a blood stain the size of about two basketballs, still on the linoleum floor of the kitchen," he said. "There were clothes strewn over two or three bedrooms, there were children's toys everywhere…blood stains."
But the one thing investigators never recovered from the scene – the murder weapon.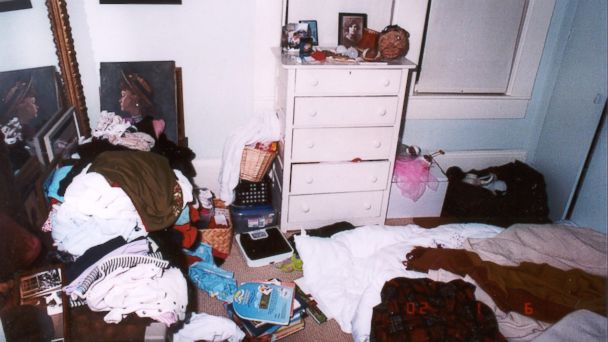 It was about midnight on Jan. 7, 2002, when Worthington's body left 50 Depot Road. She was taken to the chief medical examiner's office in Boston.
There, clippings of fingernails were taken. Her body was photographed and blue and white fibers were found in her pubic area. Swabs were taken of her breasts and vagina where authorities collected the two most important pieces of forensic evidence -- the semen and saliva of an unknown male.
The clothes she had on – a fleece jacket, a fleece vest and a black longsleeve shirt -- were also examined. However, a green bathrobe that both Jan Worthington and Tim Arnold later testified that they saw Worthington wearing at the crime scene was not with her when she arrived in Boston and it doesn't show up in any crime scene photographs.
Back in Truro, first responder George Malloy had taken Ava over to Worthington's uncle John Worthington's house nearby while the crime techs worked the scene. He said he tried to talk to the little girl and get her to open up.
"I was asking her, whether-- 'Did mommy change you? When was the last time you were changed? When was the last time you had anything to eat?'" he said. "There was no response, really."
A friend of Christa Worthington's named Francie showed up at John's house with a change of clothes for Ava. Malloy said the little girl wasn't covered in blood, but she had some on her and her clothes were soiled. He changed her diaper and her clothes.
Eventually, State Trooper Kimberly Squier came over to talk to Ava, and what she said the little girl told her was chilling.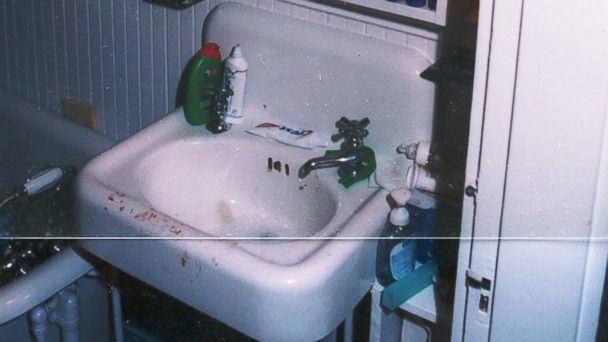 Trooper Squier wrote in her report that Ava told her, "Mommy lying down" and that she "tried to get mommy up, mommy dirty, tried to clean mommy." She also said it seemed that Ava tried to feed her mother.
Squier noted that Ava had a rash so they took her to a hospital for evaluation, but doctors there said she appeared in good health and didn't show physical signs of trauma. Squier said police tried to interview Ava again the following day, but didn't get any new information from her.
"She was definitely traumatized," Malloy said. "I hope for her sake, that she did not witness the murder. I hope she was sound asleep, climbed out of her crib and found her, and did not witness this."
As the evening wore on, John Worthington's house became a meeting point for the Worthington family.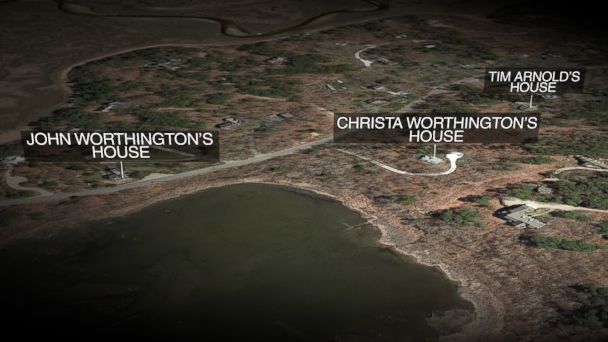 Aside from John and his wife at his house, Christa Worthington's father, Christopher Worthington, who goes by "Toppy," arrived, as well as Christa's cousins, Pamela and Jan, and a few police officers.
Sgt. William Burke and State Trooper Christopher Mason were two officers at John Worthington's house that night, and would later lead the investigation into Christa Worthington's death.
But as the days became weeks , the list of potential suspects grew – and so would dead ends.
"There was so much talk about who did it, and who had the motive," said filmmaker Arthur Egeli, who worked on a movie about Worthington's death called, "Murder on Cape Cod."
Episode 2 of "A Killing on the Cape" podcast is now live. Subscribe today to get the next episode: Apple Podcasts, Spotify, Google Play Music, TuneIn, Stitcher and under the "Listen" tab on the ABC News app.
Credits:
Senior Executive Producer
DAVID SLOAN
Executive Producer
TERRI LICHSTEIN
Senior Editorial Producer
KEREN SCHIFFMAN
Correspondent
MARK REMILLARD
Producers
MARC DORIAN, GAIL DEUTSCH, JEFF SCHNEIDER, MARK REMILLARD, CARRIE COOK, ALISON LYNN
Associate Producer
JONATHAN BALTHAZAR
ABC Radio Vice President
STEVE JONES
ABC Radio Executive Director
ANDREW KALB
ABC Radio Coordinating Producer
JOSH COHAN
Senior Digital Producer
LAUREN EFFRON
Photo Editor
MEREDITH LONGO
Senior Developer
GREG ATRIA