The Note: Manafort trial could hold hints for Trump's future
The veil comes down just a bit starting Tuesday.
The TAKE with Rick Klein
What Robert Mueller's team knows – and how and when he plans to tell the world about it – is one of the great mysteries of 2018.
The veil comes down just a bit starting Tuesday. The beginning of Paul Manafort's trial means that part of what the president calls an "illegal Scam" and a "witch hunt" moves into a criminal courtroom, where Trump's own former campaign chairman is a defendant who could spend the rest of his life behind bars.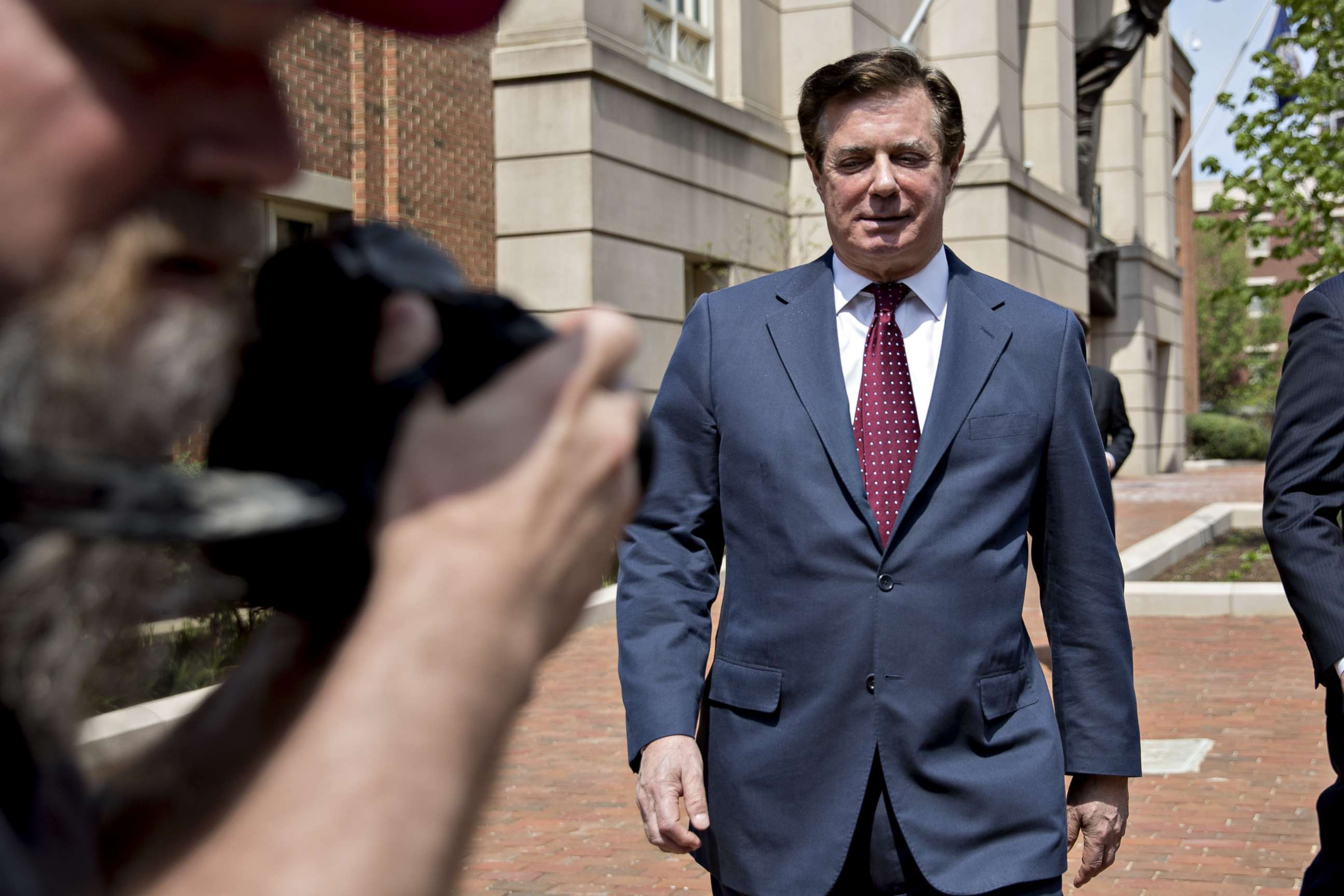 Manafort faces charges stemming from events that far pre-date his association with Trump. But every move and piece of evidence by the prosecution has the potential to reflect on Trump – and offer hints about what else may be still to come.
Another piece of subtext: Manafort, unlike Michael Cohen, has shown no indication that he's prepared to turn on Trump. Will what happens in court prompt talk of a plea? Will pardons be on anyone's mind?
The RUNDOWN with MaryAlice Parks
Senate politics are about to get even more interesting.
While Democrats' odds for winning control of the upper chamber this November still feel (really) long, there are two forces at play adding spice, life and debate to a number of races.
First, the Supreme Court nomination.
Judge Brett Kavanaugh began meeting with Democrats Monday, or at least those from redder states who happen to be up for re-election this year.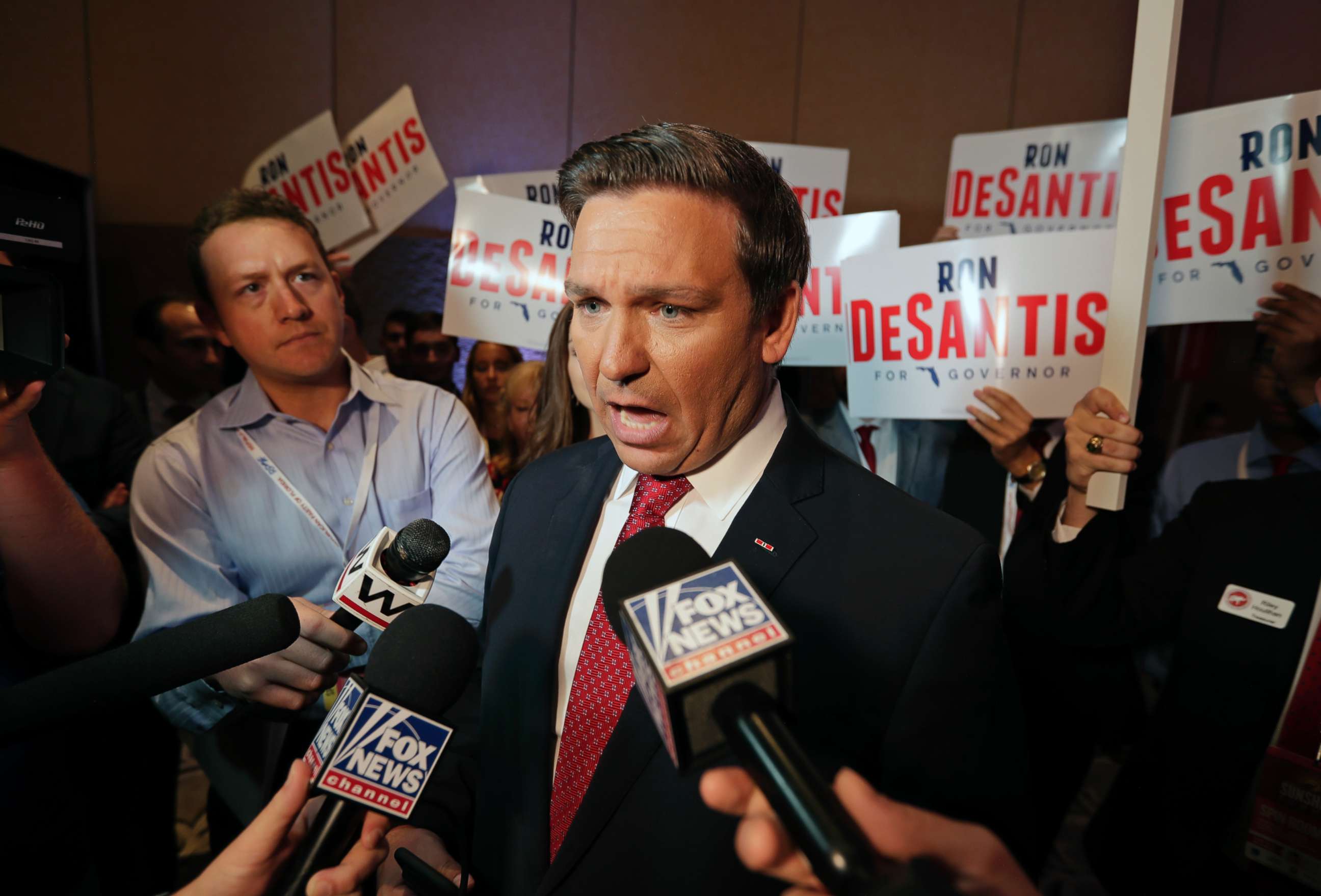 Some of the Senate Democrats in tough campaign battles might calculate that a vote for Trump's nominee, who is likely to get confirmed anyway, is an easy way to look independent and curry favor with the middle.
Of course, some could come to exact the opposite conclusion.
Does giving a big thumbs-down motivate Democratic voters and rally crowds?
The other big curveball in these matchups: trade policy.
One of the largest and most prolific political groups on the right, the Koch brothers' network, decided North Dakota's Republican Senate candidate was too close to the president and too far from them on the issue to justify contributing more to that tight race right now.
It's a sign that traditional Republican groups that have long been proponents of free trade are doing some serious soul-searching as to what kind of Republican is worth supporting in the upcoming fights.
The TIP with Lissette Rodriguez
President Trump is scheduled to hold a campaign-style rally in Tampa Tuesday night, and Republican Rep. Ron DeSantis wants Floridians to remember he's the Trump-endorsed candidate in the state's race for governor.
Some candidates struggle with explaining the president to kids – but not DeSantis. His new campaign ad features his wife and two children – a family all-in on Trump.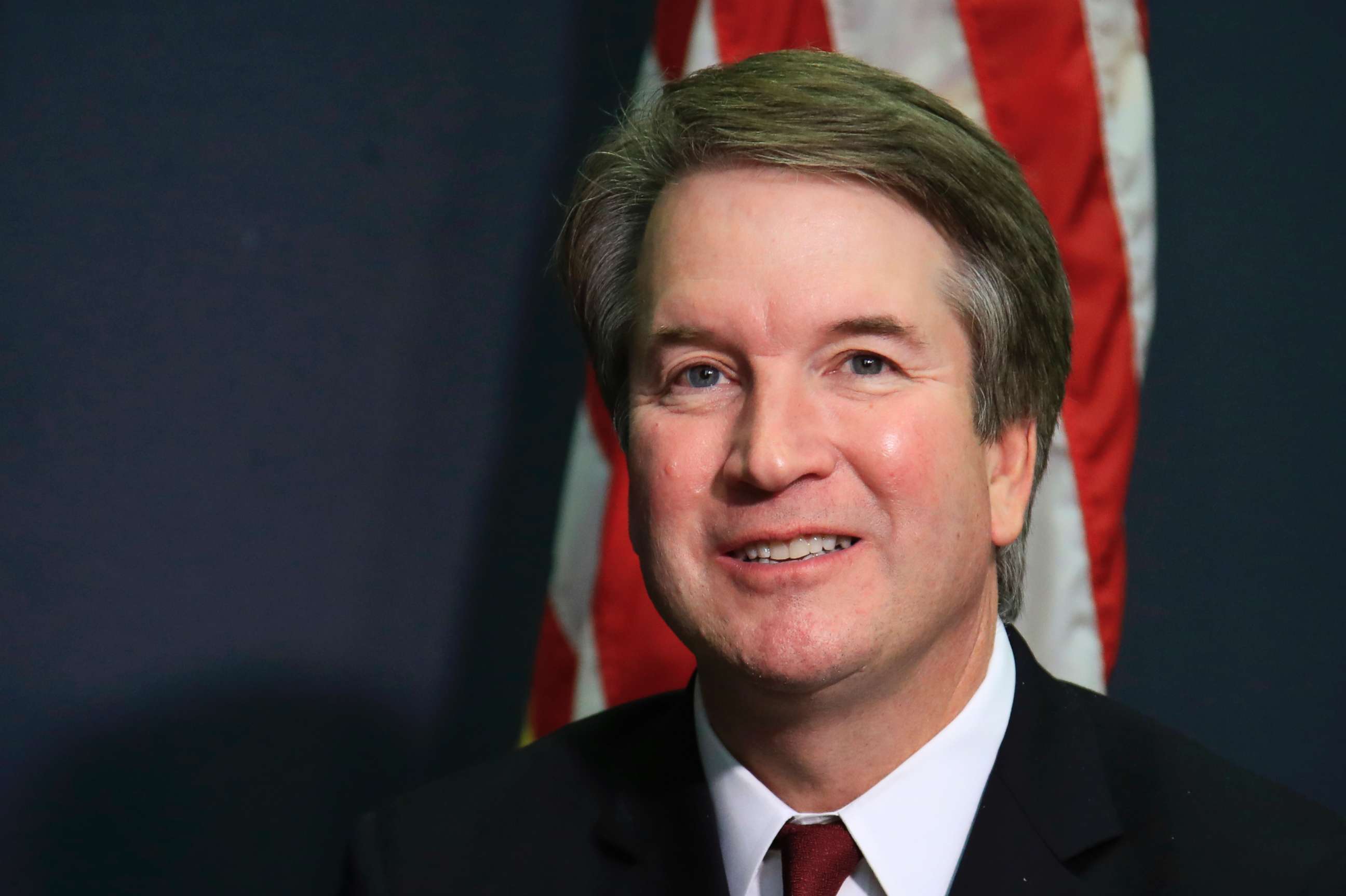 The ad features a scene of DeSantis playing with his daughter and some building blocks as he tells her to "build the wall." In another, the congressman reads stories to his kids directly out of "The Art of the Deal."
In a statement Monday, the Democratic Governors Association said the ad represents "the cult-like fervor that has swept over the Republican party."
President Trump first endorsed DeSantis via Twitter back in December 2017, before DeSantis had even announced he was running. The president made it Twitter-official in June, even though many believed Vice President Mike Pence's close relationship with DeSantis' rival, Florida Agriculture Commissioner and former Rep. Adam Putnam, meant Trump would support Putnam.
The president's rally in Tampa marks his first campaign event in Florida this election year.
WHAT YOU NEED TO KNOW TODAY
President Trump delivers remarks on workforce development and participates in the ceremonial signing of the "Strengthening Career and Technical Education for the 21st Century Act" at 6:10 p.m. in Tampa, Florida.
The president hosts a campaign rally in Tampa, Florida, beginning at 7 p.m.
Jury selection for former Trump campaign chairman Paul Manafort's criminal trial in Alexandria, Virginia is scheduled to start today.
Vice President Pence participates in a National Cybersecurity Forum, hosted by the Department of Homeland Security, at 9 a.m.
Families and faith leaders hold a walkout at a Senate hearing on the Department of Homeland Security's efforts to reunite families separated at the border at 9 a.m.
QUOTE OF THE DAY
"I think it'd be bad politics for the Republican Party to shut the government down." – GOP Sen. Lindsey Graham on Capitol Hill Monday, hours after President Trump repeated his latest threat to shut down the government over border wall funding.
THE PLAYLIST
ABC News' "Start Here" Podcast. The episode looks at 3 million Russian troll tweets with FiveThirtyEight's Oliver Roeder and the prospect of a government shutdown with ABC News' Jonathan Karl.
FiveThirtyEight's "Politics Podcast": Four Theories About The Trump-Russia Connection. Nate Silver and the FiveThirtyEight team discuss four theories about what happened with the Trump campaign and Russia.
NEED TO READ
President Trump renews government shutdown threat if no border wall funding. President Donald Trump Monday threatened to shut down the federal government if Congress does not include funding for a border wall. (John Parkinson and Elizabeth Brown-Kaiser) https://abcn.ws/2M1XzJY
President Trump willing to meet Iranian President Hassan Rouhani without preconditions. After summits with Russian President Vladimir Putin and North Korean dictator Kim Jong Un in recent weeks, President Donald Trump said Monday he would meet with Iranian President Hassan Rouhani, but he expressed doubt that Iran is ready to do so. (John Parkinson) https://abcn.ws/2M14Cmd
Manafort trial, first in Mueller investigation, set to get underway. The financial crimes trial of Donald Trump's former campaign chairman, Paul Manafort, is expected to get underway in Alexandria, Virginia, Tuesday, the first trial in connection with the more than year-long investigation by special counsel Robert Mueller into possible collusion between Russia and then-candidate Donald Trump's 2016 presidential campaign. (Trish Turner) https://abcn.ws/2NUaI8y
Prosecutors advise witnesses in Manafort trial: Avoid the T-word (Trump). The guidance to witnesses comes in response to an order from United States District Judge T.S. Ellis III, who agreed with Manafort's defense team that invoking the defendant's ties to the Trump campaign could unduly influence jurors. (Matthew Mosk, John Santucci and Trish Turner) https://abcn.ws/2OqBUgp
18 for '18: Midterm races that could reshape Washington and the country. This consequential midterm election could reshape Washington. Democrats are eager to secure a foothold in the nation's Republican-controlled Capitol, and are hoping anti-Donald Trump fervor drives a big blue wave. https://abcn.ws/2mSgRqi
2018 midterm elections on pace to be most expensive ever. The races for control of the House and Senate have broken several records -- the most female and first-time candidates running, the most incumbents retiring -- but with fewer than 100 days to go, another, perhaps more significant, record also is poised to fall. (Esther Castillejo) https://abcn.ws/2mUGgQf
Hillary Clinton gives max donations to 19 Democratic House candidates in 2018 midterm. Hillary Clinton donated the maximum allowed contribution to more than a dozen Democratic House candidates in 2018 midterm last month as her party battles to regain control of at least one chamber of Congress, according to new filing records. (Karma Allen) https://abcn.ws/2OwgI8x
In Trump era, Beto O'Rourke eyes an end to Republican grip on Texas. A Democratic dream for nearly a quarter century has been the prospect of turning Texas blue, but in reality, no Democrat has been elected to statewide office since 1994 or held a Senate seat since 1993 when Lloyd Bentsen left to become Treasury Secretary in the Clinton administration. (Kendall Karson and John Verhovek) https://abcn.ws/2ApRvKd
Koch political arm not supporting North Dakota's GOP Senate candidate Kevin Cramer. Americans for Prosperity (AFP), the powerful political arm of the Koch political network, said Monday at a biannual conference of donors that it cannot currently support the Republican nominee for the U.S. Senate in North Dakota, GOP Rep. Kevin Cramer, because of his "inconsistency" on key issues important to the group such as trade and spending. (John Verhovek) https://abcn.ws/2Am2Nza
Judge Brett Kavanaugh snags key Republican vote. President Donald Trump's nominee to be the next Supreme Court justice snagged a key Republican senator's support on Monday: Kentucky's Rand Paul. (Mariam Khan) https://abcn.ws/2OwjniD
Justice Ruth Bader Ginsburg plans five more years on the Supreme Court. Supreme Court Justice Ruth Bader Ginsburg says she plans to stay on the bench for at least five more years. (Karolina Rivas) https://abcn.ws/2OrhkMG
Linda Tripp defends whistleblowing against Bill Clinton. Linda Tripp, who as a confidant of Washington intern Monica Lewinsky became one of the highest-profile whistleblowers in recent political history, made a rare appearance Monday to describe what it was like to call out an American president. (Soo Rin Kim) https://abcn.ws/2M3YHwV
In a new book set to publish in September, Bob Woodward plans to reveal the 'harrowing life' inside Donald Trump's White House, the Washington Post reports. https://wapo.st/2KcU4yH
According to the Daily Beast, Democrat Sen. Jeanne Shaheen, known for her vocal opposition to Vladimir Putin, was targeted for information on anti-Russia sanctions. https://thebea.st/2Os8XRj
The Note is a daily ABC News feature that highlights the key political moments of the day ahead. Please check back tomorrow for the latest.