Americans are in the midst of battling the COVID-19 pandemic, but a key question on many politicians' and residents' minds is when the economy is going to open up again.
In addition to the country's massive death toll, the economy is in shambles and nearly 17 million Americans are out of work. But reopening is a tricky question, one that's been hotly debated by economists, politicians and health experts. Reopening too soon risks endangering even more American lives. Holding off too long could further strain beleaguered businesses and cash-strapped workers.
Here are the latest updates on America's progress in getting back to work:
April 16: Trump issues guidelines on 'Opening up America Again,' says governors make final decisions
President Donald Trump issues guidelines on "Opening up America Again" -- three graduated phases with "gating criteria" focused on reopening local economies and getting people back to work. Governors are not forced to comply with the guidelines and can move through them at their own pace.
The guidelines recommend each state or region to first meet several criteria -- including a decrease of influenza and coronavirus-like symptoms and COVID-19 cases for 14 days, the ability for hospitals to "treat all patients without crisis care," and a "robust testing program in place for at-risk healthcare workers, including emerging antibody testing" -- before moving through each phase.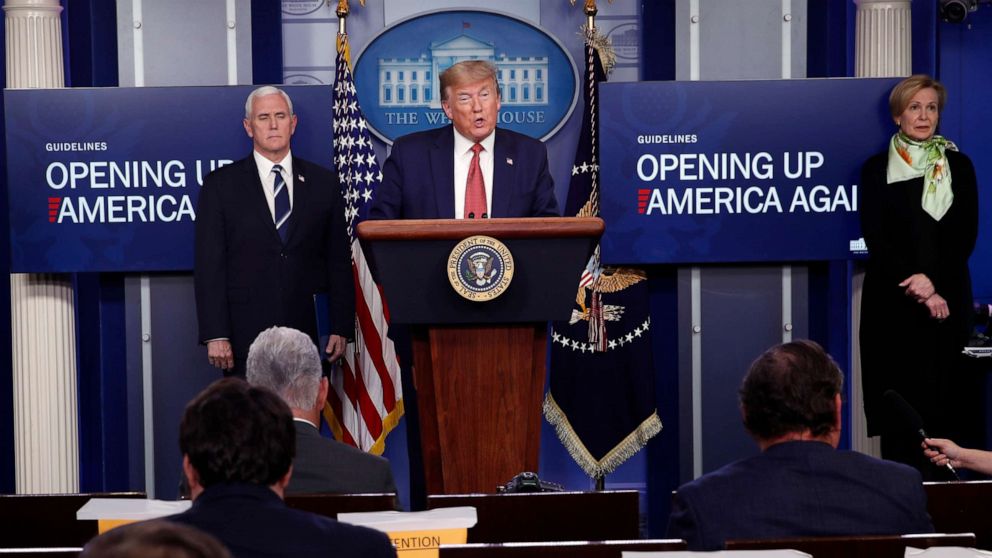 Phase one tells employers to encourage teleworking when possible, return to work in phases, close common areas, minimize nonessential travel and provide special accommodations for vulnerable populations. This phase calls on high-risk individuals to stay home and for the public to continue social distancing. Large venues -- including churches, gyms and restaurants -- can open if they operate under "strict" social distancing and sanitation protocols. Elective surgeries can resume. Schools and bars remain closed.
In phase two, the same suggestions apply to employers as in phase one, but nonessential travel for businesses and individuals can resume. Schools and organized youth activities can open, and bars can operate "with diminished standing-room occupancy." Large venues can continue under "moderate" social distancing protocols.
The third phase says employers can resume "unrestricted staffing of worksites," so employees can physically return to work. All venues -- bars, gyms and large spaces -- can operate with "limited" social distancing and "standard" sanitation. This final phase also reintroduces visits to senior care facilities and hospitals.
Although no specific dates are mentioned in the guidelines, Trump says some states already meet the "gating criteria" and could start phase one "literally tomorrow."
Before Trump's briefing, Midwestern governors announce a new coalition to open their region, joining governors on the West and East coasts in geographically coordinating a response.
April 14: Trump announces industry groups advising him on country's reopening
President Donald Trump announces an expansive list of American businesses and industry executives to advise him on reopening parts of the country, saying some areas could open ahead of May 1, when the current White House social distancing guidelines are set to expire.
Trump also says the federal government will oversee governors' plans to implement reopenings in their individual states.
Dr. Anthony Fauci, the government's top infectious disease expert and a prominent member of Trump's coronavirus task force, had previously cautioned that a May 1 reopening might be "a bit overly optimistic" for some parts of the country without widespread testing and contact tracing in place.
April 13: Governors band together to coordinate reopening
Governors from the Northeast -- including New York, New Jersey, Connecticut, Pennsylvania, Delaware, Massachusetts and Rhode Island -- announce that they'll coordinate reopening schools and businesses in the region.
California, Oregon and Washington's governors form a similar coalition to decide when they'll collectively lift stay-at-home orders on the West Coast.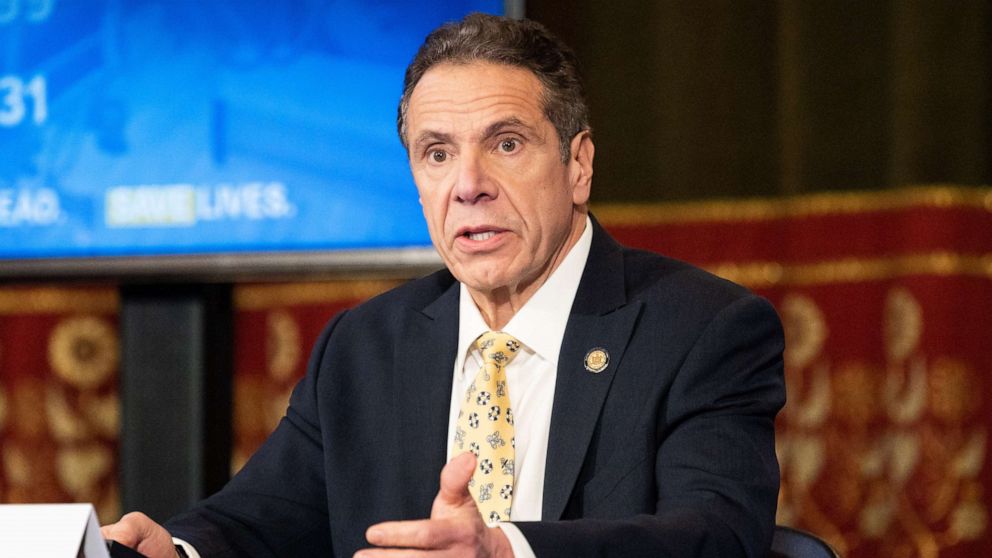 The coalitions do not appear to be coordinated with the federal government, but Trump insists he has "total authority" as president to set the states' terms for reopening.
April 10: Fauci says antibody testing is days away
Dr. Anthony Fauci says the country is days away from having a large number of antibody tests available. Such tests could help determine which Americans have been exposed to the virus, including asymptomatic individuals.
The federal government is discussing the possibility of immunity cards to identify workers who have been exposed and who could potentially return to work, Fauci tells CNN.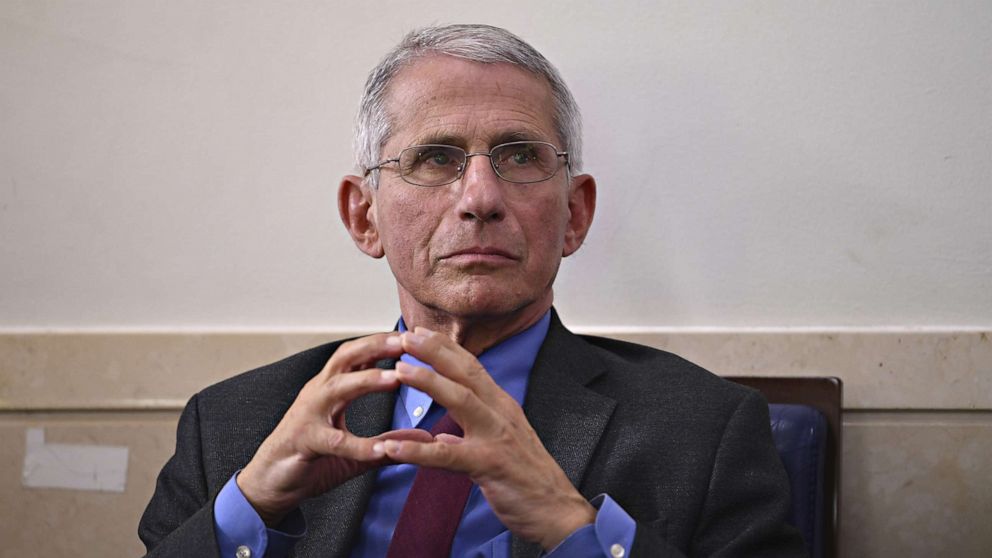 Still, Fauci stresses, the virus will be the ultimate decider of when to reopen the country.
April 8, 2020: Symptom-free essential workers exposed to COVID-19 can return to work: CDC
Centers for Disease Control and Prevention Director Robert Redfield announces new guidelines that would allow "essential workers" to return to their jobs sooner at a White House coronavirus task force briefing, after the president emphasized for weeks that the U.S. wasn't built to be shut down.
What to know about coronavirus:
Redfield says asymptomatic health care workers, first responders and those working in food supply, among others, can now return to work even after being exposed to someone infected with COVID-19. The guidance says workers should regularly take temperatures, monitor symptoms, wear a mask and social distance, when work permits.
This report was featured in the Wednesday, April 15, 2020, episode of "Start Here," ABC News' daily news podcast.
"Start Here" offers a straightforward look at the day's top stories in 20 minutes. Listen for free every weekday on Apple Podcasts, Google Podcasts, Spotify, the ABC News app or wherever you get your podcasts.